Brazil's extensive travel for games is lucrative but exhausting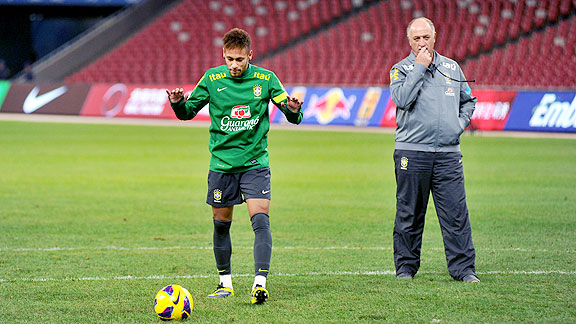 ChinaFotoPress/Getty ImagesBrazil's Neymar (l) and coach Luiz Felipe Scolari(r) in practice at Beijing's Olympic Nest stadium.
BEIJING -- On Tuesday night in Beijing, some people will review their "I have seen everything in football" threshold.

At the Bird's Nest, Brazil will lineup against Zambia. As beautifully karmic as it may sound, we're not talking about a replica of the 2008 Olympics iconic arena, but the original architectural marvel where Usain Bolt bedazzled the world five years go. It's actually in the Chinese capital that the Selecao will see off their second October friendly by facing the 2012 African champions.

Why? Because they have to, after pretty much selling out their rights as well duties in finding opponents to play. Since 2006, the Brazilian team friendlies are property of ISE, a Saudi-owned sports behemoth that for the past seven years has paid the Brazilian Football Confederation (CBF) at least $1 million plus expenses in exchange for sorting out games for the five-time world champions.

That seems a pretty comfortable deal for the sporting entity, but in reality it also means a loss of autonomy that can put the team into eccentric situations such as going to Asia to play an African team. Since they took over, the Brazilians have played Ecuador in Stockholm; England and Argentina in Doha, Qatar; Ukraine in Derby, England; and Algeria in Montpellier, France. They have also traveled to places as diverse as Tallinn, Estonia; Muscat, Oman; and Libreville, Gabon's capital city.

While other teams have also resorted to "displaced" games, no other has done like the Brazilians. It's true that the logistics of international friendlies got really complicated after FIFA nudged member associations into playing as often as possible near Europe, the continent that hosts the majority of top players.

The competition calendar doesn't make things easier either, of course. While Brazilians have been guaranteed World Cup action next year as hosts, the rest of the world hasn't. Most FIFA dates have been assigned to qualification tournaments, narrowing down choices for possible opponents, hence why Pitch Internacional, the London-based company now working for ISE after betting Swiss agency Kentaro for the account they had held since 2006, had to look east to find Brazil two games in October -- the Selecao also went to Seoul to play South Korea.

Oh, but couldn't they just have made the teams meet in the middle. It's not that simple, especially when ISE's interests are not mainly related to the sport. They want to maximize the return for their investment, even if business interests trump getting the Selecao good sparring partners. CBF won't really throw toys out of prams if they can, as in 2010, make more than $16 million in friendly fees -- a sum that amounts to a third of all their profit in that year.

Besides, the lack of official competitive matches in this World Cup cycle means Brazil will rely more than usual on friendlies in their preparations for the tournament. Getting the manager onboard can be simple if a good mix of opponents is thrown on the mix. Big Phil Scolari, for example, got England, Italy France and Portugal since February. Even that didn't placate his wrath last week after his squad flew for the Asian tour and for two days his players behaved in practice as if somebody had spiked their Gatorade with moonshine. "The organisers can't overlook the team's technical needs. I have players who are still zonked out by being on a plane for ages," he said.

Truth be told, this overlooking had been already an issue before the current arrangement. Since 1998, sponsors had been allowed friendly quotas so they could used the Selecao to aggregate value to their brands. Nike used theirs, pairing Brazil against Andorrda. And drinks giant Ambev did it too, taking the Selecao to play Russia seven years ago in the frosty Moscow winter.

In this sense, the whole Bird's Nest party should not come as a surprise. Zambia are out of the World Cup, having been overcome by Ghana, but playing Brazil can certainly lift their players spirits. The 2008 Olympics stadium is nowadays underused and could do with a high-profile visitor such as Neymar. The only surprise here is one being surprised. Meanwhile, the tills keep ringing.