With confidence, Brazil heads into Confed Cup
Brazil didn't play well against France on Sunday in the warm-up to the Confederations Cup, especially in the first half. But in the second half, the word for explaining coach Luiz Felipe Scolari's team improvement is: confidence.

The final scoreline read Brazil 3, France 0, in effect inverting the score of the historic 1998 World Cup final in Paris. And it was only the second time Scolari saw his team finish a game with a clean sheet.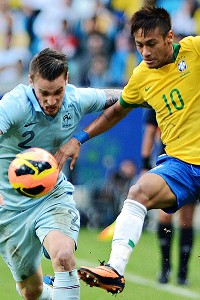 Edu Andrade/Getty ImagesNeymar (r) drives past Debuchy in Brazil's tuneup against France.
The best part of the test was seeing the Brazilian national team carry on what they had practiced in the training sessions in Goiania. The first goal was result of the pressure; Luiz Gustavo stole the ball in the attacking field.

The second happened in a counterattack with three Brazilian players against two French defenders, just as Scolari had instructed in training.

And this was the first time Brazil defeated a world champion since November 2009, when it beat England 1-0 in Qatar.

-- Brazil bank on a young Confederations Cup squad
-- Video: Scolari, 'We've got our confidence back'

In those four years since, Brazil tied the Netherlands, Portugal and Italy, and collected losses against France, Germany, the Netherlands, England and Argentina.

It was not as strong a performance as Brazil needs heading into the Confederations Cup. But it was enough to start the World Cup dress rehearsal on home turf with more confidence. And it may be one part in the rebuilding of the Brazilian soccer legend.