Brazil in fine form, but can they keep their cool at the World Cup?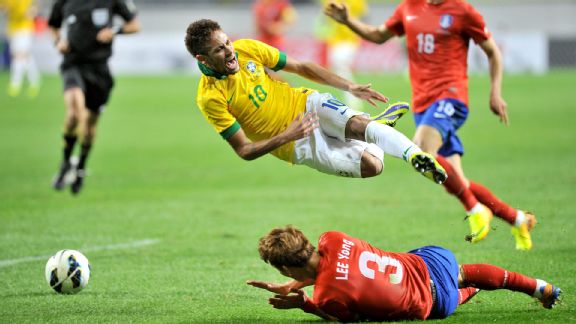 Jung Yeon-Je/Getty ImagesNeymar's alleged diving is going to make him, and Brazil, a lightning rod for criticism at the World Cup.
RIO DE JANEIRO -- The progress Luiz Felipe Scolari's Brazil have made the past few months is striking. When the squad assembled at the end of May, there was more doubt than certainty. Since then, they have ticked off a list of achievements.

A win over France in June was their first triumph over a heavyweight opponent since 2009. The Confederations Cup victory quickly followed, with supporters all over the country flocking to the cause. A style of play was consolidated -- and since then, there has been the addition of a useful option. The recall of Ramires, left out of the Confederations Cup squad, enables a slight tweak in formation, showcased in September's hugely impressive wins over Australia and Portugal and used again after halftime against South Korea on Saturday, a match Brazil won 2-0. Ramires for Hulk facilitates a switch from a 4-2-3-1 to a 4-3-3, the Chelsea man and Tottenham's Paulinho either side of Luiz Gustavo in a central midfield trio that gives Brazil more balance between attack and defence.

Indeed, in this aspect, Brazil look better than their major South American rivals, who have had a marathon qualification campaign to whip their side into shape for the World Cup.

Argentina are, to use a term common in these parts, very vertical. The characteristics of the players, especially Angel Di Maria in a midfield trio, make the team one that charges forward at breathtaking pace, full of clever angled passes. But the defence is left very vulnerable. Coach Alejandro Sabella confessed recently that there are times when his team are under attack that he has to shut his eyes and pray. There were a few such moments Friday in the 3-1 win at home to Peru -- especially when a single pass was enough to send Claudio Pizarro through to give the visitors an early lead.

Chile under Jorge Sampaoli are always a team that attack better than they defend. And the cracks are finally appearing in Colombia's defensive unit.

Brazil, meanwhile, continue to look solid. Goalkeeper Jefferson hardly had a single serious shot to save in Saturday's visit to South Korea. Apart from a last 10 minutes when the team appeared to take a collective siesta, it was an effective, efficient performance from Scolari's men.

But it was also one that might send a shudder of apprehension down the spine of World Cup referees. The matches of the home team in next year's World Cup are likely to prove very hard to officiate, with lots of important decisions to be made.

Much of this, of course, centers on Neymar -- whose alleged diving is already the subject of a lively debate in the Spanish media. He is a magnificently gifted player. Like some of those scenes of Robert De Niro in "Raging Bull," he seems at times to be operating at a different speed from ordinary mortals. What is a blur to the rest of us passes in slow motion for him. It is a capacity that enables him to draw -- or simulate -- fouls from opponents, who then, irritated by the theatricality of some of his falls, are more inclined to foul him again. This all seems part of a strategy, the aim being to win a free kick within shooting distance. It was exactly this ploy that enabled Brazil to take the lead against South Korea, Neymar winning, then scoring from, a free kick shortly before halftime.

After the game in Salvador in the Confederations Cup, Italy complained about the same kind of thing -- saying Neymar had conned the referee into awarding a free kick from which he went on to score. He is so good at striking the set pieces that there is serious advantage to be gained from such tactics, which gives Brazil a motive to raise the emotional ante of the game, to keep protesting to the referee about the rough treatment Neymar is receiving.

But this can be a dangerous game. In one such first-half flare-up against South Korea, left-back Marcelo, not known for his emotional equilibrium, raised his hand to a South Korean player. There have been times in World Cups when red cards have been given for less -- Laurent Blanc of France missed out on the 1998 World Cup final after being sent off in a similar -- if anything, less incendiary -- incident.

The World Cup can be a cruel competition. One bad passage of play, one red card at the wrong time and the dream can be over. Brazil should not need reminding -- it happened to them in South Africa three years ago when Felipe Melo got his marching orders in that fateful quarterfinal against the Netherlands. With the intense pressure Brazil will be under next year, keeping a cool head will be vital. Scolari's team have worked out a balance between attack and defence. Maintaining an emotional balance will be every bit as important.