Complex problems plague Brazil 2014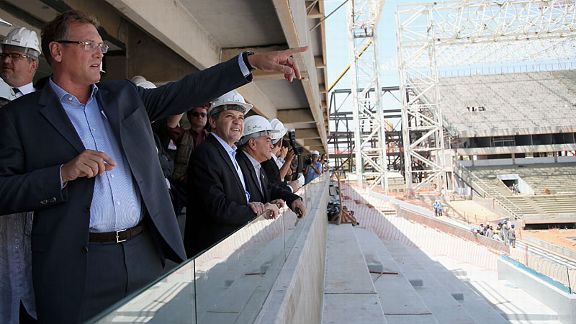 GettyImagesJerome Valcke inspects the Arena Pantanal in Cuiaba on Tuesday.
"One thing is the World Cup," said FIFA Secretary-General Jerome Valcke on Monday on his visit to Porto Alegre, Brazil, "and another thing is the legacy, which is not the responsibility of FIFA."

It is his attempt to separate the tournament from the protests which have flared up frequently in Brazil in recent months -- and which may have begun in Sao Paulo over the issue of public transport, but which during the Confederations Cup, increasingly focused on state spending on the 2014 World Cup.

• Vickery: Brazilian home comforts

As Valcke spoke, both Rio de Janeiro and Sao Paulo were playing host to mass demonstrations in protest over teachers' pay. Valcke could certainly argue that this was well outside his remit. Not so simple, though, was extricating his organisation from the protests of Tuesday, when he went to visit Cuiaba, one of the most controversial 2014 host cities.

As with Porto Alegre, Valcke was there to check on the progress of work on the local stadium. Before he got there, though, a group of protestors managed to break in, daubing slogans on part of the stands.

In Porto Alegre, Valcke had been able to point out that he was in a city that lives and breathes football, with a magnificent tradition in the game. These were not words he could roll out and use again in Cuiaba, with no such tradition. A few of the new 2014 stadiums would seem to have dubious long-term feasibility -- Manaus, Natal, perhaps Brasilia. But Cuiaba most of all. There is no major football team in the city.

This is likely to be a focus of protest in June and July of next year. The mass desire to protest is now part of Brazil's DNA. Whether this will end up with the organisation necessary to direct serious political change is still unknown. But the presence of people out in the streets is likely to cause some headaches for the Brazilian authorities -- and some embarrassment for FIFA -- during the World Cup. With the eyes of the world upon them, Brazil will have to guarantee the peoples' right to peaceful protest -- while at the same time striving to ensure that the tournament is not affected.

The Confederations Cup was a very useful rehearsal, but next year's events will be on a vastly different scale; first because of the sheer number of visitors. Little more than 2 percent of Confederations Cup tickets were bought by non-Brazilians. Next year, hundreds of thousands from all over the planet will congregate in the country.

Also, in 2014 there will be more to protest about, and over a wider area. Six cities staged Confederations Cup matches. Double that number will be used next year, including the more controversial ones such as Manaus and Cuiaba, where the necessity of building an expensive new stadium is open to question.

It would seem fair to assume that, back in 2007 when Brazil was awarded the tournament, FIFA never imagined for a second that a movement of protest would form such a threatening backdrop to the 2014 World Cup.

Indeed, Valcke is on record as saying that FIFA for too long imagined that Brazil would be a re-run of South Africa, where to this day, I am reliably informed, Sepp Blatter would be guaranteed a standing ovation in any stadium.

There are significant differences. The World Cup in South Africa was, for many involved, an important chapter in the struggle against apartheid -- the object of which was to build a society which was no longer an international pariah, and thus worthy of staging such a mega-event. 2010 symbolised the fact that a switch in power had taken place.

Brazil is much more complex. The remarkable poverty-to-presidency biography of Luiz Inácio Lula da Silva, and the resistance fighter past of Dilma Rousseff, his hand-picked successor, have led many round the world to pick up an impression that the country has changed more than it really has. In many walks of life, the old elite, selfish and inept, continue to hold sway. This has been a huge problem for 2014, especially as, being the sole candidate to stage the tournament, the discipline of competition was removed from the equation. Brazil lobbied for as many host cities as possible, and then refused to take responsibility for naming them. This caused a delay which inevitably sent costs up, while scaling down the amount of infrastructure work that could be completed in time. The odd petty squabble and dubious deal have only added to the bill.

A major problem was that Brazilian society was not clear on what it was getting into. In 2007 citizens were told, for example, that all of the money for stadium work would come from private sources -- a ludicrous claim never likely to come true. But there was never any real public debate about tournament aims, about how much the society was prepared to pay, and what it should get back for its money.

Valcke has clearly come to the conclusion that this was a mistake. In August, speaking in a personal and not a FIFA capacity, he suggested that in bids for future World Cups there should be more than just the candidacy of the local FA with the support of the government. "A document of approval from Congress should be included, or even the support of a public referendum."

It is an interesting idea. A full public and political debate on staging the World Cup might have averted some of the problems of the tournament's organisation, and some of the protests which seem likely to flare up next year.