Flamengo mystique fading amid relegation fear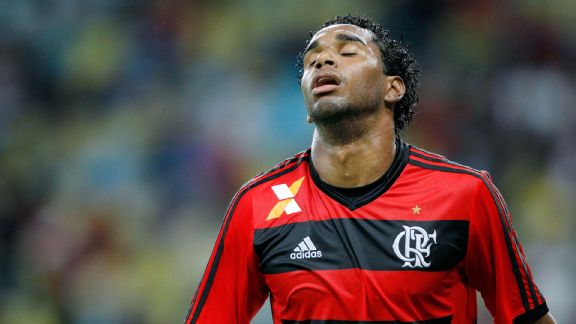 Ricardo Ramos/Getty ImagesLuiz Antonio and Flamengo are coming perilously close to dropping into Brazil's second division.
In need of good break after his unceremonious departure from the Brazilian national team, Mano Menezes took over as manager of hugely popular side Flamengo back in June. That the former Selecao manager walked out a couple of weeks ago, despite the fact that breaking his contract would trigger a clause forcing him to pay back $450,000 of his wages, says a lot about the state of affairs at one of Brazil's most loved sides.

The six-time Brazilian champions, whose red and black shirt has famously been worn by the likes of Zico, Romario and Bebeto, are once again flirting dangerously with relegation from the Campeonato Brasileiro. And even if their supporters will tell that their "Mengo" has survived the tightrope walk before, there is a feeling of unease.

- Vickery: Corinthians must turnaround form slump

For outsiders to understand the Brazilian side's plight, just try to imagine if Liverpool were to sweat or doubt their Premiership status. That would have made the past 20-odd years of hurt even more painful for Kopites. Yet the two teams are actually more comparable than one could think. Both are as nostalgic as it could get, despite the Reds' Istanbul endeavours and Flamengo's epic 2009 Brazilian title campaign, when they sprinted from the bottom half of the table to win the trophy in the next round. Both also seem a little amateurish and parochial at a time when both the English Premier League and Brazilian leagues are booming.

Boasting arguably Brazil's biggest fanbase of an estimated 30-plus million people and rivalled only by Corinthians, Flamengo drives a lot of media interest and thrives in the new world of individual TV rights sales in Brazil. However, they should be doing much better instead of being outperformed on and off the pitch. The 2009 Brazilian title non-withstanding, Flamengo have worried much more about the drop than any trophies in the last two decades.

While talking to this writer earlier this year about QPR's relegation battle, former youth academy graduate Julio Cesar claimed he was an escapist as good as Harry Redknapp. "Mate, I am never afraid of the relegation shuffle. At Flamengo it was as common as breakfast," the goalie reminisced, probably with the Houdini-esque 2001 season, when the Rio club escaped the drop at the last game, still fresh in the mind.

Yet despite all the popularity, Flamengo still underperform financially. The most recent rich list in Brazil showed the Rio side in sixth place nationally with a turnover of $96.3 million in 2012, lagging behind teams with a much more regionalised appeal such as Internacional and Gremio.

Flamengo's only number one spot is at the rankings of teams most heavily in debt. According to a study by leading Brazilian consultant Amir Somoggi, the Rio side ended 2012 still owing some $336 million. They're a true giant in a coma, hampered by an internal war between directors and a succession of disastrous ventures that included a partnership with doomed Swiss marketing firm ISL, through which Flamengo spent a fortune in players before being left with the debt burden once ISL went bankrupt.

That Flamengo still managed to lure Ronaldinho back in 2011 is a testament to their enduring mystique. Two years ago, the former FIFA World Player of the year landed in Rio to find 20,000 supporters waiting for him. When asked about why he had chosen Flamengo despite several other Brazilian clubs trying to secure his services, Ronaldinho said "Flamengo is Flamengo". That statement was not purely a PR stunt.

Even though a glimpse at Brazilian football's genealogy will show them peaking in the space of a decade, Flamengo did do well once upon a time. Steered by Zico, they won the league four times in the 80s, also claiming the 1981 Libertadores title and crowning that year with a 3-0 demolition of Liverpool in the Intercontinental Cup in Tokyo. The famous Brazil 1982 World Cup squad had Zico alongside fullbacks Junior and Leandro flying the "Mengo" flag in the starting XI. However, Ronaldinho's cameo at the club was more nostalgic than practical, capped with no major trophies and an acrimonious departure where he sued the club for unpaid wages.

This season, Flamengo's mystique could be severely tested by relegation. As things stand, they're five points above the fatal bottom four with 14 games left to play. Even in a league not as volatile as the Campeonato Brasileiro, the distance from the abyss is far from safe. It is also important to remember that the club has not been able to attract star talent since Ronnie walked out over unpaid wages.

Offering some solace might be the fact that Flamengo would not be the first giant to fall in Brazil. Corinthians, for example, went down in 2008 but managed to bounce back in big style by winning the Brasileiro in 2011 and the Libertadores/FIFA Club World Cup double the following year. In fact, Sao Paulo FC -- also six-time champions -- are actually just two points clear of relegation.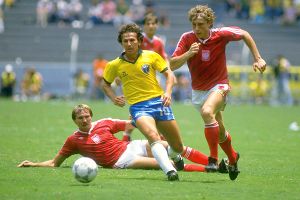 Allsport UK/AllsportEven club legends like former Brazilian international Zico, left, have been overwhelmed by the chaos engulfing Flamengo.
However, it is difficult to foresee the effects the drop would have at Flamengo and their inner divisions. The infighting is so fierce that even Zico, the club's greatest player of all time, had little success during his time as a football director. Now coaching Qatari side Al-Gharafa, he is nonetheless worried about his alma mater. "The club needs to react because the situation can get more complicated," the Brazil legend says.

Much like Spanish clubs, Brazilian teams are controlled by members, unlike their British and American counterparts. This construction doesn't always work as the mixture of party politics with sporting passion and knee-jerk fans means little room for consensus within a club's power structure. As such, managers are never really working for a united organisation. They try to do their jobs while a power struggle takes place behind their backs, all of them clutching agendas that aren't always attached to glories and trophies.

As chaos goes, few places are as poorly organised as Flamengo. Zico, the man once dubbed "The Messiah" by hardcore supporters, is one of many worried witnesses.