Kaka World Cup hopes jarred by setback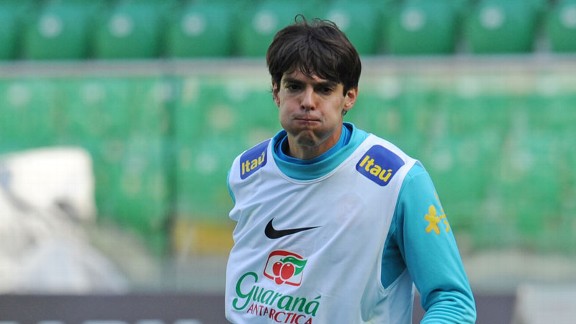 GettyImagesKaka is the most capped player in Brazil's squad and will hoping his experience merits a place in the World Cup squad.
The feast of football resumes this week with the start of the group phase of the Champions League. But there will be a ghost at the banquet -- at least for a while. The latest injury that Kaka has suffered, just one game into his return to Milan, has come at a bad time.

When Carlo Ancelotti took over at Real Madrid, Kaka must have hoped he would finally have more game time with the Spanish giants. The pair had worked well together at Milan. A month or so was enough to see that it would not be the case. The Brazilian remained well down the pecking order -- and so, just before the transfer window slammed shut, Kaka admitted defeat, called time on his La Liga adventure, wrote it off as a disappointment and managed to engineer a move back to the scene of his former glories.

Money was not the object -- as he has now made clear. A muscle strain picked up in Saturday's 2-2 draw with Torino threatens to keep him out for a month, and the player has made it clear that he will not be accepting his salary while he is not fit to play.

- Duarte: Party debate
- Vickery: Sandro's road to Brazil

The point is that Kaka needs to be out there on the pitch -- both to reassert himself as a top player after four disappointing seasons with Real and also because it is his only chance to bookend his international career with another attempt at World Cup glory.

True, he already has a World Cup winner's medal. He was in the squad that brought the trophy home from Japan and South Korea in 2002. But he played only the last 20 minutes of an irrelevant group game against Costa Rica -- because at the time he was a callow youth brought along by coach Luiz Felipe Scolari for experience.

He had been identified as a player of potential importance in future campaigns. But while he conquered Europe -- proving an instant hit when he swapped Sao Paulo for Milan a decade ago -- the next two World Cups did not prove kind. In neither was he fully fit. From his status as the best player in Brazil's 2006 debut against Croatia, injuries undermined him to the extent that he was the worst in the quarterfinal defeat to France, when he was substituted early in the second half.

The 2010 side was theoretically built around his talent to organise the counterattack. Again, he was not able to do himself justice. Indeed, playing in the tournament could well have been the start of his problems at Real Madrid. One month after the World Cup he had a knee operation that kept him sidelined for seven months. The best Kaka has yet to reappear.

But there still could be a role for him in the national team. It is conceivable that Scolari, who selected Kaka in 2002 to give him experience, might do so again 12 years later precisely because of that experience.

He need not be a member of the starting lineup. Indeed, Brazil's triumph in the Confederations Cup and convincing recent wins over Australia and Portugal make it difficult for anyone to break in from the outside. But he still might have a part to play, especially as a wise old head in the dressing room.

Come the World Cup, in front of their own fans, Brazil will be under the most intense pressure. And, as history teaches, the most dangerous moments in the tournament can often come after a big win. The World Cup is exactly that -- a cup competition. As such, it can be incredibly cruel. Brazil's quarterfinal elimination in South Africa three years ago is a good example. In the first half the team produced its best football of the tournament, and could easily have led by more than a single goal. But a few bad minutes in the second half, and it was all over. Kaka, with all his experience and solid good sense, might be a useful man to have in the group, helping the youngsters keep their feet on the ground after a thrilling triumph, or filling them with confidence if the crowd is getting on their back in the group stages.

But in order to justify a place in the squad, Kaka has to prove that he can be useful on the pitch -- that, for example, he can come on in the second half of a World Cup semifinal and make a significant impact. Scolari had a look at him earlier this year and was not convinced. In March he came on for the last half hour in a friendly against Italy and started the match against Russia a few days later. It was clear that, short of match sharpness, he was lacking the zip of acceleration to take him away from his marker. Without it, he is nothing special. Kaka is not Ronaldinho, a genius of natural talent. He is a gifted player turned into a world beater by hard work and intelligence. Take away his physical platform and his effectiveness is massively reduced.

After those two matches, Scolari dropped Kaka from the Brazil squad. But the impression was left that the door was being kept open, that it was up to the player to get more game time during 2013/14 and force his way back in. The move back to Milan was an attempt to do just that. It has got off to a bad start, and Kaka will not be present against Celtic this Wednesday.