Sandro eyes road to Brazil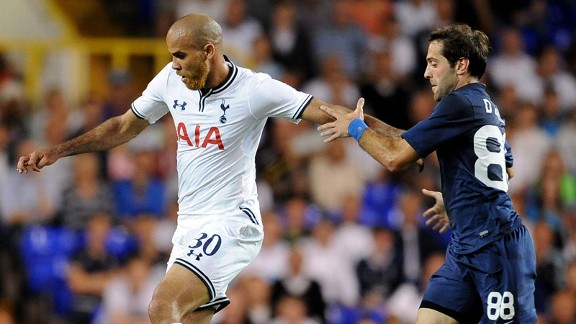 PA PhotosSandro showed he is back and ready to challenge for his place for club and country against Dinamo Tblisi.
Tottenham Hotspur defeated Dinamo Tbilisi 3-0 on August 29, but it was not a game that had much cause to linger in the memory. Spurs' place in the Europa League group stage was all but assured before a ball was kicked at White Hart Lane, with the 5-0 first-leg victory in Georgia rendering the return game something of a formality, but for one player it was a match of some significance -- something that could even turn out to be highly relevant come the end of the 2013-14 season.

"I feel like I'm back now," midfielder Sandro said, his eyes positively glowing with joy. The Brazilian has had an unlucky run with injuries, and missed all of the back-end of last season, but the Tbilisi game left little doubt that he was ready to return to Premier League action.

Tottenham's first two goals began with Sandro snapping into fearsome tackles and moving the ball swiftly to start the move; they were moments that illustrated the progress he has made in his three years in English football.

"I'm more dynamic now," he said afterwards. "The intensity of the game over here has made my marking stronger, and I'm also better able to make an attacking contribution. Andre Villas-Boas has us defending with a high line, so we're closer to the opposing goal when we win the ball, and there's more chance for me to shoot or be involved in the attacking phase."

All virtues that could be very useful to Brazil in next year's World Cup. Those injuries have kept Sandro out of the international picture for a while, and Luiz Gustavo has taken advantage to grab the defensive midfield position. But Sandro probably offers a little bit more than the Wolfsburg man -- and the fact that he now has Paulinho as a clubmate is surely a bonus. The pair would seem a natural fit for the centre of Brazil's midfield -- Sandro the more defensive and Paulinho the more attacking member of the duo -- so Brazil coach Luiz Felipe Scolari must surely be pleased by the fact that they can build up an understanding.

"Scolari hasn't been in contact with me," Sandro added, "but I've heard some positive things. I feel as if I'm in with a chance of getting back into the national team squad. I'm in the fight. It's my dream to play in the World Cup in front of our own supporters."

For the time being, though, he is very happy playing his football in front of English audiences. "The atmosphere inside the stadiums here, with the crowd right up close to the pitch -- it gives you more adrenaline. The experience of playing here is better than in Brazil, and then you have the thing that English football does so well, the organisation -- of the stadium, the calendar, being paid on time, everything being done for the players. I'd like to take some of this back to Brazil!"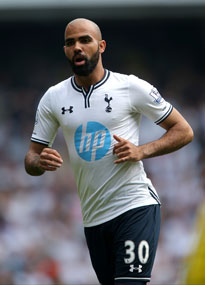 PA PhotosSandro has settled well into London life.
It is no coincidence that Sandro has adapted so well to his surroundings. While still in Brazil with Internacional, he was concerned at the number of Brazilian players who struggled to get to grips with life abroad. And so, upon his own initiative, he took cultural adaptation lessons with a Brazilian specialist. Rather than pining for home, he was told to form a new family in London. Tottenham insiders confirm that he has done it wonderfully well. "He's at the centre of everything," one said, "even getting up on the table to lead the singing! And he's taken up darts!"

Sandro is certainly relishing his new environment. "London offers you the whole world," he said, "and as a player and as a person I'm much more mature and experienced than I was when I came here three years ago."

Now that he is fit and raring to go, he is ready to aim that dart at the bull's eye: a solid, injury-free season for Tottenham followed by glory in next year's World Cup.