Who's got the right stuff at right back?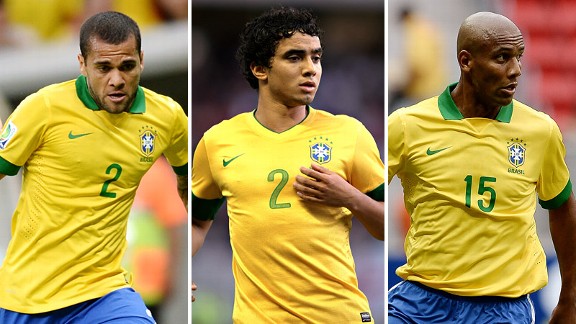 Getty ImagesDani Alves, Rafael and Maicon can all lay claim to Brazil's rightback spot.
Dani Alves attracts mixed reactions in Brazil with regard to his Selecao contributions, especially after a discreet 2012-13 season with Barcelona. But even his detractors must now be admitting that his ankle injury, one that sidelined Alves for two recent national team outings, showed how much he was missed -- even though Brazil hammered Australia 6-0 on Saturday and enjoyed a pretty convincing 3-1 triumph against Portugal in Boston on Tuesday.

It's not to say that Maicon didn't do a decent job standing in, the horrendous back-pass that gifted Raul Meireles a goal aside. But the fact that Luiz Felipe Scolari needed to draft in a player who had not being called up since 2011, and whose career had been quite unremarkable since that wondrous treble-winning season with Inter Milan (2010-11), speaks volumes about what many people see as a right-back crisis for the Selecao.

Originally called up as a Plan B, Maicon became a starter when Alves showed up hobbling in Brasilia for the Australia friendly. Before resorting to the former Inter Milan man, Scolari's understudy option was actually a midfielder, Jean, on the back of a successful experiment at Sao Paulo in 2005 when he helped the club win the Libertadores -- he also has a Confederation Cup winner's medal now, as a matter of fact.

The right-back conundrum is not only Scolari's problem. His predecessor, Mano Menezes, used Barcelona left-back Adriano on the right to address the question. About now, many of you might be shouting "Rafael da Silva!" Indeed, the Manchester United right-back has arguably done more than enough to deserve a call-up by Scolari, and not just for his role in speeding up Gary Neville's retirement. Nonetheless, Rafael doesn't seem to rank highly in the manager's plans, and that is not simply a reflection of his own back-pass nightmare in the final of the London Olympics, as we will soon see.

Looking to the domestic league, Atletico Mineiro's Marcos Rocha has excelled and even earned his first two caps as a direct replacement for Alves. But Scolari's general strategy seems destined to be a gradual reintegration of seasoned players into a squad that's still reasonably young and inexperienced in terms of international football. After spending a season loitering at Manchester City, Maicon moved to Roma but is at least getting steady first-team action again.

Back in 2010, both Alves and Maicon were at the peak of their powers. Ironically, in the last World Cup cycle it was Maicon's bullish style that kept Alves out of the first team. Now, however, the feeling is that both will make it to the Selecao almost by default, even though that assessment looks harsh considering Alves' achievements at Barcelona. It looks likely that Brazil will be going with both veterans to the next World Cup, unless some younger players make a statement loud enough on the pitch for Scolari to reconsider.

Based on historical evidence, fans shouldn't hold their breath: Two of the five Brazil players with at least 110 caps are right-backs.

Other Potential Positional Battles
1. Who's the goalie? An incredible first semester with the Selecao seemed to have totally rehabilitated Julio Cesar as Brazil's No. 1 -- his saves spared the Selecao some blushes in friendlies against Italy and England, and he denied Diego Forlan the spot in the Confederations Cup semifinal.

The problem is Cesar isn't even the second option at Queen Park Rangers as the London club works to get back into the Premier League. Scolari has made clear he values the goalie's experience and announced earlier this week that Cesar will be one of his three goalkeepers at the World Cup. The lack of top-flight minutes, however, might result in Cesar being more like a motivational speaker. If a much-discussed move to Benfica happens in the January transfer window, that might change.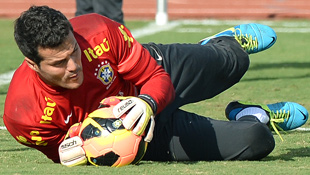 Vanderlei Almeida/AFP/Getty ImagesJulio Cesar has the clear inside track on being Brazil's starting goalie but his current club situation does cause concern.

Working in Cesar's favor is the fact that Brazil doesn't have many experienced keepers to jump in. Botafogo's Jefferson is the natural reserve but looked shaky against Switzerland in August. Atletico Mineiro's Libertadores hero Vitor waits for a chance, while Valencia's Diego Alves, the No. 1 under Mano Menezes but ignored by Scolari so far, has reason to feel encouraged.

The monster's deputy: So far, only injury will keep Hulk out of the starting XI, and the more people moan, the more Scolari will hold on to the Zenit St. Petersburg battering ram. Tactically crucial for Scolari's brand of pressing football, the forward missed both the Australia and Portugal friendlies due to a thigh problem, allowing an interesting run for the understudy role to take place. Shakhtar's Bernard is the clear front-runner, having impressed versus Uruguay in June; he has been one of the best players on the pitch this past week. All in all, it's bad news for Lucas Moura, who has failed to challenge properly for a place at the Selecao even after his more-than-reasonable form at Paris St. Germain.

Chelsea friendly fire: After dropping Ramires for the Confederations Cup and publicly criticising the player for not showing enough commitment to the group, Big Phil called the Chelsea man back in for the September friendlies. Scolari got more than he wished for: Replacing the injured Oscar against Australia, Ramires gelled so well with Paulinho and Luiz Gustavo that Scolari kept him in for the Portugal match. While CFC fans might think Ramires and Oscar should naturally play together for Brazil, the indication so far is that they might have to fight for one spot in the lineup.

Fred out of favor? Two months ago, suggesting that Fred might not be Brazil's starting No. 9 would sound insane given the Fluminense man's powerful displays for the Selecao, including his brace against Spain. However, after being called up in a hurry for the Confed Cup following Leandro Damiao's injury, Man City and Everton flop Jo has been stealing Fred's thunder. More mobile and less injury-prone than the "Daddy Poacher," Jo seemed to increase the Selecao's attacking power in limited outings. The next few months of the Campeonato Brasileiro will go a long way to settle this particular dispute.