With a prodigal return, Kaka dreams of turning back the clock
Ricardo Izecson dos Santos Leite is once again an AC Milan player after the Italian "sleepy giants" managed to secure a free transfer from Real Madrid. The only certainty so far is that the Brazilian blinked in the long arm-wrestling bout with the Spanish club. Four years after Real paid £56 million for his services and Kaka briefly became the world's most expensive player (Cristiano Ronaldo went for £80 million a few days later), the midfielder returns to the club that made him famous and is almost as desperate for Kaka as Kaka is desperate for top-level football.

- Report: Milan agree on Kaka transfer
- Report: Kaka delighted to return 'home'

Few would dispute that Milan these days are far from the fearsome club that last decade won two Champions League titles and somehow managed to lose a third to Liverpool. Without the financial muscle from the Berlusconi years, the Rossoneri should be a side act this season in Italy and Europe. For Kaka, however, they represented the hope of regular games among the continental elite, a possibility that had become remote in Madrid even before Real committed a fortune to bring Gareth Bale to the Bernabeu.

In May, the arrival of Carlo Ancelotti's arrival at the Spanish club was seen as a sign of hope, and some of the Brazilian advisers did not hide their enthusiasm about his reunion with the manager who oversaw his blooming for Milan and his crowning as FIFA Player of the Year in 2007. Kaka himself thought he could roll back the years, only to find himself once again on the fringes of the Real's first team.

That broke his spirit, which was already battered by his exclusion from the Brazilian national team by Luiz Felipe Scolari after a promising return with Mano Menezes. Even in the worst periods of his relationship with Jose Mourinho at Real, Kaka had never gone public to demand a transfer. The significance of his postmatch comments after Real's 4-0 drubbing of Deportivo La Coruna in a friendly match last week could not be understated. It was just a matter of knowing how much Kaka was willing to sacrifice to find a place to play.

Red carpets would be rolled up to him in Brazil, not only because of the incredible marketing power still attached to him but also because even after a string of injuries and two knee operations, Kaka still sits above legions of average players. It is no secret, either, what Major League Soccer could do with a star of his magnitude stateside and has blown kisses across the Atlantic -- the player himself saying he would like to follow the statesman steps of former Milan teammate David Beckham.

But Kaka never planned to cross the ocean before the 2014 World Cup. Staying in Europe for him offers more visibility, and regular football could put him back into Scolari's plans. Brazil might have surprised a lot of people with their recent rise, but the World Cup is a much tougher tournament than the Confederations Cup, and one could see how a more experienced player in the group could have helped calm things down -- Exhibit A is how both Thiago Silva and David Luiz had "Sunday league" moments against Uruguay in the semifinal.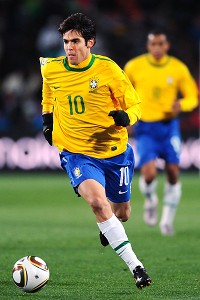 Christophe Simon/AFP/Getty ImagesKaka's leadership qualities would be a great asset for the Brazilian national team come next summer.
Whoever has watched a single Brazil training session (and there are many people who haven't and still feel they can talk about team dynamics) where Kaka was present could see how he had turned into the most important leader for the Selecao after the departure of Ronaldo, Roberto Carlos and Rivaldo. Unlike Ronaldinho, who never felt really comfortable in the reference role when playing for his country, Kaka relished the responsibility.

It's a shame the rumours linking him to the Premiership never really advanced, although it is quite understandable that some would consider his signing quite a risky bet. But even after the years and the injuries forced him to drop back from that quasi-striker role that worked so fine at Milan, Kaka's intelligence could have been useful in the Premiership. It's even more of a shame that Mourinho blocked a move to United in the summer transfer window last season, claiming he couldn't sell the Brazilian to a direct European rival.

Much is said about the huge wage reduction Kaka accepted as part of the "operation prodigal return" to Italy. Yeah, his pockets will take a hit, but we are hardly talking about a player in financial difficulties or known for being greedy. If that were the case, Kaka would have accepted that obese Abu Dhabi paycheck when City came knocking in 2009, allegedly worth £200-plus in weekly wages. Real obviously rewarded the Brazilian handsomely to bring him from Milan four years ago, but no one needs reminding of how the Merengues rate highly in the collective imaginary. Besides, he could see Milan was headed toward turbulent times, and the dressing room was not the most fun place to be around, with old-timers like Massimo Ambrosini and Gennaro Gattuso still barking loudly.

Ladies and gentlemen, we are talking about a very intelligent player whose advisers are by no means dumb. One needs to remember how the Brazilian managed to "share the blame" with the Milan board on the occasion of his £56 million move to Madrid four years ago by also pointing out the club wasn't making a huge effort to hold him back. It is not that Real fans were actually very concerned about losing the midfielder's services, especially with all the fuss surrounding Bale, but Kaka always has tried to differentiate himself from the general behavior of his colleagues. He never really forgave himself for failing to live to expectations in Madrid, and part of his resilience to stay was linked to that.

The problem Kaka faces now is that the world moved on much faster than he could ever expect. At 31, he is by no means a hardened veteran in chronological terms, but aged significantly on the pitch. Forced to reinvent himself as a player, Kaka has so far found it hard to convince people. But Brazil simply dismissing Kaka as a has-been could still be premature.

The clock has never ticked louder, but it is not simply by sewing religious slogans to his boots that Kaka has proved to be a man of strong faith.