Emerson kiss aftermath shows country not so welcoming of gay people
A couple of years back, I was delighted to participate in a travel programme about Brazil by "Monty Python" star Michael Palin. I grew up on his comedy, and this was an example of when there was no disappointment involved in meeting an idol. Palin was just as I expected -- earnest, curious, gently humorous.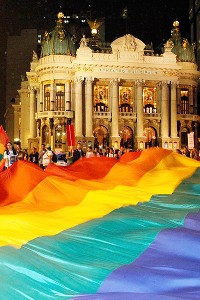 Marcelo Piu/Globo/Getty ImagesRio de Janeiro hosts one of the world's largest gay pride parades, but less-tolerant attitudes are prevalent elsewhere in Brazil.
Some time later, I was sent a tape of the episode in which I was involved. In addition to our football shoot, the programme ended with footage of a gay pride parade in Rio de Janeiro's South Zone, with Palin adding that Brazil had much to teach the world when it came to tolerance.

At this point I was reminded of the superb phrase of the late musician Tom Jobim -- Brazil is not for beginners. Everything is more complex than it first appears. After all, this is the home of football, where average crowds often lag well below those in Major League Soccer. And attitudes toward gay people can be similarly baffling and contradictory.

Yes, parades are held, most frequently in wealthy areas. And progress undoubtedly has been made. But it is also very clear that Brazil (a country by no means alone) continues to have a problem with lack of tolerance. The mindset of a macho Latin society cannot be discarded so quickly. The Portuguese word for deer, a gay slur, is still spat out all the time, not least inside football stadiums.

Some of these issues came to the fore last week in an incident involving Corinthians striker Emerson.

Controversy often has marked Emerson more than any centre back. He is a local Luis Suarez -- he was even caught biting an opponent when Corinthians won last year's Copa Libertadores. He played for Brazil's under-20 team when he was actually was overage. He represented the national team of Qatar when he was not eligible. He was sacked by one Rio club for allegedly singing the rival's songs on the team bus. And last week, he was seen on video giving a quick kiss on the lips of a friend who happened to be male.

This turned into serious business. Some Corinthians fans were outraged. Emerson says he is not gay, and described the kiss as nothing more than a "joke" with a close friend.

Last week, Emerson sat down with the Gavioes da Fiel, "the hawks of the faithful," a leading group of Corinthians fans. He apologised for having offended supporters. But, if he is really opposed to prejudice, was an apology necessary? Had he in fact done anything wrong?

The problem surely lies with those offended by a harmless demonstration of affection.

The Gavioes, meanwhile, put out a statement that laid bare the contradictions of their own thinking. "We would like to stress that we have no type of prejudice," they said. "However, as the largest organised supporter group of Corinthians we have a duty to give explanations and report everything which generates any kind of discomfort with the name of the loyal fans."

The tortuous line of argument makes it clear that writing the statement was in itself an act of discomfort.

A kiss can be worth a hundred goals, and Emerson has probably done Brazilian football and society a huge service -- there is no progress without debate. On these kinds of subjects, advances cannot be made by decree alone. Problems need to be confronted and debated in order for hearts and minds to be won.

Emerson has won plenty of titles, but the most significant could turn out to be forcing the Brazilian game to think about its own prejudice -- a victory sealed with a kiss.