The not-so-beautiful side of Brazilian football
When Charles Miller returned to his native Sao Paulo in 1894 from boarding school in England, he carried two soccer balls and a set of rules in his suitcase. Thus, the so-called "father of football" in Brazil set in motion a passion for a sport that soon became popular among the masses, far from the higher strata of society.

To uproot a latent racism evident since the sport's inception in the country, the Rio de Janeiro-based Club de Regatas Vasco da Gama broke ground in 1904 in being the first club to elect a president of mixed ethnicity, or mulatto, Cândido José de Araújo. He also instituted a non-discriminatory policy by allowing players of any color, creed or social class. Even the club's colors of black, white and red symbolized the country's main ethnic groups.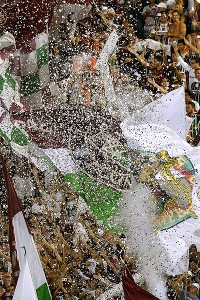 Getty ImagesFluminense fans throw rice at their players when they take the pitch.
Vasco was one of the few, though. Legend has it that Carlos Alberto, a player who was mulatto, once dabbed rice powder on his face to "whiten" it, so as to play for Fluminense, considered an "elitist" club. As the match ensued, sweat melted away the rice powder. Rival fans from America started chanting "pó-de-arroz," or rice powder, on Fluminense supporters. And to this day, rivals taunt Fluminense with "pó-de-arroz" when the team is away. While at home, supporters greet their players by tossing rice powder on the pitch.

In the 1930s, as the clubs and leagues professionalized, Brazilian black players began gaining ground in the sport that was soon to become ingrained in the fabric of society. That stage was set for the 1950 World Cup that the country hosted.

Instances of racism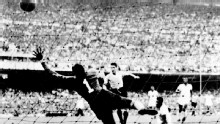 STAFF/AFP/Getty Images Goalie Barbosa was haunted by Shiaffino's equalizer, as Uruguay went on to defeat Brazil 2-1 in the 1950 final.
It is no secret that Brazil's loss to Uruguay in the 1950 World Cup final -- the so-called Maracanazo, staged in the fabled Maracana stadium in Rio -- resulted in a collective tragedy for the nation. And the scapegoat became Brazil's goalkeeper Barbosa, the first black keeper of notoriety in the national squad. Barbosa committed a costly mistake when he was caught off-guard as Uruguayan Alcides Gigghia netted the eventual game winner for a 2-1 victory.

"In Brazil, the maximum penalty for a crime is 30 years. I paid for 44 years for a crime I did not commit," he said in 1994. Many pointed to the color of his skin as the culprit for the animosity he endured.

Recently, Brazilian football has experienced various instances of racism, a charge that is considered a crime and not subject to bail. Some of note include: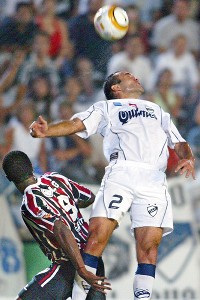 Getty ImagesDesábato (r) tangles with Grafite in a Libertadores match in 2005.
1. In a 2005 Copa Libertadores match, Sao Paulo striker Grafite accused Argentina's Quilmes defender Leandro Desábato of racial insults. The Argentinean was jailed for two days and then released after paying a R$10,000 ($5,000 in U.S. dollars) fine. Even as media reports stated that Desábato admitted to hurling the offensive remarks, Grafite subsequently withdrew the accusation and the case was dismissed.

2. That same year, Internacional midfielder Tinga was racially insulted by fans of Juventude. The club supporters were barred from attending two home matches, the first time a punishment of this nature was served.

3. In 2006, Juventude defender Antonio Carlos, also called Zago and AC Zago and well known in Europe for defending AS Roma and playing for the World Cup 1998 runner-up Brazilian national team, was charged with racism. He pleaded guilty to racist verbal gestures and insults against Gremio midfielder Jeovânio, as TV replays showed him imitating a monkey. Zago was suspended for 120 days and four games.

4. In 2010, Palmeiras defender Danilo (currently with Italian club Udinese) was accused of racism by Atletico Paranaense defender Manoel. The assault was captured by TV cameras, showing Danilo spitting and calling Manoel "macaco" (monkey). In 2013, a Sao Paulo court sentenced Danilo to a year in prison, but the penalty was reduced to a fine and a donation to charity.

5. Superstar foward Neymar, playing for Santos, mistakenly accused Ituano coach Roberto Fonseca of taunting him with racist insults. Neymar thought Fonseca was calling him "monkey," but the coach was apparently accusing the player for diving ("cai-cai" in Portuguese).


Ricardo Zanei is an editor and writer for ESPN Brazil.

---
More on racism in football
• Issue demands sport's attention
• Racist tag weighs heavy on Zenit
• Roundtable: The front lines of racism
• Level playing field for managers in the Prem?
• Behind the alleged discrimination at Chivas USA
• An American perspective
• Not-so-beautiful side of Brazilian football
• Video: Racism in football
• Managers and the issue of race