After the gold rush, will Brazilians settle?
Statistics will show that the 2013-14 season does not set a record for the number of Brazilians in the Premier League. But the imminent arrival of Willian, which would bring the total number of players to 13, highlights a new phase in the "Brazilian invasion."

-- Worrall: Fueling the conspiracy theories

Twenty-five years after Mirandinha's groundbreaking move to Newcastle United, players from the warmer side of the Atlantic are no longer a novelty in English clubs. However, they are still too easily divided into "hits" and "misses," and it is still rare to see much longevity among them.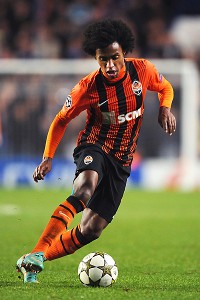 Mike Hewitt/Getty ImagesWillian, the EPL's 13th Brazilian this season, will come under heavy scrutiny at Stamford Bridge.
Just take Robinho as an example. His £32.5 million move from Real Madrid to Manchester City in 2008 still ranks as one of the five most expensive transfers in the history of English football and has certainly reinforced the stereotypes involving Brazilians, rain and aversion to fish and chips. These are different times, when the Premiership is much more cosmopolitan than when Mirandinha arrived without even having heard of the city. Brazilians know much more about English football than ever.

That knowledge, obviously, includes awareness about the disposable income of English clubs. But the change in perceptions of England is the main driving force. No more the land of hoofed balls, the Prem's appeal is increased also because it serves a proving ground. David Luiz, for example, didn't experience a massive increase in wages when leaving Benfica for Chelsea in 2011. Paulinho had been pestered by Inter Milan and still saw more potential for career development -- particularly concerning his future with the Brazilian national team -- at Tottenham.

The jury, so far, is still out. Cases like that of Gilberto Silva, who served Arsenal for six years, are still the exception to the rule of quick experiences. Chances are that Lucas Leiva will probably earn himself a testimonial game at Liverpool and that Rafael da Silva could one day get pretty close to Gary Neville's numbers at Manchester United. The others will need to survive the challenge presented by the ruthless way English clubs conduct business and by temptations coming from clubs more established in Brazilian's football way of thinking.

Willian's time in England did not start well with the drama of a medical at White Hart Lane turning into an unveiling at Stamford Bridge. As such, he will receive special scrutiny this season, perhaps even more than former Shakhtar Donetsk teammate Fernandinho, one of the most expensive signings in the EPL this season and a man who has been given the responsibility of steadying the midfield for Man City.

Glitz and riches aside, England remains a tough place for a Brazilian footballer. Cultural differences are still there and the weather is still rubbish compared to more traditional ports like Italy and Spain. Also, the pace and intensity of the game still impress and surprise even hard men like Sandro. "I heard a lot of stories about how English football was quite physical and I used to rubbish them a bit. Until one of my first training sessions at Spurs, where it seems the lads were playing a World Cup final," he said recently.

At a time when England clubs have a record four players in Brazil's prospective first XI (Julio Cesar, Luiz, Oscar and Paulinho), dismissing the Prem's influence on Brazilian football these days would be foolish. It is because of England that Philippe Coutinho, for example, can return to the Selecao and how Paulinho should be able to hone his box-to-box skills that are so crucial for country.

But then again, there is always an Anderson to show how things can go wrong.

BRAZILIANS IN ENGLAND: THE BEST

Juninho: His tears following Middlesbrough's relegation in 1997 are an enduring image, but the Little Fella is a hero on Teeside thanks to being one their best players in that run-up to two cup finals. A second spell (2002-04) wasn't nearly as successful but his reputation suffered no harm -- in 2007 he was elected by Boro fans as the club's best player ever in a poll.

Gilberto Silva: A member of Arsenal's 2003-04 "Invincibles." Period.

Lucas Leiva: While Liverpool have slipped down bigtime in the English food chain, the midfielder is one of those players who can help them climb back up. Jeered at first by fans who were not aware of the change of positioning he had undergone with Rafa Benitez, he ended up being voted player of the season twice by Kopites.

David Luiz: Sure, he has been around for only two complete seasons but has won three trophies, including a Champions League victory -- he played through injury in the final and still marked Bayern's Mario Gomez out of the game, even converting a penalty in the shoot-out. They sell "Luiz" wigs outside Stamford Bridge. That must mean something.

Rafael da Silva: It was a huge task filling Gary Neville's boots, but the Brazilian actually helped in the former's decision to retire. Crucial player for United yet ignored by Brazil after a dodgy London Olympics final.

THE WORST

Branco: Legendary 1994 World Cup winner whose horrendous stint at Middlesborough in 1996 had the sole highlight of a goal scored with his rear end.

Afonso Alves: Arrived at Boro in 2008 having smashed almost every possible scoring record in Holland. After netting only four goals in 31 games for the Teesiders and doing a huge disservice to the standards of the Eredivisie, Alves was soon sold to Qatar.

Robinho: Technically speaking, his first season at Eastlands was promising -- he hit 15 goals. He also had injury problems, but the sulking about the rain in Manchester and the refusal to play after the end of a loan spell at Santos earn him a place in the flop list.

Mario Jardel: Big Sam Allardyce must have been shocked by seeing a striker bigger than him at Bolton in 2003. Seven appearances as a sub amid personal problems helped condemn Jardel's once-fearsome goal-scoring reputation to distant memory.

Roque Jr.: World Cup winner and European champion when he joined Leeds from AC Milan in 2003. In only seven games for the club, he was part of a defence that shipped 24 goals.