Brazil hopes rest on decisive season for Neymar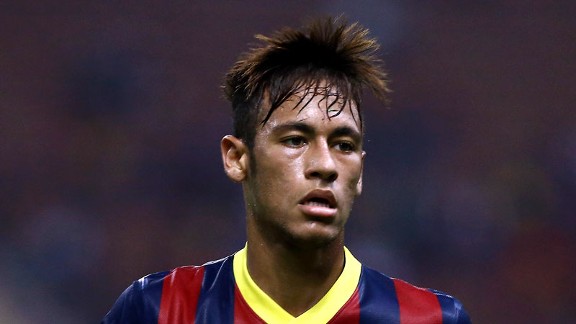 Stanley Chou/Getty ImagesNeymar could be burdened by the increase in playing time and difficulty in Europe compared to the Brazilian league.
It was a quiet start to Neymar's club season, introduced after 63 minutes with Barcelona already 6-0 up against Levante. No matter - his time will come, and anyway, this time round he is probably more concerned with what happens at the end of the season. Immortality beckons if he can carry Brazil to glory in front of their own fans in the 2014 World Cup. There are two schools of thought in Brazil over the young star's move to Barcelona.

In technical terms there is no argument. Already, at the age of 21, he had climbed all the mountains that South American club football could put in his path. There were worries that he might have stagnated, that too long in a comfort zone might take the edge off his game. La Liga, and especially the Champions League, will pose new questions. Can he shine in a quicker brand of football, with less protection from the referee? Coming up against better defenders will surely hold him in good stead for the World Cup.

But in physical terms it is not so clear cut. One of the problems of recent World Cups has been the burn out of top players after the long European season. For Brazilian-based players, though, the World cup comes in the middle of the season, when they should still be full of gas. Might Neymar be running on empty when his country need him most?

Or, alternatively, might he be carrying too much weight? Barcelona have said that they aim to bulk up their expensive acquisition with more muscular mass. Some, remembering what happened to Ronaldo in Europe, fear that this might put too much of a strain on his knees.

And there is already bad blood between Barcelona's medical department and Brazil coach Luiz Felipe Scolari. The Catalan club fear that Neymar had been suffering from anaemia while he was on international duty. This brought a furious response from Scolari.

"Neymar could not have had anaemia because [before the Confederations Cup] he did all the tests," he said. "There was not the slightest trace of anaemia! And then they give emphasis to this and say that Brazil are negligent with the tests. It seems that only the First World knows everything, that we are the Third World and we don't know anything."

This might come across as a mere nationalistic knee jerk reaction. But there is more to it. The lessons of history has added spice to Scolari's words. Over a decade ago, going into the 2002 World Cup, 'Big Phil' was in his first spell as Brazil coach. Ronaldo was the stricken star, laid low by knee injuries that appeared to threaten his very career. There seemed to be little chance of him making a contribution to the World Cup campaign. Inter Milan could not get him fit.

But Brazil did. They took him back home, he worked intensively with the local physical preparation specialists and ended up being the decisive player in the tournament – backed up by Rivaldo. At the time, Barcelona argued that Rivaldo would not be fit enough to play in the World Cup. Brazil proved otherwise.

The 2002 World Cup was a strange affair. It was held slightly earlier than usual in a bid to avoid the rainy season in Japan and South Korea, and it came at a moment when the Champions League had just been expanded. One of the explanations for the quantity of surprise results in the competition was that those who had played the European campaign looked well short of top fitness – with the exception of the Brazilians. The likes of wing backs Cafu and Roberto Carlos had played the same European season as everyone else, but still ran up and down the touchline like men possessed.

Shortly after that World Cup, Paulo Paixao, then as now the physical preparation specialist of the Brazil national team, told me that the methods used in his country were well in front of those employed in Europe, and that this had proved decisive in the final outcome. The European clubs had so much money, he said, that they did not seem to mind if a player was injured. In Brazil, however, smaller squads and a sapping calendar meant that the physical preparation staff had to work with a lower margin for error.

Have things changed in the subsequent years? We might find out in Brazil next year. The travelling and temperature differences of the 2014 World Cup will surely test the fitness of the players. And Neymar, of course, will be under the microscope. Will Barcelona hand him over in peak condition, or will Brazil's bid for glory be undermined by what happens over the next few months on the other side of the Atlantic?