Hulk's no monster, as Spurs may some day discover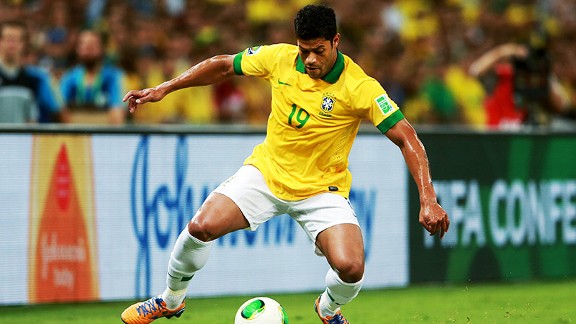 Scott Heavey/Getty ImagesHulk doesn't mind the harassment of Brazilian fans. So hard has his life been that the boos act as motivation.
BASEL, Switzerland -- After parading the Confederations Cup trophy on the pitch of the Maracana, all that the Brazilian players wanted was to disappear from the public eye and enjoy some rest. One of them, however, couldn't get enough love. Thus, Givanildo de Souza (aka Hulk) jumped on an open-top truck and waved to fans who lined the streets of his Campina Grande, one of the humblest and biggest cities in the already impoverished Brazilian northeastern region.

Hardly an attention seeker, the 5-foot-9 striker/winger could be forgiven for milking some of the adulation given to the Selecao after their surprisingly emphatic win over Spain in Rio. After all, it was a whole new territory for a player whom Brazilians so far have loved to hate. Their vitriol has been loud and clear, as supporters made it known in stadiums north and south in Brazil by booing him or incessantly chanting the name of PSG's Lucas Moura.

Trickery will always be favored over functionality by Brazilian fans, and although Hulk is hardly a fantasista in that regard, merely writing him off as a battering ram is unfair. Against Japan in the Confederations Cup, the 27-year-old almost scored with an outrageous back heel flick that would have earned Neymar 17 TV ads had it been the Barcelona man. The move was Hulk's instinctive way of letting his feet do the talking.

In talking to him, it's admirable just how patient he's been with the flak he's received.

"I left Brazil quite early in my career to Japan, and many people basically still don't know me as a player in Brazil," says Hulk, a man whose thoughtful manners and measured tones are hardly proportional to his imposing physical presence. "I must admit my physique can lead people into thinking I just bump into opponents. That's why they tend to be a bit less patient with me than with other players. But I must say it was a gas to hear them shouting my name during the game against Spain. I felt people were warming up to me, and that has to be something to feel proud of."

Perhaps the biggest endorsement Hulk could get is the fact that he has been lined up as a replacement for Gareth Bale at Tottenham Hotspur in case the Welshman actually departs White Hart Lane this summer. Being reunited with Andre Villas-Boas, with whom Hulk worked in his Porto days, is a move he fancies almost as much as having a go at the EPL. "He was a great manager for me, and I'd love to play for him again," says the Brazilian. "That would be even more special at a strong league like the Premier League."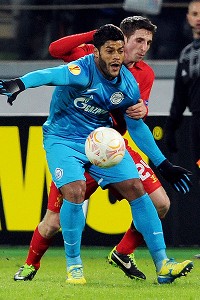 John Powell/Getty ImagesHulk's struggled to settle at Zenit. Could a reunion with AVB at Tottenham be in the cards?

AVB tried to lure Hulk to England before while at Chelsea but was trumped by Zenit St. Petersburg reportedly paying €60 million to the Portuguese club last year. Yet the Brazilian has endured a miserable time in Russia, facing the jealousy of teammates and bickering with manager Luciano Spaletti. A chance to join AS Monaco beckoned a couple of weeks ago only to be turned down for reasons that are more related to Russia's political tangles than business reasons; let's just say that Monaco's owner, Russian oligarch Dmitry Rybolovlev, is not on Vladimir Putin's Christmas card list.

Luiz Felipe Scolari is another fan, and although Hulk had already established himself at the Selecao under Mano Menezes, it has been under Big Phil that the big man seems to have found himself. Deployed as a winger, Hulk and his physicality might not be vintage Brazil, but it's a nightmare for any opponent, including when he turns into one of the meanest chasers at the Selecao.

Pretty it isn't, but life has hardly been pretty for somebody who had to bulldoze through life. The son of two street vendors, Hulk had to help at his family's meat stand, albeit after being blackmailed by his father -- allowed to play football only after helping with daily business.

"I am proud of my origins, and I feel honored by my parents' sacrifices. Now I am able to give something back to my family through football. That compensates all the toughness of life. It's much sweeter to win when you had to fight properly for it," says Hulk, rather philosophically.

With two weeks to go until the end of the transfer window, Hulk might be dependent on a game of musical chairs before he can finally have a taste of the league he grew to admire. "Everything in England is quite impressive, from the intensity of the game to the quality of the stadiums and the noise of the crowds," he says. "You have to respect that, and such an experience would be a great challenge for a player. I hope it happens one day, but it does not depend only on me."