"They said I was done and dusted. What will they claim now, huh?"

By Ronaldinho's standards, it was an outburst. On the Mineirao pitch Wednesday, the former World Player of the Year verbalized the answer he had arguably already given to his critics when he helped Atletico Mineiro to its maiden Copa Libertadores title. Lifting that trophy granted the former Barcelona and AC Milan man entrance to a select club of players boasting the triple crown: World Cup, UEFA Champions League and South America's most prestigious club competition. Only three others have managed to win all three, and all are former Brazil teammates of Ronaldinho: Dida, Cafu and Roque Jr.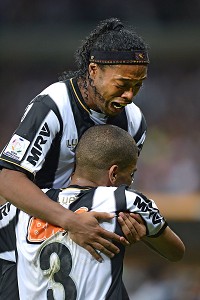 Vanderlei Almeida/AFP/Getty ImagesRonaldinho celebrated Atletico Mineiro's Copa Libertadores title in July, but the year could be ending on a sour note for the now-injured Brazilian.
Redemption couldn't have been sweeter to a player whose return to Brazil in January 2011 was greeted with more suspicion than fanfare, although the more than 20,000 who attended his unveiling at Flamengo turned against him 18 months later when he left the Rio club in a bitter row over unpaid wages and moved to the Galo club in Belo Horizonte.

At the same time, this continental conquest leaves Ronaldinho in a strange place. While a good number of pundits and fans will renew calls for him to be reinstated to the national team, Ronaldinho could not be further from Luiz Felipe Scolari's plans for Brazil's second shot at World Cup glory on home soil next year.

While Big Phil didn't hesitate to summon his 2002 World Cup recruit earlier this year at the beginning of his second tenure as head of the national team, he ended up culling the player by the time his 23-man Confederations Cup squad was announced. Blame Ronaldinho's mix of lackluster performances with the yellow jerseys and reports that he was showing more determination on the dance floor than the training ground.

So Ronnie missed the cut and a place in the new Scolari family. Although the manager has repeated the mantra that the group is not at all closed and that present form will be the determinant factor for a player to be picked for the World Cup, the Atletico midfielder will need something pretty special in order to take part in the tournament for the third time.

One could argue that his reinvention at Atletico was an interesting step, one that Scolari would do well to examine. At 33 and having lost more than a yard or two of pace, Ronaldinho has sought refuge in central midfield, where his sublime passing has provided teammates like Jo and Bernard with precious assistance -- 11 assists in 22 games so far in 2013.

The problem is the perception that his club form has never really translated to the Selecao, an accusation that stuck to Ronnie even during the pinnacle of his career (2004-06), when he won the FIFA Player of the Year award twice and led Barcelona to its first Champions League trophy in 14 years, all this after arriving at a time when Barca wasn't even playing regular Champions League football.

As shocking as it may sound, there are fellow countrymen who have pointed out that Ronaldinho could have done more in a 2002 campaign when he was upstaged by Ronaldo and Rivaldo. But merely bashing a player whose accolades are hard to emulate, even by a proficient soccer video-game player, is almost as naive as expecting Ronaldinho to turn back the clock.

His career was indeed given a second wind in Brazil, but as we have already discussed here, there are important caveats working as pinches of salt.

Make no mistake: Ronaldinho has guaranteed his legendary status in Brazil and in world football. His time at Barca ended on a sour note thanks to his shenanigans in the Barcelona nightlife, which led to his name being on the top of a list of players to be shipped off when Pep Guardiola took over and rebooted the club using Xavi, Iniesta and Messi in lieu of Ronnie and Deco. But few Blaugrana fans will oversee the impact the toothy one had at the Camp Nou.

By the way, how interesting will it be if Ronnie stays at Atletico for the club's FIFA World Club Championship in December, when the Brazilian club might, irony of the ironies, lock horns with Pep Guardiola's Bayern Munich?

In Belo Horizonte, Ronaldinho is now royalty, even though his displays in the final Libertadores games were discreet -- manager Cuca actually unceremoniously took him off in the first game of the Libertadores final. But as one Brazilian commentator described, Ronaldinho can be an asset even when he's having a bad game. His presence sends a message both to Atletico's players and opponents.

It is disputable that his star shines that bright in the national team, judging by observation. Recent outings of the Selecao under Mano Menezes and Luiz Felipe Scolari showed that Kaka worked much better in this mix of playing an ambassadorial role.

Besides, in a recent conversation with former Selecao manager (and current technical coordinator) Carlos Parreira just two days after Brazil's dismantling of Spain in the Confederations Cup final, a message seemed to have been sent. Asked what he saw as the biggest difference between the 2013 squad and the one Parreira disastrously helmed in 2006, his answer was fully loaded: "That group was full of guys who were rich, famous and had won almost every trophy in football," Parreira said in an obvious dig at Ronaldinho. "They weren't half as hungry as this group now. That makes a hell of a difference."

Still, it is a good time to be Ronnie. Happy in Brazil, he can choose to stay and help Atletico win their first Brazilian League title since 1971, if the rest of the European transfer window does not cause too much damage to the team squad. But perhaps there has never been a better moment to entertain the thought of following David Beckham's steps; Ronaldinho could try his luck in MLS at a time when the league can certainly do with another larger-than-life personality to drive up attendances and spending. For Ronaldinho, opportunity knocks in more than one respect.