Atletico Mineiro triumph a reflection of Cuca's genius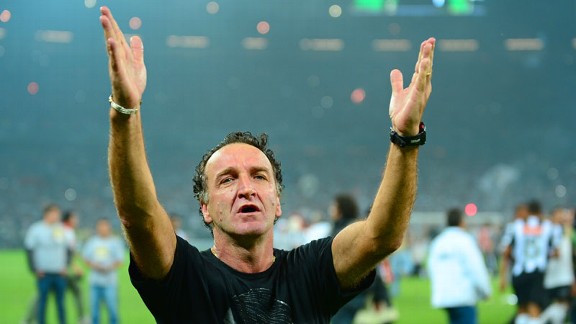 Douglas Magno/Getty ImagesA joyful Cuca celebrates Atletico Mineiro's Copa Libertadores final win over Olimpia.
BELO HORIZONTE, Brazil -- It may be a mere exercise in futurology, but who could be the next coach of Brazil?

The strong probability is that, whatever happens next year, Luiz Felipe Scolari will step down after the 2014 World Cup. If he leads Brazil to victory, he is likely to quit while he is ahead, just as he did in 2002. Any other result and his position will surely not be tenable.

The word is that the current Under-20 coach, Alexandre Gallo, is being groomed for the top job, but 2014 may be too soon for him. That would not be the case, though, for Tite, the impressively articulate coach of Corinthians, who has led the Sao Paulo giants to Brazilian, Copa Libertadores and Club World Cup titles.

And now, a new contender has emerged: Tite's successor as the Copa Libertadores-winning coach -- Alexi Stival, known simply as Cuca, who on Wednesday night in dramatic fashion guided Atletico Mineiro to their first major title since 1971.

Since then, some truly great players have worn the black and white stripes of the Belo Horizonte club -- I'm writing on a plane on which Reinaldo, a magnificent centre forward from the '70s and '80s, is also traveling. His generation, which also included the wonderful midfielder Toninho Cerezo, came close, but it is Cuca who has finally carried the club over the line. The penalty-shootout win over Olimpia of Paraguay immortalises the coach in Atletico's history.

- Faith guides Mineiro to Libertadores glory

A midfielder in his playing days, Cuca has established himself over the course of his 10-year coaching career as someone who consistently produces attractive, attacking sides, fluid and pleasing to the eye. He has had impressive spells with a number of club sides, most notably Goias, Sao Paulo, Botafogo and Cruzeiro.

But, rather like Atletico Mineiro in recent years, he acquired a reputation for being a nearly man. When the serious silverware was being handed out, Cuca did not appear in the photograph.

Some attributed this to his own personality. Cuca has a kind of Don Quixote quality. He is a romantic with an air of melancholy, the attacking coach of the sorrowful countenance.

But he was looking far happier in the postmatch news conference, though he was clearly emotionally drained by the experience. And he was soon sopping wet. He was interrupted in mid-answer when a group of his players sneaked into the room and doused him with water. After a brief pause to dry off, he started speaking again, only to be showered with champagne. He carried on until a third invasion soaked him once more with water, and he rushed off to gain revenge on his unruly bunch of players.

It was the affectionate exuberance of victory. As they enjoyed their hijinks, the players were telling the press that they could no longer describe Cuca as the permanently unlucky man of Brazilian football.

Clearly, Atletico have been lucky to have had him as coach. When he took over some two years ago, the club were battling relegation. He steadied the ship, rebuilt the side, and a year later they came in second in the Brazilian championship -- a prelude to landing the continental title. Along the way, Ronaldinho has recaptured some of the joy that once made him the best, and certainly the most watchable, player in the world game. He is not the force he was at his 2004-05 peak, but under Cuca he has recaptured some of his former glory.

And centre forward Jo has reminded everyone why he was once such an exciting prospect. After an interesting start with Corinthians, and in Russia with CSKA Moscow, Jo went off the rails for a while. During his time in England (with Manchester City and Everton) and back in Brazil with Internacional, he gave the impression that football had ceased to be the priority in his life. When Atletico teamed him up with Ronaldinho, most people feared the worst. It was thought that the pair would attract more headlines for their off-the-field adventures than for anything they did on the pitch.

However, Cuca has gotten the best out of them. Ronaldinho gets most of the headlines -- especially as he has now joined a select band of players who have won both the Champions League and the Copa Libertadores -- but Jo was clearly the more effective of the two in the final. He made a strong case for being considered man of the match in Wednesday's decisive second leg, and he finished the Libertadores as the tournament's top scorer.

Cuca's capacity to work well with such wayward talent would certainly be an asset if the Brazil job were to come his way. And now that he's proved he's not a jinx, that possibility can no longer be dismissed.