Veterans leading Brazilian league by example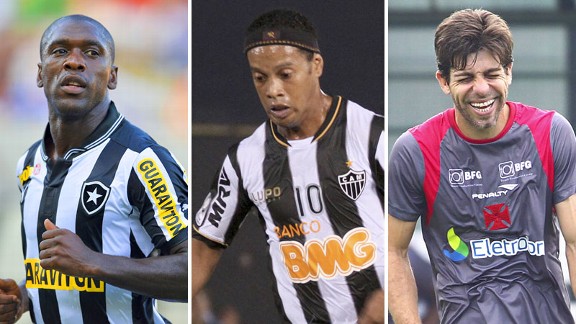 Getty ImagesExperienced stars like Clarence Seedorf, Ronaldinho and Juninho have thrived since heading to Brazil in the latter stages of their careers.
2013 is certainly not the first year when seasoned pros will make headlines in Brazilian football. The difference now is the scale and impact these veterans are having on and off the pitch. With eight rounds gone in the season, the "Jurassic Pack" is making up for the loss of bright young things such as Neymar, Oscar and, quite possibly, Bernard, if reports of his exit are to be confirmed.

Captained by 37-year-old Clarence Seedorf, Botafogo is defying expectations and topped the table as recently as this past Monday -- the club known in Brazil for having produced crops of legendary players (such as Garrincha) hasn't won the national title since 1995. Only goal difference separated Seedorf & Co. from Coritiba, whose yo-yo routine seems bound to stabilize thanks to the return of old boy Alexsandro de Souza, 35, who recently rejoined his hometown club after eight superb years at Fenerbahce.

At the new Maracana -- a place that hadn't hosted a club game since September 2010 -- Vasco da Gama won categorically its Rio Derby with Fluminense on Sunday thanks to an imposing performance from 38-year-old Juninho Pernambucano, whose third stint at the club, following his acrimonious departure from Major League Soccer, gave fans hope that the 1998 Copa Libertadores winners will avoid their second relegation in the past six seasons. At Gremio, former Bayern Munich midfielder Ze Roberto has won plaudits after helping the Southerners finish third last season; in 2013, the 39-year-old's two goals in eight games, prolific by his standards, has also surprised fans and critics alike.

So how to explain this veteran trend? In the broadest sense, these players have seized the opportunities laid in front of them. Given the economic bonanza that swept through Brazil over the past decade and the obvious caveat of the country being awarded (in 2007) the 2014 World Cup, Brazilian football grew stronger financially -- total turnover shot up by 365 percent between 2003 and 2012, reaching $1.3 billion, enough to lure several veterans into taking the long way home.

Two-time Champions League winner Deco, 35, signed with Fluminense in 2010, while 2002 World Cup winner Lucio, 35, joined Sao Paulo in search of a last hurrah in December 2012. Yet these deals were nothing compared to the impressive coup by Corinthians in 2008 when a tubby, but still marketable, Ronaldo swapped Milan for Sao Paulo and helped revive a club that had been relegated the season before.

While previously these players would have hung around in Europe, looking for a gig at midtable or lower-table clubs, going home has become more attractive in the past few years, especially with clubs in Italy, Spain and Portugal feeling the pinch of the Eurozone crisis. Although still a big exporter of players, since 2010 Brazil also has been steadily importing them. In fact, according to a recent FIFA report on the 2012 transfer market, the country was shown to have brought more players (696) than any other, most of them nearing the sunset of their careers (average age: 29).

Romantic as it seems, the emergence of the "Jurassic Pack" is also explained by a combination of on-pitch facts. First, the cream of the Brazilian elite players still ply their trade in Europe (Brazilians were the biggest contingent in the most recent UEFA Champions League, with 78 players). Second, the Brazilian league lacks the intensity and tactical discipline of European tournaments.

It is this latter point that plays a crucial role in these success stories. Even in the case of Ronaldinho, so fundamental for Atletico Mineiro's second-place finish last season and their journey to the 2013 Copa Libertadores final. Or Diego Forlan, who after a dip of form in Italy sought refuge in southern Brazil and is now Internacional's top scorer in 2013, having netted 16 times in 24 games and relegating Tottenham target Leandro Damiao to the subs' bench.

Fans won't complain, though. It's not always perfect -- recent bickering between Lucio and Sao Paulo supporters led some fans to mockingly list the former Bayern Munich and Inter Milan defender on a Brazilian auction site -- but after two decades of seeing idols and next-generation stars heading to the airport with increasing speed, there's a pervasive sense of happiness at seeing some big names coming in the opposite direction.