Atletico: Tales of the eternal 'almost' champions
Inevitably, the saying that surviving certain football matches is better evidence of a healthy heart than any ECG exams comes to mind when one thinks of what Atletico Mineiro fans have been going through this season.

After two excruciating ties in the 2013 Copa Libertadores, they have never been closer to the most prestigious title in South American club football. But there is much more at stake over the two games against Olimpia (starting Wednesday with what promises to be a tense 90 minutes at Paraguay's legendary Defensores del Chaco stadium): Atletico are actually aiming to lose the title of "almost champions."

One has to go back to 1971 to find the last time Atletico fans had proper reasons to cheer. That was the year they won their only Campeonato Brasileiro title. Since then -- apart from state championships in Minas Gerais, where local hegemony has always been a two-horse race with rivals Cruzeiro -- there have been only two Copa Conmebol (now Sudamericana) trophies, hardly the stuff of legend. At first glance, the data put a strong claim against club folklore -- this, after all, is the team nicknamed the "Avenging Rooster" after a famous cockfighting champion who used to terrorise opponents in state capital Belo Horizonte rinks in the '30s.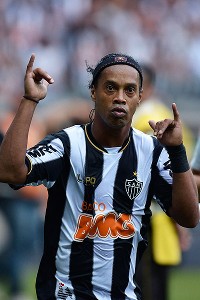 Pedro Vilela/Lancepress/LatinContent/Getty ImagesWith Ronaldinho in tow, Atletico hopes to use a gung-ho brand of football to end its major title drought.
In fact, Atletico became famous in Brazil for stumbling at the final hurdles in their quests for glory. They have fallen short of that elusive second national title no less than 14 times since 1971, finishing as runners-up in four campaigns. Meanwhile, rivals Cruzeiro have won four Brazilian cups, a Brazilian League and two Libertadores.

That jinxed reputation is not lost easily. Being in Brazil, a country where superstition is the unofficial religion, it is impossible not to talk about curses. Especially when one looks at what has happened at the Libertadores so far this year. After breezing to the quarterfinal stages with the best campaign and a 4-1 thumping of three-time champions Sao Paulo, Atletico survived challenges from unfancied sides Tijuana and Newell's Old Boys.

Make no mistake here: The Mexican club was only beaten by a 92nd-minute penalty save from keeper Victor last May, while the Argentine side could feel a bit aggrieved by a power failure that stretched enough of the returning semifinal leg for Atletico to cancel out in the dying minutes a 2-0 defeat in the previous game and take matters to penalties, where Victor again saved the day. Many in Brazil started to think Atletico's luck could be changing.

It shouldn't be down to luck, though. Boasting a squad where a resurgent Ronaldinho ruled the roost (pun intended) alongside mercurial winger Bernard, defender Rever and striker Jo (all of the latter members of Luiz Felipe Scolari's Brazil squad), Atletico looked the strongest they had since the early '80s -- the wondrous Brazil 1982 World Cup squad, for instance, had defender Luizinho, midfielder Cerezo and winger Eder in its starting lineup.

Just like their predecessors, however, Ronaldinho & Co. still haven't delivered. Although they seemed destined to win the Brazilian title last year, their challenge fizzled out, and Atletico finished second behind Fluminense after leading the league for 15 consecutive rounds. More salt was rubbed in the wound by Cruzeiro fans who remind them that Fluminense's top scorer, Fred, hails from the blue side of Belo Horizonte.

What is undeniable is that the Rooster have showed amazing resilience just to have reached this point. If Corinthians' rise from the Second Division to a triple crown made of the Brazilian, South American and world titles between 2011 and 2012 was the stuff of fairy tales, spare a thought for Atletico's tale. Far from having the Sao Paulo giants' immense popularity and earning potential, they lie 10th in the Brazilian clubs' rich list, having turned over £36.2 million last year -- three times less than the Sao Paulo giants, for example.

Unlike teams like Flamengo, Atletico's appeal is regionalised, mostly confined to the Minas Gerais state, where the fierce rivalry with Cruzeiro is not enough to win the attentions of the wider public. That means Atletico took a much bigger hit when they were relegated in 2005. In fact, for a number of years they were close to bankruptcy and even had the 1971 trophy used as collateral for debts.

Since 2009, however, the club have managed to triple their income, even before they staged the massive coup of luring Ronaldinho, who in 2011 left Flamengo after a row over unpaid wages. A tough austerity package imposed by president Alexandre Kalil tidied up the house enough for the club to renegotiate debts and start competing again. It almost paid off last season.

Their brand of gung-ho football, where long balls combine with Ronaldinho's ingenious through balls, suits the intimidating noise of the fans. They will be needed more than ever for the return match next week even before we know the score in Assuncion: CONMEBOL have refused to allow Atletico to play their home leg at the Independencia stadium -- those who know their football trivia will remember it was there the U.S. staged their massive upset of England in the 1950 World Cup. At the 23,000-seater, they have been unbeaten for 38 games. The South American ruling body is adamant the game must be played at the Mineirao Stadium, one of the World Cup arenas.

That will mean the Paraguayans will probably play with 63,000 people screaming in their ears. But tell that that to that superstitious lot of Atletico, most of all manager Cuca, whose respected CV is peppered with near-misses. Since the second leg against Tijuana, he has been keeping the match ball as a good-luck charm, for example. It actually takes part in team talks and so forth.

All that will lose the smell of desperation if Atletico climbs in the pecking order (sorry, I couldn't resist) come two weeks' time. Although it would be the end of a source of brilliant jokes involving empty trophy rooms -- the one about the skeleton of a former club official who passed away there in 1971 is a favourite.