Violence masks the true story of Brazilian football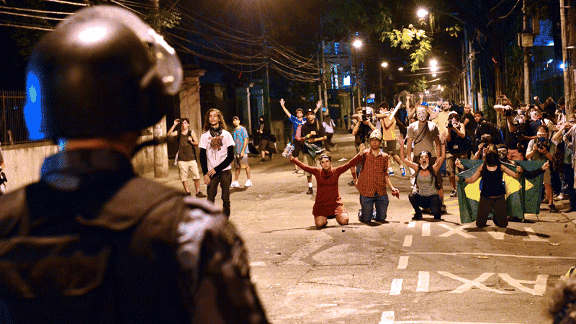 GettyImagesProtests became part of the backdrop of the recent Confederations Cup in Brazil and have created perhaps unnecessary fears ahead of next year's World Cup
RIO DE JANEIRO -- There's a video doing the rounds, a catchy little ditty called, "Dumb ways to die in Rio." It is an eclectic collection of contemporary big-city Brazilian perils, ranging from the amusing (dropping dead in shock at the price of real estate) to the annoying (being squashed on a subway train), to the downright terrifying.

Football, of course, gets a look in. A cited danger is that of cheering a goal for your team while surrounded by opposing supporters. This, undoubtedly, can be a real danger. Brazil currently leads the rankings for football-related deaths.

Another couple were registered recently at the other end of the country, in the remote northern town of Pio XII. In a local amateur game, a referee apparently got into a fight with a player and stabbed him to death, at which point members of the crowd took justice into their own hands and ended up decapitating the referee.

It is a story that has made headlines all around the world, with the global media playing up the scare angle with less than a year to go to the 2014 World Cup and hundreds of thousands of tourists expected to visit.

This, of course, is something of a stretch. This incident is so extraordinarily barbaric, so off the scale of normality that it would clearly be unfair to extract too many conclusions from it. In 19 years in Brazil, I don't think I have even once been decapitated. I'm almost sure I would remember such a thing.

But I do recall twice being mugged at gunpoint. It is an experience common to most big-city dwellers in Brazil, and it is something that can change you forever.

The first time happened was in late 2000, about 1 a.m., at a bus stop close to Vasco da Gama's stadium. It is a notoriously dangerous part of town. No local journalist I know would even dream of taking the bus back home after a big game there. But I had an unblemished record, and, anyway, I'm a huge believer in the importance of public transport. Two muggers, one with a neat right hook, the other with a huge pistol, went about their business.

From the moment I was jumped I can still recall what was happening, and what I was feeling about it, in every fraction of every second. The most durable thought stays with me still: Looking into the eyes of the guy with the pistol, it was clear that he could pull the trigger and get a good night's sleep. It would have all the moral consequences of ripping the ring off a beer can. It is one thing to know this on a theoretical basis; quite another to have this demonstrated in front of you in such visceral circumstances.

Nevertheless, it was a good lesson to learn, and it held me in good stead the second time I was in such a situation.

This one came straight out of the blue, a couple of weeks ago in Salvador. It was the Sunday after Brazil had beaten Italy in the final group game of the Confederations Cup, and I took advantage of a rare morning off to wander up and down the coastline. It was a beautiful day, and I was thinking to myself that it might be a good idea to return for a holiday sometime soon. I went back to the hotel and changed clothes for a wander some 15 minutes down the road to the local supermarket. It was 1 in the afternoon on a glorious day. What could possibly go wrong?

Had I stuck to the street side, probably nothing. Instead, though, I wandered down the pavement alongside the beach – which made me visible. I didn't really know the location -- this was my first time in Salvador -- and was unaware of the dangers. My assailant, a charmless young man with a bicycle and a pistol, was clearly scouting for opportunities. He must have watched me making my happy way along, because he jumped me at exactly the right place from his point of view -- the point along the path that was most deserted.

He pulled up his bike and rolled up his shirt to reveal the pistol. Again, I felt that almost celestial calm descending, the seconds multiplying into fractions in which I calculated my response. I thought I might have a chance of brazening it out, so I walked on, waving him away. "Do you want to get shot in the back?" he cried. I weighed up the pros and cons and saw that the game was up. It was not a chance worth taking. There was one more line I tried. "There's nothing on me," I said. "It's all back at the hotel."

This had only the tiniest chance of success. My wallet was bulging in my pocket -- as he was well aware. He had been sizing me up before acting. So I handed over the money -- with a couple of attempts to keep something for myself -- and chalked it down to experience.

My response was almost certainly not ideal. I probably made too many attempts to negotiate. It would have been safer to have handed it over right from the start. But I can congratulate myself on keeping control -- panic and sudden movements can get you killed in these situations. And I can also congratulate myself for not trying to play the hero -- there were a couple of moments, just fractions of time, when the thought occurred to me that I could push him off his bike and make a break for it -- another silly action that could have got me killed. At the end of the day, I had lost about $50. My way of dealing with it: straight back to the hotel to write an article. And so in my own mind, I had come out on top, earning more than I had been forced to hand over.