Brazil's Confederations outsiders face uphill battle to be included


Brazil was obviously joyous at winning the Confederations Cup in such convincing style -- but it would only be natural if there were some places where joy was somewhat confined. Those players outside the squad, for example, now face a much harder time getting back in.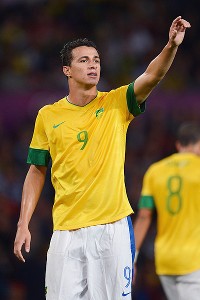 Stuart Franklin/FIFA/Getty ImagesLeandro Damiao was in a good spot as the London Olympics' top scorer, but injury has derailed his future with Brazil.
Leandro Damiao is an obvious example. At the start of June, he was sitting pretty. The top scorer at the London Olympics, he seemed to be a beneficiary of coach Luiz Felipe Scolari's preference for a target man centre forward. He scored in a friendly against Bolivia early this year, was well established as the reserve to Fred -- and, offering more mobility than the first choice, he would have seen the Confederations Cup as an opportunity to force his way into the starting lineup.

But then injury struck and he had to pull out. Jo was called up at the last minute, took his opportunities well, and now Damiao is on the outside looking in -- aware that barring injury to a colleague, he will need a good run of club form to even think about getting back on the squad.

After the tournament, Scolari said that 80 percent of his World Cup squad was now clear in his mind. Kaka might think that there still might be room for him in the remaining 20 percent. His main problem clearly has been a lack of playing time at Real Madrid, where Cristiano Ronaldo is now more decisive in the last 30 metres, and the likes of Mesut Ozil and Luca Modric are more all-around midfielders. Scolari had a look at Kaka in March (half an hour off the bench against Italy and a place in the starting line up against Russia), only to see with his own eyes that the lack of match sharpness had deprived Kaka of the burst of acceleration he needs so badly to perform at his best.

The arrival at the Bernabeu of Carlo Ancelotti could be good news for the stricken star. The pair worked wonderfully well together at Milan, and it is clearly no bad thing for Kaka to have an ally picking the team. With more time on the field, there could be a case for an international recall. Scolari knows Kaka well -- he took him as a callow youngster to the 2002 World Cup. He may feel that 12 years later, the now-veteran could have a part to play -- not necessarily on the field, but as a wise old head passing on his experience to the group.

That, though, is not a function that his 2002 World Cup-winning colleague Ronaldinho is as likely to carry out. If he is included, it will be for bursts of on-field inspiration rather than for any great leadership potential. Ronaldinho was the most controversial absence from the Confederations Cup squad. Unlike Kaka, Ronaldinho is getting plenty of playing time and reveling in his role as Atletico Mineiro playmaker. If winger Bernard and striker Jo are now in Scolari's squad, it is because they owe plenty to Ronaldinho's inspired orchestration.

Brazil never went behind in the course of the Confederations Cup. Had they done so, it would have been interesting to see whether the crowd chanted the name of Ronaldinho in protest. It could have happened in the semifinal in Belo Horizonte, the city where he is now enjoying the twilight of a checkered career. Imagine that Julio Cesar had not been able to save Diego Forlan's early penalty, and that Brazil's attempts to equalise were foundering in the face of Uruguay's defensive resilience. Under such circumstances, it hardly would have been surprising if the Atletico fans in the stadium had begun the chant for Ronaldinho.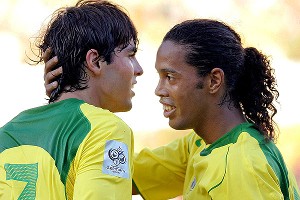 Antonio Scorza/AFP/Getty ImagesKaka and Ronaldinho must battle different obstacles if they are to wear the national colors again.
But fate took a different turning, making it difficult to see what Ronaldinho can do about it. Scolari had a look at him in friendlies this year against England, Bolivia and Chile, and clearly came to the same conclusion as predecessor Mano Menezes -- that for all of his talent and his exploits with his club, Ronaldinho is no longer able to tip the balance at a higher level. The more intense rhythm of the international game leaves him off the pace, and he is unable to make the defensive contribution Scolari requires from his attacking midfielders.

There was more evidence for that point of view in last week's first leg of the Copa Libertadores. Away to Newell's Old Boys of Argentina, Ronaldinho played one glorious defence-splitting pass that nearly set up a goal for Bernard. But he spent most of the 90 minutes being hustled out of the game by the host's midfield marking.

Wednesday's return match, then, is Ronaldinho's opportunity to make a statement, to shout out to all and sundry that he can still rise to the occasion -- and to hint that he might be a useful man to have on the bench if and when Brazil do fall behind in next year's World Cup. It is a slim chance, but it looks like the only one he has.