Deal with it: Brazil will host the World Cup
RIO DE JANEIRO -- If you were in Beijing or New York last week, you would have to be sitting down when reading the news. According to a report by Folha de S. Paulo, a leading newspaper in Brazil and Latin America, that was obviously replicated by international outlets, there was a chance that the FIFA Confederations Cup semifinals and final would be hosted by one of those cities. Other reports also revealed plans for next year's World Cup to be moved to safer pastures after FIFA and international authorities were scared by the scale and intensity of the protests on Brazilians streets during this summer's test event. Yours truly was even asked to take part in a discussion themed "Brazil should give up the World Cup."

I took another deep breath before writing this piece, and so it's with a moderate heartbeat that I classify all the views above as patronizing diatribe. In the words of Mike Lee, the English PR guru whose work with winning bids has become almost an amulet for cities and countries interested in hosting sporting events, good old Europe needs to take a good look at itself.

"I find that media reports still have prejudice," Lee said last Wednesday in Belo Horizonte. "People talked about riots as if they didn't happen in Europe. Parts of London were actually on fire a year before the Olympics and they still turned to be wonderful Games. The country has work to do in terms of image, but the protests shouldn't invalidate what Brazil has to offer."

That his agency MLA has a direct interest in the discussion -- Lee worked with the Rio 2016 Olympic bid and now represents host city Belo Horizonte -- shouldn't be totally dismissed as bias. In 2009, when the International Olympic Committee awarded the Games to Brazil's most famous city, questions about safety and security were raised freely in briefings and even during the presentations. They were never dodged by the authorities, and even if they were, the IOC delegates had several inspections to see things themselves.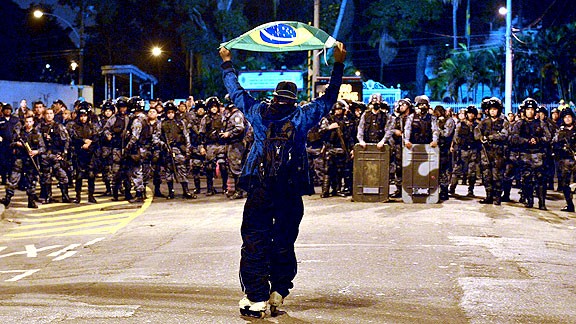 Yasuyoshi Chiba/AFP/Getty ImagesThe recent protests across Brazil stirred up global concern as to the country's ability to host soccer's showpiece event; such fears will prove unfounded.

In this sense, it is a shame that Brazil ran unopposed to host the 2014 World Cup thanks to FIFA's ludicrous continent rotation system created after Germany's photo finish win over South Africa for the 2006 tournament. No other South American country, even Argentina, could handle the task in seven years. Even geopolitical rivalries wouldn't make it fun. As the most successful footballing nation on the pitch, Brazil deserved to have another go at hosting the tournament.

Leave aside the usual political promises and speeches around such decisions. From the start, it was clear that a drop in standards would be expected from a country whose economic strengthening in the past decade could not possibly address more than a century of strong inequality. Brazil would need a total miracle to deliver everything promised in seven years, and FIFA knew it just like it did when South Africa was picked as 2010 hosts.

In the buildup to the 2010 event, the Rainbow Nation was systematically the target of official warnings by FIFA and critical reports from the international media. Most of it was justified, especially when proper information on how much South Africans would actually get from the deal came to the fore. In its bunker-like HQ in Zurich, FIFA looked greedy, very greedy.

Sure, the 2010 World Cup was a success that perhaps surprised even its hosts. There were no serious incidents and actually more violence on the pitch -- Jackie Chan and Jet Li could have been picked for the Dutch to face Spain instead of Nigel de Jong -- than on the streets. Nothing like the waves of protests that took over the streets of Brazil in June. The volume of the noise took everyone by surprise, especially when the World Cup shot up a few places in the protest agenda.

As it has been widely reported, the marches started in reaction to bus fare raises but intensified after the unnecessarily violent response by the police. It was quite obvious that FIFA's jamboree would be next. Thus, ugly scenes marred a tournament but did not result in absolute organizational failure, as predicted by some.

It's true that people should not have had to be caught in the crossfire of protesters and riot police while trying to reach the grounds. FIFA official and guest vehicles should have had better protection before incidents of intimidation reportedly took place. But it's important to point out that the safety of spectators and athletes was never truly at risk during the Confederations Cup. Breaches of that nature would have been the only way for FIFA to seriously start considering a Plan B in terms of hosting. This is not to say that logistical changes won't have to be made so that the eventual protests in 2014 don't create more problems than they should.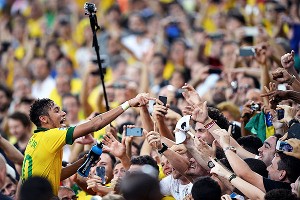 Laurence Griffiths/Getty ImagesEvery World Cup must be judged on its merits. Though Neymar's Brazil in 2014 won't be as slick as Germany 2006, it still deserves its chance to impress.

What ultimately cannot be doubted is Brazil's suitability to host big events. With all problems, including social inequality and crime, the country has a stable democracy that has led by example for other developing nations. Just like every country trying to strengthen its brand, Brazil wants big events. Ah, but it is spending a fortune in arenas that could be underused and less than 20 percent of the promised infrastructure hasn't been delivered yet! So accountability should be a strong point in any protester's agenda, but it is just naive to think football has all of a sudden caused poverty in Brazil.

No, it cannot host a World Cup with German standards. Because it is not Germany, just like South Africa is not France. Yes, Brazil also has to invest a fortune in the welfare of its population, but please look at the bill before just accusing the authorities. The World Cup will cost $12.5 billion to Brazil. That's less than the London Olympics' eventual cost ($13.6 billion) and just 0.5 percent of the Brazilian GDP; put another way, it's three times less than the expected annual investment in public health.

I'm not here to deny that Brazil is a country of contrasts and with deep issues, but expecting that the World Cup should be a flawless corporate event is to reinforce the vision that hosting megaevents should be the privilege of only a few developed countries. That sounds even more ludicrous when one thinks that Spain, for example, would not be able to afford it thanks to the Euro crisis regardless of how dazzling they are on the pitch.

Brazil will be the 2014 World Cup host. Now deal with it.