RIO DE JANEIRO -- Busy as he was during Sunday's Confederations Cup final, gesticulating like a wild puppet in an attempt to make sure his players kept the pressure on their glorious Spanish opponents, Luiz Felipe Scolari had little time to pay attention to the Carnival atmosphere inside the Maracana. But you can bet he heard when the 70,000-plus crowd started the chants of "Ah, it's Big Phil!" midway through the second half of Brazil's 3-0 dissection of La Roja.

-- Marcotti: Brazil on verge of greatness
-- Coelho: Selecao's confidence is restored

A typical chant of praise in Brazilian football and one drawn from the baile funk dance floors, it's not sung for everyone. And it sounded even more impressive when one thinks that four weeks ago, the same stadium's inhabitants had booed and branded the manager a "donkey" during the Selecao's 2-2 friendly draw with England.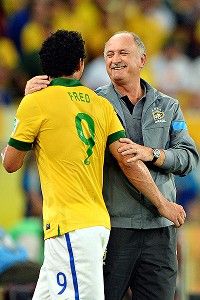 Stuart Franklin/Getty ImagesFans were booing Luiz Felipe Scolari just weeks ago after a draw with England. The Brazil manager is now credited with restoring joy in the country.
Though it's true that those jeers were also directed at the players -- especially Hulk, whose battering-ram style contrasts with the dribbling wizardry Brazilians are so fond of -- it was still a strong statement directed at the man elevated to the category of national hero after overseeing the Selecao's fifth world title in 2002. Yet it served only to make his night of vindication even sweeter. At 64, Scolari masterminded a famous victory that gave Brazilian fans some of the self-esteem that has been lacking since the generation that boasted Ronaldo crashed out in dramatic style at the 2006 World Cup.

"We played a very good Spanish team, which has undoubtedly been the best of the last few years. But tonight [Sunday] we have shown that Brazil do not have to fear any team in the world if we manage to play with discipline and balance. We are now one out of four or five teams that can come back to Brazil next year and fight for the title, but we have certainly improved," Scolari analyzed in his news conference after Sunday's final.

For a few days, people will enjoy recalling the night that tiki-taka was smothered by a collective Brazil performance that should have garnered headlines for more than Neymar's tormenting of the Spanish defence, his wonder strike included. They will tell tales of how a thunderous crowd spurred the players into a tactical commitment that commentators and analysts had previously singled out as the Selecao's Achilles' heel. People will even overlook the strategic fouling, so un-Brazilian in nature, that helped break Spain's rhythm and spirits. More than winning a tournament, Scolari has accomplished one of the side missions in his mammoth quest to lead Brazil to a sixth World Cup crown in front of their own fans: He got the fans on his side.

Given the passion of the Selecao support, this was by no means easy. After a poor 2010 World Cup and 27 months of uncertainty under Mano Menezes, the Brazil job was a poisoned chalice that perhaps only Pep Guardiola could be tempted enough to reach for. Big Phil himself had turned the job down twice before being lured back into the picture. Not only was he 11 years older, but his career seemed done and dusted after an inglorious failure at Chelsea, one that was amplified by his contributions to proud Palmeiras' relegation to the Brazilian second division this past year.

When he finally took the gig, bringing the 1994 World Cup-winning Carlos Alberto Parreira as an adviser, Scolari immediately learned that large sections of the public and media found him outdated. "Football has moved on a lot in the last few years and Big Phil is not the best Brazilian manager around at the moment. We have a guy who helped relegate a team at the top job now," moaned the legendary Carlos Alberto Torres.

Yet it turns out that Felipao wasn't so out of touch after all. Though many people, this writer included, sneered at Big Phil's prompt dismissal of Menezes' system of rotating strikers (one so blatantly borrowed from Guardiola's Barcelona), the manager was actually just taking pages from another big club's book. Instead, it was Bayern Munich that seemed to bring a spark to the former no-nonsense defender's eye. It was no coincidence that Luiz Gustavo, forgotten by Menezes after a couple of caps in 2011, promptly returned to the fold and ended up anchoring the Selecao's midfield. While Javi Martinez watched the final from the Spanish bench Sunday, his understudy in Bavaria excelled in that "calf-biting role" for Brazil, leading the team with 15 "steals."

"You guys think Luiz Gustavo will feel the pressure of being a starter for Brazil? He is a Bayern Munich player, he knows what the weight of expectations is," Scolari said in the week of the final.

Big Phil showed himself to be a fan of the Bundesliga's gegenpressen and we should all have paid a bit more attention when he "jokingly" said that only by naturalizing Xavi, Iniesta and Lionel Messi could Brazil emulate Barcelona and Spain's tiki-taka.

Thus, he summoned Fred, whose time seemed up as well here, and devised a Selecao where not even Neymar hesitates before bringing somebody down. Jogo bonito it isn't, but Brazil have managed in four weeks what they had not since 2009: wins against established footballing nations (France, Italy, Spain) and a trophy. Furthermore, his man-management skills have created a squad that is prouder than ever to wear that yellow shirt.

On a broader scale, the Selecao have also fallen back into the people's adoration during a time when national symbols have been under severe attack. The complicated lyrics of the Brazilian national anthem were belted out like battle cries at the Confederations Cup stadiums and the amount of Selecao shirts on the Rio streets over the weekend seemed abnormal even for the occasion.

"The love people have been showing should not only be a matter of football. When we are happy, things can work better for this country," he argues. One can certainly point out Scolari dodged as many questions about the civil unrest on Brazilian streets as he could, and that his position caused clashes with Brazilian media. "Some of you are trying to put me against the Brazilian people when all I am saying is that my job here is to talk about footballing issues", he claimed after the 4-2 win against Italy in Salvador. Yet where Scolari kept quiet, no player was prevented from addressing the issue -- including Thiago Alves and David Luiz, Big Phil's captain and vice-captain, who openly commented on the topic.

For all the joy that Sunday's victory has restored to Brazilian soccer, Scolari still faces a tough task ahead. The fact that no team has won the Confed/World Cup double shows how dangerous it is to overestimate the outcome of the "warm-up" event. Also, history is against returning managers -- the last one to win the trophy twice was Italy's Vittorio Pozzo, in 1938. "We cannot take one game and one tournament as more than what it is. We have opened a path that can lead us to great things but our work here is not anywhere near done," he says.

The way Big Phil was mobbed while negotiating passage to the trophy presentation, though, shows that he has certainly won a lot of room in which to work.