Finally, Brazil and Spain meet again
RIO DE JANEIRO -- When Brazil and Spain line up for the national anthems in Rio de Janeiro on Sunday at the Confederations Cup final, football fans around the world will be pinching themselves, unable to believe it's finally happening.

Be sure to look at the 22 guys on the pitch, too, for no other contest has been so openly talked about by footballers in recent months as the encounter between jogo bonito and tiki-taka, the serial trophy collectors Spain and the mythical Brazil. Players from both countries have been working as hard as congressional lobbyists to try to arrange a game before relying on the Confederations Cup fixture list.

Brazil captain Thiago Silva and several other Brazilian players hinted in interviews that a friendly would be an important test, while La Roja figureheads like Iker Casillas and Xavi went a step further and formally asked the Spanish FA to get them a game. "I wish we played them next week so that everybody could get on with things in the last three years," joked Silva in April, when asked about his wish to meet up with the Spaniards.

CONFED FINAL COVERAGE:
- Brewin: Spain to prevail again?
- Cox: Scolari's Hulk conundrum
- Marcotti: Legends of Sao Cristovao

It's a game that conjures a mixture of feelings from juvenile excitement to professional instincts. Footballers are inspired by big games, and few in international football could cause a bigger buzz these days. They also have an interesting instinct of preservation, and locking horns with beasts is actually a way to put it down. Make no mistake: Brazil's and Spain's players do respect each other immensely. But they are itching for each other's scalps. "Brazil are a great footballing nation, but we would like to show them that Spain are still the world champions," Casillas said in Fortaleza last night, minutes after La Roja survived the Italian challenge in the semifinals.

"Let's be honest. You, myself and pretty much everybody else wants this game to happen sooner than later. Brazil and Spain are the teams people talk about in international football and we want to test ourselves against them," mused Juan Mata, whose training ground chats with David Luiz, Ramires and Oscar at Chelsea invariably involve some kind of "Who would win?" banter.

The long absence of a Spain-Brazil rendezvous has made footballing hearts grow fonder. Not only do Brazil and Spain seldom meet -- eight times in total, with four Selecao victories and two draws -- but the last time was in 1999 when the sporting world couldn't have been more different. Brazil were still blessed with the presence of Rivaldo, Cafu and Roberto Carlos, licking their wounds after losing the World Cup final to France the year before. Meanwhile, Spain were stuck in the famous game of asking themselves what went wrong after another failure to mount a proper title challenge -- they had fallen in the group stages at France 98.

At the time, Brazilians looked down on Spain. Although several stars had increasingly chosen the Iberian Peninsula as a destination for their European careers, the feeling was that they were far off from becoming as masters of their craft. Fourteen years later, the country's hottest Barcelona-bound prospect publicly endorsed Spain as the team to beat. "It's impossible not to admire what they have done and we will have to play at our best if we want to overcome them," Neymar reckons.

He should know it, too, having been on the receiving end of a drubbing by Barca in the 2011 FIFA World Club Cup final. That's the closest the world has been to seeing Brazil-Spain, even though the blaugrana only make up half of the national team XI, while Neymar's now-former club, Santos FC, hasn't dominated Selecao squads since the days of Pele. That result in Japan helped push Brazil into a deeper state of crisis.

This Sunday, however, the crowd will greet a Selecao on the up and starting to give the fans more confidence, who will vote with their voices. Spain's games in Brazil this June were marked by boos whenever play descended into Simpsons-esque soccer moments. Brazilian admire tiki-taka, but in their ideal world Xavi or Iniesta would ditch their 5,465 perfect passes and choose instead to take on five opponents. Dribbling is a religion here, which explains why Lucas Moura's name is often chanted at stadiums both in the north and south. This is, after all, the country where Garrincha plied his trade and was nicknamed "The Joy of the People."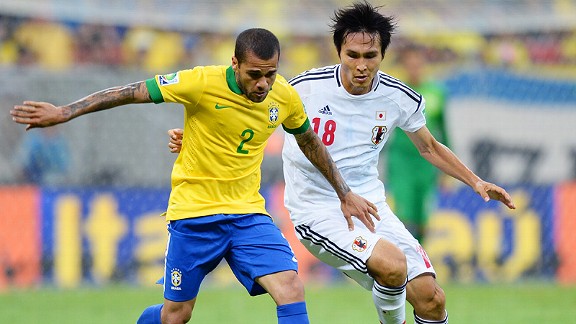 Vanderlei Almeida/AFP/Getty ImagesDani Alves was unappreciated for his direct, dribbling style when he first moved to Spain. That soon changed, as seen by La Roja's bombastic full backs.

"Spaniards love beautiful football, but dribbling was an issue when I got there to play for Sevilla in 2003. There and then, a full back that crossed the halfway line risked a proper dressing down by the managers. The idea of a full back bombing forwards did grow up on them at the end, as we can see nowadays," joked Dani Alves, whose expeditions beyond in enemy territory helped him become one of Barca's top players in assists.

Brazilians do love La Liga and are often seen in its team jerseys. But Alves also summarizes the change in feelings among his peers and countrymen. It will be a dual of identities but Brazil will have to tame some of their instincts, both on and off the pitch. That includes the hatred of not a having a ball to play with. "We need to impose ourselves and not gift them with the ball. If they have it, they're gonna make us run after it, which is definitely not pleasant for a Brazilian."

Thiago Silva goes a step further. "The Maracana is our house. We have to be bad hosts and make them feel the pressure. The count of world titles is still in our favor," jibes the Selecao captain.

In reality, Brazil have been amazing hosts, to the point that more than 90,000 Spaniards live in the country -- the best draft beer served in Rio, for example, is at Bar Brasil in Lapa, a spot owned by a Galician immigrant.

But in footballing terms, Sunday will be a day to create a truce for a footballing war rooted in ideas and style. Given all the recent tensions and protests, the Confed final might be the one clash that people would prefer to see in a big Brazilian city.