A men's match decided by Brazil's boys
BELO HORIZONTE, Brazil -- There is an old saying in Brazilian soccer about boys and men -- boys can win a match, men win championships.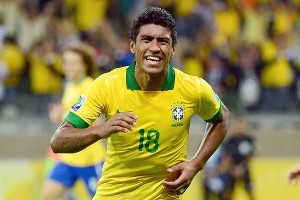 Christophe Simon/AFP/Getty ImagesBrazil's Paulinho celebrates his match-winning goal.
We remember this every time it is said that Brazil is the team of Neymar and Oscar, both 21. Even on a day when Brazil captain Thiago Silva, 28, made a mistake that led to a goal by Uruguay's Edinson Cavani, it is important to remember this.

Brazil's boys beat Uruguay's men Wednesday as Brazil played its worst match in the Confederations Cup, but emerged with a 2-1 victory to advance to the final in Rio de Janeiro Sunday against the winner of Thursday's other semifinal between Spain and Italy (3 p.m. ET, ESPN/WatchESPN).

-Brazil reaches Confederations Cup final
-Marcotti: Uruguay fights, but Brazil finds a way

Many mistakes, without pressure, permitted the Uruguayans to counterattack. The biggest mistake came in the 13th minute, when David Luiz pulled down Uruguay's Diego Lugano in the area. But the visitors' Diego Forlán made a mistake, trying to go to the low right corner, and Brazil goalkeeper Julio Cesar dove to make the save.

Brazil's mistakes continued throughout the first half, as its central midfielders, Luis Gustavo and Paulinho, had trouble with Uruguay's Cristian Rodriguez and Alvaro González. Uruguay played as it had planned.

But patient Brazil got the first goal in the 41st minute. A long ball from Paulinho went to Neymar, whose shot was repelled by Uruguay keeper Fernando Muslera before Fred put away the rebound.

But three minutes into the second half, Silva's giveaway allowed Cavani to equalize and the game changed again. Every Brazil touch was met as Uruguay marked, marked, marked and counterattacked.

Brazil improved after Bernard replaced Hulk in the 54th minute, but Cavani missed a chance to put the Uruguayans ahead. Nervous game!

Finally, this match for men would be decided by boys in the 86th minute. Neymar sent in a cross on the corner kick, and Paulinho, 24, scored on a header.

As Brazil prepares for the final, it could count Wednesday's win as a necessary experience for the future. For other matches for men.