Brazil hope to forge Familia Scolari spirit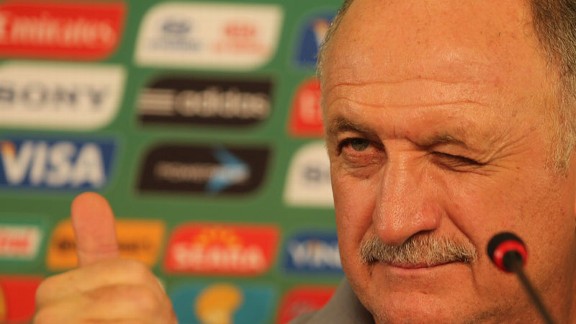 GettyImages"Big Phil" Scolari has the trust of the Brazilian public.
"Two different situations, two different teams," said Luiz Felipe Scolari, aka Big Phil, when asked to compare his current challenge of leading Brazil to World Cup glory on their home turf with his successful World Cup 2002 campaign in Japan and South Korea. "This is a bunch of boys, they're younger. These players are very different from Cafu, Roberto Carlos, Rivaldo ... At times I find myself acting almost like their father."

No other than Big Phil himself is responsible for all that youth. Out of the 23-man squad he picked for the Confederations Cup, only four players have celebrated their 30th birthday: the three goalkeepers and full back Dani Alves. The average age of this group of players is just 26, but more importantly, many lack the big-game exposure usually associated with the distinguished members of the verde-amarela.

Ronaldinho and Chelsea's Ramires could have brought more experience to the side, but Big Phil left them out of the final list because of disciplinary reasons, just like he did with Romário and Djalminha before the 2002 Cup. Kaká was also an option to strengthen this Brazilian team with a more senior player, but the Real Madrid playmaker, the youngest player in Big Phil's squad 11 years ago, didn't make the cut this time.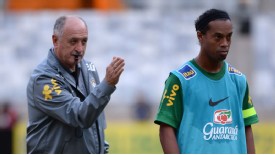 GettyImagesScolari has left Ronaldinho out of his Confederations Cup squad.
In 2002, with a more seasoned side and probably a larger amount of talent in his hands, Big Phil opted for a conservative formation, a 3-5-2 he used in every single match. Roque Junior, Edmilson and Lucio occupied the center back positions, with Gilberto Silva, Ronaldinho and Juninho or Kleberson in midfield.

Cafu and Roberto Carlos were untouchable on their full back positions and, as has been the case in most of Big Phil's teams, their offensive movement down the flanks was instrumental to the build-up play. The pair mostly responsible for the title, Ronaldo and Rivaldo, roamed freely, the latter at times switching positions with Ronaldinho or Juninho in midfield, but largely exempt from defensive obligations. Off the bench, Denilson added width in specific match situations, while Ricardinho joined the side when more ball possession was required.

At first, both Brazilian media and fans showed no love for this tactical approach. The three center back configuration brought dark memories of the infamous Sebastião Lazaroni era, which ended up in painful defeat at the hands of Diego Maradona's Argentina in the 1990 World Cup.

After Brazil's hard-fought and slightly controversial win over Turkey in their first match of the 2002 World Cup, former player and football pundit Casagrande voiced what many supporters cried on the streets: "It pains me to watch this 3-5-2 formation. Our center backs look confused," he wrote in his Estado de São Paulo column.

However, the team grew as the competition progressed, helped by two easier matches in the group stage -- wins over China and Costa Rica. Supported by his no-nonsense demeanour and affable ways, Scolari managed to build a fantastic atmosphere within the side, without having to resort to the siege mentality that "Dunga" implemented with fatal results in his 2010 squad. As their seven consecutive wins mounted en route to the title, the team started to be known as "Familia Scolari" (The Scolari family), a moniker that now follows Big Phil whenever he takes over a team. "Can you replicate that atmosphere?" is the usual question.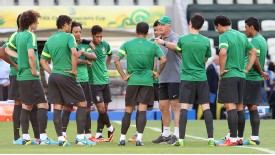 GettyImagesThe current Brazil squad has an average age of just 26.
"This team is no Familia Scolari yet, but the mood is also great," stated Big Phil last week. "And I'm sure you're all happy because I'm not playing with three center backs!" he joked with the press. Indeed, this Brazilian side uses a 4-2-3-1 configuration with a classic line of four at the back, starring Dani Alves, Thiago Silva, David Luiz and Marcelo. "My main concern lies on the full backs: Marcelo is still not that consistent on his defensive positioning, and Dani Alves plays mostly because of his reputation," said Brazilian football commentator Vitor Sérgio Rodrigues. Bayern Munich's Dante, allegedly unknown to both Big Phil and assistant Carlos Alberto Parreira until four months ago, awaits his chance off the bench.

In the current formation, Big Phil gives special importance to the demanding mission of the two holding midfielders. Luiz Gustavo -- in a more defensive role -- and Paulinho -- more free to get to the box -- work tirelessly, but have become the main point of contention between Scolari and the Brazilian media, always keen on more offensive approaches.

"I still think it's too conservative. Felipão is obsessed with protecting the center backs, but Brazil lack someone who builds the play from the back," said ESPN's Antero Greco, pointing at Brazil's most obvious limitation at this point. Lazio's Hernanes, more of a gifted passer than his two colleagues, could be that man, and as such he's been Scolari's first option off the bench in this tournament so far.

Similarly to his 2002 side, the offensive part of this squad sees plenty of position-switching during matches. The dazzling Neymar, together with Oscar and Hulk, may appear left, right or center depending on the opposition's formation. All of them aim to feed target man Fred, who finally scored against Italy after two lackluster matches. They all press higher and more intensely than the 2002 team, trying to get steals in the opposition's own half, as we saw against Italy and Japan. Youngsters Lucas and especially Bernard have become the first offensive alternatives whenever the side lack inventiveness.

In less than a year, Big Phil will try to repeat his World Cup victory of 2002, which would be quite an achievement given the limited training sessions and the meager five official matches this squad will have played by that time. He's trying to pull this off with a young, largely inexperienced squad, while adopting a more offensive playing style than his usual preferences.

Brazilians trust him: "He's the king of mata-mata [slang for knockout tournaments]," proclaimed Eládio, a die-hard Bahia supporter. Scolari's résumé proves the statement: 18 titles, out of which 17 included some level of do-or-die matches, as well as a Euro 2004 final and a World Cup 2006 semifinal, both with Portugal. Big Phil indeed knows how to motivate a team and get their utmost in this type of competition.

This Confederations Cup presents him with another chance to increase his tally of trophies. "I am not concerned about this specific tournament. A year ago all I wanted was to coach someone at the 2014 World Cup, and my wish has been granted. Brazil, no less!" he said, grinning. "2014 is our goal. Tactics change, but if we can replicate the spirit of the 2002 team, things will be a lot easier." So far, he seems to be on the right track.