Uruguay a thorn for host countries under Oscar Tabarez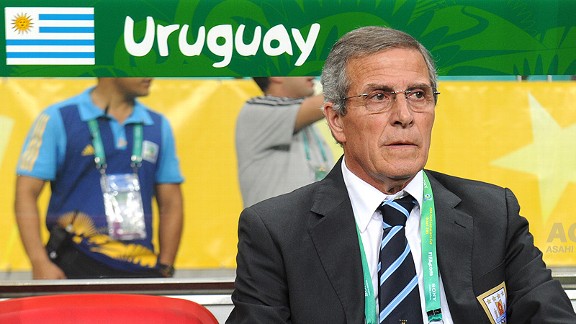 Daniel GarciaAFP/Getty ImagesOscar Tabarez's Uruguay have made a habit out of extinguishing title dreams for host nations.
Oscar Tabarez was the coach of Uruguay from 1988 to World Cup 1990. In 1989, Uruguay played the final of the Copa America at Rio's famed Maracana Stadium on July 16, the anniversary of the famed "Maracanazo." On that day, 39 years after losing the World Cup at home, Brazil won 1-0 thanks to Romario's goal.

Tabarez returned to the Uruguayan national team in 2006, after La Celeste did not qualify for the 2006 Germany World Cup. Since then, Uruguay has met a host country three times. In all of them, the host country was eliminated.

It happened in the quarterfinals of the Copa America in 2007, in Venezuela. Uruguay won 4-1 in San Cristobal.

In 2010, Uruguay was in Group A of the World Cup, with France, Mexico and South Africa.

South Africa lost 3-0 and became the first host country in history to be eliminated during the first round of World Cup.

In 2011, Uruguay met Argentina in the quarterfinals of Copa America, played in Santa Fe. Messi and company were eliminated on penalty kicks.

Brazil is growing up during this competition, but Wednesday in Belo Horizonte, they may have problems against one of their most traditional rivals -- a team that is used to creating problems for host countries.