Fred emerging at right time for Brazil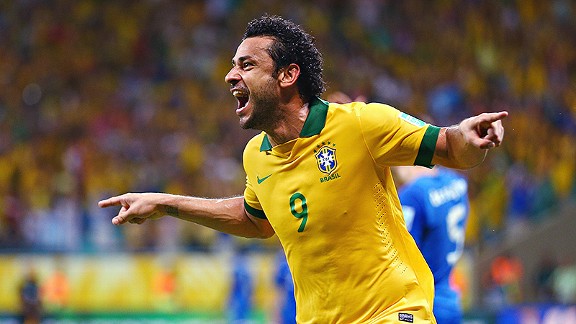 Clive Mason/Getty ImagesThe much-maligned Fred broke out for two goals in Brazil's 4-2 win over Italy.
SALVADOR, Brazil -- The Selecao players were almost ready to leave the dressing room at Fortaleza's Fonte Nova Stadium on Saturday when manager Luiz Felipe Scolari called striker Fred over for a quick word. "You're not coming off today, kid. Even if you are struggling to kick a ball. Have fun."

Almost two hours later, Big Phil would be smiling while discussing his motivational technique with the media. Not only had his Selecao side just become the only team alongside the mighty Spain to put four goals past Italy, but his poacher had woken up. After failing to deliver in the first two Confederations Cup matches, Fred netted two against Buffon & Co.

- Vickery: The secret to Brazil's high pressure success

Scolari's smile also carried a hint of relief. Although Fred scored four times in five games before Brazil kicked off its Confederations Cup campaign, he still wasn't universally accepted. The fact that the Fluminense striker's substitute, Jo, managed to hit the net twice after coming on against Japan and Mexico only increased the calls for the former Manchester City target man to get more time on the pitch.

The fact is that the public never really warmed up to Fred. A hot-tempered man whose sulking could make Nicolas Anelka look like an easy-going chap, he pretty much burned all bridges in Europe after four years at Lyon in which he never really settled in, especially when a promising kid named Karim Benzema broke through to the first team. At the same time Fred also squandered his Selecao chances, although he still managed to play at the 2006 World Cup as Ronaldo's understudy.

Fred signed for Fluminense in 2009, reinforcing the ranks of Brazilian players heading back home thanks to the financial strengthening of Brazilian football. With the Tricolor Carioca, he won the Brazilian Championship twice (2010 and 2012) but not without trouble adapting to the passionate madness of Brazilian fans. Injuries and a busy nightlife led to some ultras actually developing a "Fred watch" in 2011, where sightings of the player in bars would be reported to the media. In fact, the striker was actually once confronted by fans in a Rio nightclub, allegedly going on a bender of "caipirisakes" (yes, globalization has brought a Japanese influence to the famous Brazilian drink).

"I don't feel safe to play for this club anymore and I want out," Fred said at the time, shaken up by the extra off-field "marking." But he stayed and ended up as the scorer in last year's championship.

As if his own troubles were not enough, Fred has also had to handle his outspoken father, Juarez. "Seu" Juarez never refrained from talking to the media and more than once put his son in hot water -- last year he famously claimed that Fred feigned injury in order to avoid joining the Selecao for a friendly in 2011. His comment sparked an outcry and also highlighted the touchy relationship between the striker and the then national team manager Mano Menezes. "It shouldn't be such a surprise, since the bloke does not like playing with centre-forwards. But I also think there was something personal going on," Fred mused. As a matter of fact, Fred is no David Luiz in terms of working a crowd of hacks and the absence of smiles is usually the only certainty when he does speak.

Yet all the tension and dissonance serves as a footnote to recent achievements. While Mano Menezes, who coached the Selecao from August 2010 to November 2012, never really felt like playing with a more stationary forward like Fred and actually toyed with a Brazilian variation of Barcelona's 4-6-0, the Fluminense man was immediately brought into the fold by Scolari, a manager never shy of working with a poacher.

Fred vindicated that choice by scoring in friendlies against England (twice), Italy and Russia -- in the latter, he scored a last-minute equalizer to spare Brazil some blushes after being outfoxed by Fabio Capello's man. Still, he heard commentators asking for more participation on the pitch -- for example, he averages a meager 14 received passes per game for the Selecao. And before that chat with Scolari this past Saturday, he had only played the full 90 minutes once in seven games.

"The media sometimes is not fair with Fred. He's been very useful for the team, opening up spaces and serving his teammates," says Scolari, referring specifically to his assist for Neymar's belter against Japan.

The player himself had expressed some discontent before meeting the Italians. "If I score, you say I don't run enough. If I run, you complain that I get away from the box. It's not easy pleasing you," said the 29-year-old in a news conference last week.

By helping bail Brazil out against Italy, however, his luck might have changed. Suddenly, for the first time since 1986, Brazil might start a World Cup with a "domestic" number 9. That's no little feat for Fred.