Fearful players could strike after Corinthians' trouble
Time for another true tale of Brazilian footballing life. Last Saturday, the Corinthians' training ground was invaded by a gang of more than a hundred fans who were furious at the club's miserable recent form. Far outnumbering the small quantity of police and security guards present, they cut a hole in an interior fence and roamed freely around the complex, seeking their principal targets: misfiring strikers Alexandre Pato and Emerson Sheik.

The players were taken to safety, but not before Peruvian striker Paolo Guerrero was reportedly grabbed around the neck by one frustrated individual. A receptionist was manhandled, cellphones were stolen and, in the commotion, club medical consultant Joaquim Grava fell to the ground and suffered heart palpitations. The fans eventually left after being allowed to vent their frustrations at coach Mano Menezes.

"It was like a prison riot," Grava said. "They were armed with sticks and stones and knives."

It is not the first time that Corinthians supporters have turned their wrath on their side. In 2011 the team bus was stoned by a mob of around 300 fans after the team were knocked out of the Copa Libertadores by Colombian side Deportes Tolima. The protests eventually led to the exit of Roberto Carlos, after the World Cup winner said he felt his safety was at risk.

The current unhappy state of Corinthians is a far cry from the club's glorious recent past, when the league title, Copa Libertadores and Club World Cup were scooped in a short two-year period.

But not much has gone right since that famous victory over Chelsea in Japan. Corinthians were knocked out of last year's Libertadores by Boca Juniors, before a humdrum 10th place Serie A finish meant the club failed to qualify for this year's continental competition.

That brought a tearful end to Tite's marvellously successful reign as coach, although things have not improved under former Brazil manager Menezes, with three defeats in five Campeonato Paulista games in 2014, including a 5-1 mauling by Santos.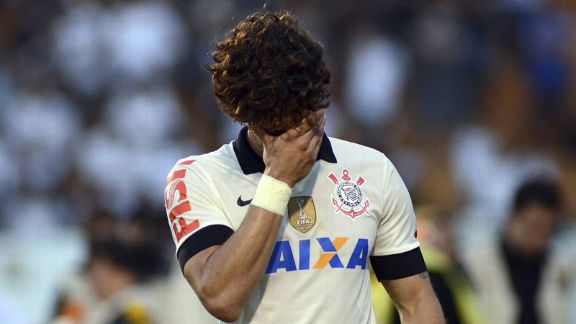 GettyImagesAlexandre Pato has struggled for form at Corinthians of late, leading to criticism from some sections.
As is usually the case with creeping decline, a number of convergent factors explain the club's slide. Corinthians, not a young side to begin with, have looked old and weary in recent months, and the loss of the team's midfield heartbeat, Paulinho, to Spurs has left a yawning gap. Then there is Pato's inability to perform even a passing imitation of a top-level striker since his giddily expensive move from Milan.

None of which, of course, excuses the intimidation displayed on Saturday and at recent games. "Joga por amor ou joga por terror," ran one chant after the Santos defeat -- informing the players that if love for the shirt didn't encourage them to try harder, then another form of motivation would not be lacking.

The roots of the incident can be found deep within the troubled heart of Brazilian football. The pervading hot-headed, win-at-all-costs attitude in the game, born out of tribalism driven by intense local rivalries, means gloating and triumphalism run in the blood. On the positive side, this leads to stirring passions. On the negative, it spawns impatience and, potentially, violence.

While Corinthians directors have logically condemned the invasion, one wonders what contribution the goading at all levels of the game, from club presidents down to fans on message boards, and the policy of treating coaches as human chattel -- firing them after losing just a handful of games -- play in creating such a fevered atmosphere.

Corinthians president Mario Gobbi is arguably an example of how not to lead by example. After Saturday's events (at which no arrests were made, although a police investigation is now underway) he was quick (and correct) to point out the legal impunity that feeds so much of the crime and corruption in Brazilian society.

"Impunity is a failure of the Federal Republic of Brazil," he said. Stirring words, the power of which was only slightly diluted by Mr. Gobbi's campaign last year for the release of the 12 Gavioes da Fiel (the biggest Corinthians torcida organizada group) members held by police in Oruru, Bolivia, suspected of launching the naval flare that killed 14-year-old San Jose fan Kevin Espada in January. Once freed, two of those fans were caught on camera fighting against Vasco supporters in the World Cup stadium in Brasilia in August, and another was involved in a shoot-out with police in Bahia in September. According to police reports, a fourth was part of Saturday's lamentable events.

Then there is the umbilical cord that links the club (and Corinthians are hardly alone in this) with its torcidas organizadas (ultras) and, by proxy, the violent acts that they commit.

The Folha de Sao Paulo newspaper reported on Monday that the Gavioes da Fiel receive 5,000 Corinthians Fiel Torcedor loyalty cards from the club, entitling holders to reduced prices and priority when buying tickets, contradicting Gobbi's claim on Sunday that the club "are not donors or collaborators. They (the organizadas) are independent bodies."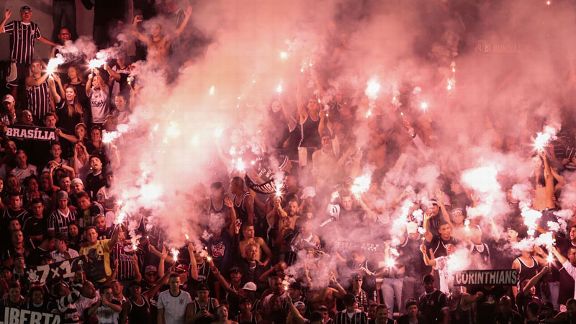 GettyImagesCorinthians fans light flares during their 2013 Paulista championship final against Santos at Vila Belmiro stadium.
The words of Gavioes president Wagner da Costa in the same article show that the group certainly feel themselves to hold a privileged position. "We reject violence and acts of vandalism. But it was time to protest," he said. "(The players') job is to play. Ours is to make sure they do what they're supposed to do."

The episode is likely to have far-reaching consequences. On Tuesday, the Corinthians players released an open letter, stating: "We know that this is not the first, but it must be the last time that thugs connected to the torcidas organizadas invade private property, assault players and club staff and threaten them with weapons. We know that these same hooligans ... are responsible for more than 90 percent of the violence in football stadiums in recent years, cause deaths and drive supporters and their families away from football."

The letter went on to say that the players admitted their recent failings on the pitch, but that their biggest mistake was taking part in Sunday's game against Ponte Preta when they should have refused to play in order to send a message to "the whole country, the authorities, the clubs and football's organising bodies of the tragedy that is waiting to happen if action is not taken."

The players only took the field, according to the letter, because of the club's contractual obligations to its sponsors, the Sao Paulo FA, the Globo TV network, and out of respect to the "true Corinthians fans."

Importantly, the letter also declares the players' "public support" for the "imminent strike proposed by the Sao Paulo Professional Athletes Union, demanding improvements in the working conditions of the employees of the football clubs of Brazil."

While nothing has been confirmed, reports at the time of writing suggest that the union has already informed the Sao Paulo FA about the possibility of strike action this coming weekend. "The players are scared to leave their houses," said union president Rinaldo Martorelli, when it was revealed that some of the team had received threatening phone calls after their numbers were obtained from the cellphones stolen during the invasion. "We're ready to call a strike. The time has arrived. Things can't go on like this."

The union and the Corinthians athletes are supported by Bom Senso FC, the players' protest group that has repeatedly cited the possibility of strike action in recent months. If a stoppage does occur, it would represent another major headache for the CBF (the Brazilian FA) and its Montgomery Burns-esque president Jose Maria Marin, whose organisation was this week questioned by FIFA about the courtroom chaos over just who should be relegated from last year's Serie A.

It would also be another clear sign of the feelings of revolt that continue to bubble under the surface of Brazilian society. Long the country of "it's broken, but we can't ever seem to get around to fixing it," Brazil has, since last year's huge street demonstrations, become a nation of "we're not going to take it anymore." Protests and mass gatherings of all shapes and sizes, from rolezinhos (roughly and badly translated as flash mobs, where thousands of young people from working-class neighbourhoods spontaneously gather in swanky shopping malls) to anti-World Cup demonstrations, continue. The country's professional footballers, it seems, want to be part of the process of change, even if their bosses do not.