Diego Alves deserves his Selecao shot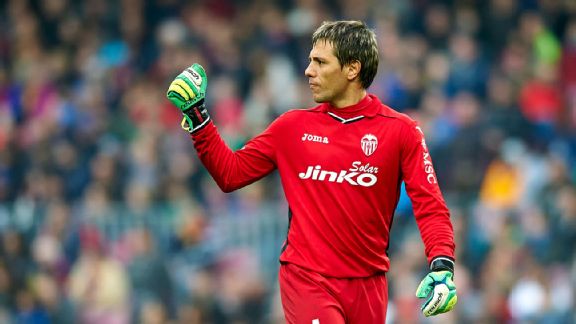 Manuel Queimadelos Alonso/Getty ImagesDiego Alves has proved himself in a top European league.
Features where footballers are supposed to provide tips for tourists visiting their cities can usually make interviewers cringe with answers that often seem lifted quickly from a Wikipedia page. So goalkeeper Diego Alves was a welcome exception when we talked last year about his views on Valencia for a magazine. A couple of weeks ago when we reconvened over the phone for an exclusive chat, Alves said he is still settled and happy in Spain's third-largest city, sunny and warm enough for somebody born in Rio de Janeiro.

The Brazilian is obviously also happy with his job at Valencia FC and is feeling much better after Saturday. A stunning save from a vicious one-on-one Lionel Messi shot in injury time, typical of those first penalty shootouts in Major League Soccer, secured a 3-2 win for Valencia against Barcelona. It was only the first time in seven years that Los Che won a game at the Camp Nou, and also the first time a visiting side took three points at Barca since Real Madrid in December 2012.

- Wrap: Valencia stun Barca
- Ledwith: Slack defending, shock defeat

"My family loves Valencia and I really enjoying playing for my club," the goalie says. "They have given me a chance in Europe, and that was fundamental for my evolution as a player. The game against Barcelona is an example of why I trust this team. Everybody said we couldn't do it, but we have shown that Valencia is a far better team than people gave us credit for. I don't feel like leaving at all."

The problem is that staying or going might not be Alves' choice. Under financial duress, Valencia are hoping to be rescued by Singaporean billionaire Peter Lim, who showed an interested in bailing out the two-time Champions League finalists. (Reports last week suggest Lim's offer has been surpassed.)

Money is tight enough to have stopped the construction of their new stadium, and their $330 million debt was the main reason they didn't resist Tottenham's approach for striker Roberto Soldado last summer. The same might happen with Alves, who has been linked by some as a possible Manchester City target after the 2013-14 campaign.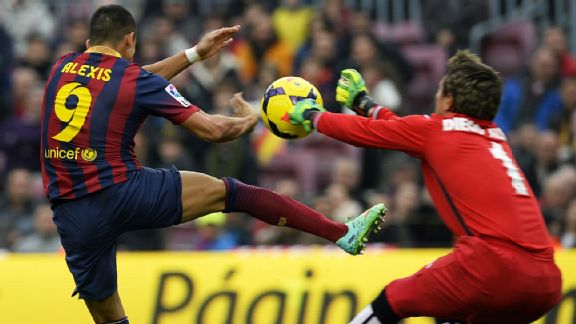 Lluis Gene/AFP/Getty ImagesDiego Alves has been superb in Spain, so his continued absence from the Brazilian national team is a concern.

In the meantime, he continues being one of La Liga's most reliable goalkeepers and arguably one of the few players who can make Cristiano Ronaldo and Messi blink: Alves has saved penalties from both players. In fact, he is the biggest and best PK specialist currently playing in Spain, saving 13 of 27 shots since his arrival in 2007-08.

The bulk of these spot-kick stops came while playing for minnows Almeria, but the three he's saved in a Valencia shirt weren't bad either: Messi, Bayern Munich's Mario Mandzukic and namesake Diego Costa are his victims. "I have felt quite comfortable with penalties ever since my youth academy days; it just felt quite normal to me to be in that situation," reasons the Brazilian. "To be honest, takers should sweat much more than keepers."

Alves, however, is more than a 12-yard shot stopper. He's the only Brazilian goalkeeper playing regularly in a major European league. Bizarrely enough, national team manager Luiz Felipe Scolari doesn't appear willing to give Alves a chance.

After beating the competition of 12 other keepers to become the Selecao starter under Mano Menezes, he vanished from the team following Big Phil's arrival in November 2012. Alves was still called up for Scolari's first game in charge -- the 2-1 defeat to England at Wembley in February -- but in that game he had already been cast aside for the return of veteran Julio Cesar.

"The goalkeeper position is sometimes very linked to other factors than pitch performances," Alves reckons. "I respect Scolari's choice, although I must say it was a bit puzzling to be left out."

Under Menezes, Alves played seven games for Brazil and conceded only one goal -- to Radamel Falcao's Colombia. Yet the 28-year-old, who could not be more opposite in temper to the expansive and cheeky Cesar, says he has no regrets about his international career. "I never let the team down on the pitch," he says. "It was a wonderful time. I felt quite comfortable at the group."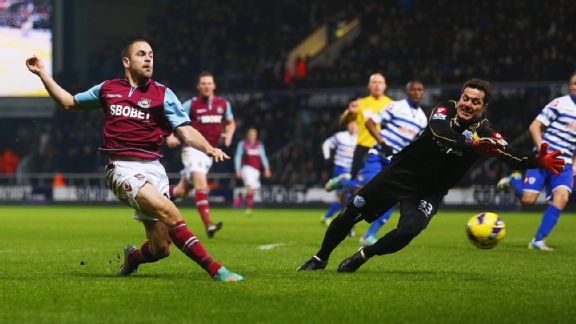 Clive Rose/Getty ImagesJulio Cesar is Brazil's No. 1 despite barely playing in the English championship.

Given that Cesar has had one game in nine months for second-tier QPR and no other keeper has looked confident enough to step in, Alves' exile looks even weirder. But the Valencia man is quick to snap out of the guessing game.

"There a lot of great goalkeepers in Brazil at the moment," he notes. "We might not have a lot of guys playing in Europe now because Brazilian football has more competitive wages now. For me, however, coming to Europe was a huge technical and personal leap. I don't think I will be picked for the World Cup and I wish all the guys the best of luck. They deserve it."

Alves is much more hopeful with regard to Valencia's chances at turning their fortunes around. The 2002 and 2004 Spanish champions -- they remain the last side to break Real and Barcelona's La Liga duopoly -- are now sitting eighth in the table with 28 points, a mammoth 14 adrift from the Champions League qualification zone. They could do with a cash injection.

"Things could change for Valencia if the investor really comes on board," Alves explains. "Atletico Madrid have shown this season that it is not impossible to challenge the big two. I trust the Valencia directors to find a solution to all this. I am happy here and have been discussing a new contract. I'd like to help this club."

Amusingly, the only "forbidden" topic in our chat is his penalty-saving technique. Alves says he doesn't spend hours looking at footage of takers, but this is as far as he goes. "If I tell you," he jokes, "I will never save another one."