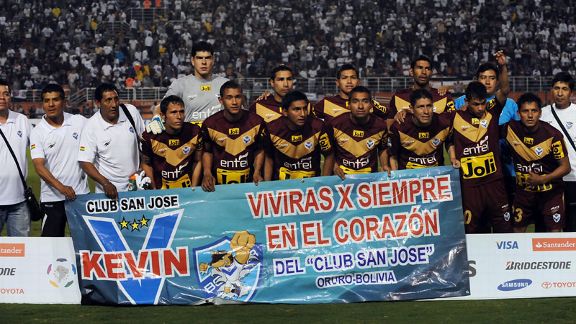 GettyImagesBolivian side San Jose pay tribute to 14-year-old fan Kevin Espada, who was killed by a flare thrown by Corinthians supporters during a Copa Libertadores match earlier this year.
The final round of fixtures in this year's Brasileirao Serie A on Sunday promised great excitement, with almost half of the division's 20 teams either chasing a qualifying spot for next year's Copa Libertadores or battling against relegation.

- Vickery: Violence mars Brazilian game
- Thompson: Generation June

Atletico-PR vs. Vasco da Gama, played at the Arena Joinville in the southern state of Santa Catarina, was especially loaded with tension, with the home team seeking a top-four finish and visitors Vasco in terrible trouble at the bottom. Continue Reading...