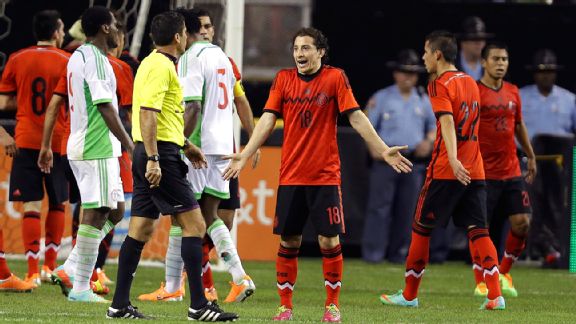 Mike Zarrilli/LatinContent/Getty ImagesThe reviews were largely mixed for Andres Guardado and the Mexican national team in Wednesday's draw with Nigeria.
I've been replaying Rafa Marquez's header from the first half over and over again in my head. It's not a conscious decision, but every time I even begin to think about the Nigeria friendly, the replay rudely interjects and occupies my mind. The memory nudges its way past Guillermo Ochoa's remarkable saves and shoves Hector Herrera's movement forward out of its sight. I can't help it.

- Ramos: Herrera is playing coy with his list
- Marshall: El Tri Depth Chart

Analytically, I felt content with the game and was surprised to see Mexico doing as well as they did. Continue Reading...