El Tri's reality is quite simple: Win or else
BELO HORIZONTE , Brazil -- First, his comments were all smoke and mirrors. "We have gained confidence by beating Japan."

Then he doused his own bonfire.

And finally, Andres Guardado faced reality: "If we don't beat them (Honduras at Estadio Azteca), we'd practically kiss the World Cup goodbye."

Incredible to see such a drastic turn in just 24 hours. It is a reflection of how much Mexico needs a victory -- though it would still be inadequate given the outstanding goal difference.

Guardado acknowledges Mexico's somber situation in the CONCACAF's final Hexagonal round. And it's healthy that he does.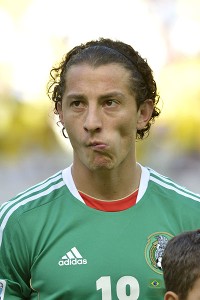 Yuri Cortez/Getty ImagesAndrés Guardado spelled it out for El Tri: win vs Honduras or forget the World Cup.
It's well known: Mexico is third in the standings. The team has upcoming visits to the United States and Costa Rica and will host Panama and Honduras. They have won eight points, with 12 yet to play for. Seven points would guarantee a playoff and eight would likely guarantee the third automatic qualifying spot.

So why is it healthy that Guardado appropriately explain the risks of missing the World Cup?

Because it means taking responsibility, even though the members of Mexico's national team won't lose any sleep.

Can Mexico surmount its rivals? In terms of soccer, yes. They have players with talent, competence and experience so as not to let the three points slip away against Honduras at Estadio Azteca and to defeat the United States in enemy territory.

But there are prerequisites to meet before then.

1. Everything indicates that Jose Manuel "Chepo" de la Torre will continue on as El Tri's coach for the rest of the World Cup qualifying process. But he must conduct a self-evaluation and seek support from his coaching staff.

He would realize that players in whom he previously trusted would not respond: some can no longer do so, such as Gerardo Torrado; others don't want to, like Francisco 'Maza' Rodriguez; and others don't know how, such as Aldo De Nigris.

2. He must identify this team's broken link.

What happened in the 2011 and 2012 process, and to the 2013 national teams?

Arrogance, credibility crises, a broken-down locker room, lack of discipline, lack of spirit, tactical disobedience or expiry of its own discourse?

Moreover, El Tri's predictable style of play tends to lead to its doom. It lacks variation, which is now difficult to develop.

3. The scenario of its own apocalypse. Do players and coach understand the consequences of missing a World Cup?

Soccer players lose value, stadiums empty out, coaches are vilified, fans feel cheated and generations of young soccer players come to a standstill... What's most worrisome is the soccer industry's destruction, because even the team's endorsement deals and those of its star players would fall apart as advertisers reject linking their product to failures.

National team members need to heed the concern voiced by Guardado as a catalyst for resurrecting their fractured spirit.