Mexico's dreadful summer continues at U-20 World Cup
FORTALEZA, Brazil -- You can't do it every summer, can you? El Tri had become accustomed to midyear success following the 2010 World Cup, as 12 months later they conquered both the CONCACAF Gold Cup and the U-17 World Cup. Weeks later, the U-20s capped it off with a third-place finish, the first time Mexico reached the podium at the tourney since 1977.

Last year, an under-the-radar U-23 team conquered Olympic gold and gave Mexico its only gold medal at the London Games. With youth team success particularly repeating itself, it was natural to expect big things out of the team traveling to Turkey to take on the U-20 World Cup in 2013.

Led by former Galatasaray and Cruz Azul player Sergio Almaguer, this year's iteration of the Mini Tri was supposed to be packed with most of the young stars who catapulted the nation toward its second U-17 world title in 2011. A few months earlier, at the CONCACAF qualifying tournament, Mexico burst through the field with a perfect record, stamping its authority in the final with a 3-1 extra-time win over the United States.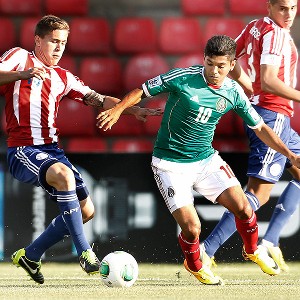 Aykut Akici/AFP/Getty ImagesJesús Corona (r) vies with Paraguay's Piris Da Motta in U-20 World Cup action in Turkey.
That squad had most of the 2011 generation suiting up for it. Unexpectedly, when time came to announce the final list that would search for glory this summer in Eastern Europe, players like Julio Gomez and Carlos Fierro, vital to what had come before, were unceremoniously dumped. Players with a bit more Liga MX experience, such as the electrifying Jesus Corona of Monterrey and the dynamic Armando Zamorano of Morelia, were brought into mix in with the cavalcade of champions.

On paper, the experiment seemed more like a weighted gamble, a chance for Almaguer to stamp his authority and style on a team that approached the tournament with high expectations, albeit with little pressure. The teenagers flew off to Turkey with nary a bit of media coverage, as the nation's eyes were affixed to the 2013 Confederations Cup in Brazil, where the senior side staggered to a sixth-place finish in an eight-team field.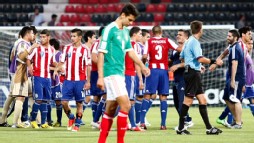 Aykut Akici/AFP/Getty ImagesMexico's disappointment is evident as Paraguay players celebrate.
Against the revamped Catenaccio of Greece, Mexico dominated play but gave up goals on two hefty defensive mistakes - a staple of their tournament so far -- negating a fantastic Jonathan Espericueta free-kick goal that gave them a temporary draw. A few days later, and against a solid Paraguay, Mexico dropped a 1-0 decision that felt lucky considering the run of play. El Tri could have easily given up three or even four if not for hapless Guarani finishing.

Thanks to the nature of the 24-team field, Mexico still harbors a real shot at making the knockout stage. A win over Mali would likely catapult them atop the third-place finishers due to their low goals scored/goals allowed differential. Even then, they'd be placed against one of the harder teams in the tournament in the round of 16, limiting their chances at a deep run within the tournament.

Perhaps what is most worrying is the attitude change that is very much perceivable amid the team's ranks. Borussia Dortmund target Jesus Corona has avoided the media at all costs, gaining him severe criticism in the process. Manchester United target Jonathan Espericueta has been coy about his future at the club level, though it seems readily apparent that it's affecting his performance on the pitch. After conceding against Paraguay, a collective "oh no" came over the team, and despite having over 30 minutes to mount a comeback, El Tri looked very much shell-shocked and desperate from the outset.

With just the senior "B" team remaining at the 2013 CONCACAF Gold Cup later this summer, it's become quite clear that dark clouds will continue to form over El Tri's landscape amid a crisis of results. A crisis that can very much be stunted or even completely thwarted if the U-20's mount a win against Mali and make the knockout stage.

No pressure, kids.