Mexico left with essentially a friendly against Japan
Now that the elimination of Mexico from the Confederations Cup is final, the remaining match versus Japan has meaning only in the significance given to it. It remains to be seen just how big of a failure El Tri has been in the tournament.

That the team collapsed is beyond dispute, given coach Jose Manuel "Chepo" de la Torre's own stated aims for the squad to reach the semifinals, regardless of the challenge presented by top squads such as Italy and Brazil. Some might say, following poet Robert Browning, "Ah, but a man's reach should exceed his grasp, or what's a heaven for?" High ambition is well and good, but Mexico fell short of advancing out of their group with a game to spare.

El Tri has not scored a goal from the run of play in the entire tournament, which is something even lowly Tahiti managed. In falling 2-1 to Italy, then 2-0 to Brazil, Mexico's senior team lost consecutive games for the first time since the 2010 World Cup. Mexico hasn't scored from open play in 402 minutes. It has been shut out six times in 2013, after being shut out seven times from 2010 to 2012, according to ESPN Stats and Info.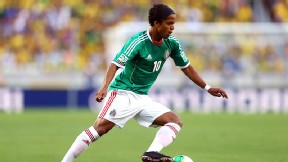 Clive Mason/Getty ImagesGio dos Santos has been one of few bright spots on El Tri.
Beyond the stark statistics, on the emotional level that is part of the beautiful game more than any other, Mexico has lacked the inspiration and heart of smaller squads such as Japan, which pushed Italy to the brink before falling 4-3. El Tri hasn't exhibited the sheer joy of play that Tahiti has shown, either, despite their lopsided losses to Spain and Nigeria.

There have been short stretches of competent team play, but those petered. Of the individual performances, that of Giovani dos Santos has impressed most, partly as a vivid counterpoint to the disappointing displays from many of his teammates.

Now that the pressure of advancing in the tournament is gone, Mexico have essentially a friendly match versus Japan. It might be worthwhile for De la Torre to experiment with a younger lineup, rather than a few token players, and really cut loose with an aggressive attacking formation, such as a 4-3-3.

However, the Asian champions have even less at stake, given that the team was the first worldwide to earn qualification to the 2014 World Cup. Japan's coach, Alberto Zaccheroni, has garnered praise for his development of the team's players, who perform fearlessly and relentlessly. Many of the players staff European rosters, and the majority of those do so in the tough German leagues. Mexico should not take them lightly.

El Tri as a whole, however, seems distracted. The team's precarious position in World Cup qualifying has hung over every minute of Confederations Cup play. While El Tri currently holds the third and final direct World Cup qualifying position in the CONCACAF table, it is three points away from catching Costa Rica, five points away from the U.S., and only one point above Honduras and two ahead of Panama. Basically, Mexico is much closer to getting caught than it is to pulling away.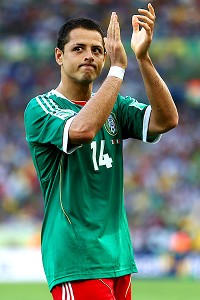 Ronald Martinez/Getty ImagesJavier Hernandez has not had much to applaud in this Confed.
The players have said and keep saying all of the right things about believing in each other and supporting their coach and his plans, but everyone knows that actions speak louder than any nice words. What the matches thus far have shown is that the teamwork is static, unevolving and the tactics are inflexible to the circumstances.

Off the field, there also seem to be recurring issues. Newspaper reports from Brazil mentioned that after the loss to Italy, nine Mexican players were spotted at an adult club, specifically Termas Centauro in Rio's Ipanema Beach. De la Torre responded with a sort-of denial, specifying only that he had no report of such an event, that there was little time for such activity, that all of the players had followed team curfew rules, and that what they did on their free time was their business.

Players going to clubs is nothing new, but that's perhaps not the best way to focus and prepare for a difficult match versus the likes of Brazil. That the players may have done so without De la Torre's knowledge just reinforces the idea that he may have "lost the locker room," as the phrase goes. Some on the squad simply may not be listening to him any more.

Perhaps this view is too pessimistic and the team will rally impressively in the Confederations Cup, exiting proudly with a vibrant win against Japan that showcases a renewed cohesion and dynamic attacking play. Riding the momentum of this redemption, Mexico then returns to CONCACAF competition in the Gold Cup with renewed vigor and new dominance. Instead of being considered a full-blown flop, the Confederations Cup might be looked back on as a blip, a speed-bump wake up that got the squad back on the right track.

This could very well happen. It hasn't happened yet, though.