Again, Mexico looks to a youth team for hope in U-20 World Cup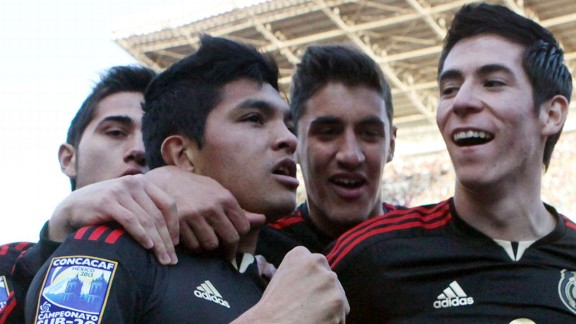 Jose Castañares/Getty ImagesJesus Corona, left, helped lead Mexico to the CONCACAF U-20 title and will be one of the team leaders in the World Cup U-20 tournament in Turkey.
With the senior Mexican national team stumbling from one poor performance to another, it's the Under-20 side's turn to try and shine as a jam-packed summer of action for El Tri's different sides marches on.

Mexico comes into the Under-20 World Cup in Turkey looking to build on the 2011 U-17 World Cup victory and strengthen the arguments that El Tri now is a world power, at least at youth level. Last time out in Colombia, the U-20s finished third, with Jorge Enriquez the competition's third-best player.

The current Mexico squad boasts players in Richard Sanchez, Antonio Briseno, Jorge Espericueta and Marco Bueno who were all integral parts of that World Cup victory in the Estadio Azteca and will be well-known to avid Mexico followers.

Others, however, may not roll off the tongue quite so easily, yet. Here are five players to keep an eye on in the first game on Saturday against Greece and moving through the tournament.

Jesus Corona, Monterrey, forward, age 20

Considering his range of tricks, pace and ability to take players on, it's no surprise "El Tecatito" is perhaps the most talked about player on Mexico's U-20 squad.

The winger -- who often plays in the free role behind striker Bueno for the U-20s -- has already garnered interest in Europe due to his displays for Monterrey in the Club World Cup, and there have been reports of interest from teams like Lazio, Fiorentina, Juventus and Porto.

If Mexico is to win or go far in the U-20 World Cup, Corona will likely be behind it, and there is already discussion of just how quickly he can develop to push for a full national team place.

Antonio Briseno, Atlas, center back, 19

The captain and leader of the U-20 side, Briseno plays with his heart on his sleeve and possesses the vocal leadership qualities the national team seems to be missing at present.

A combative, physical center back, who is good in air (both ends of the field) and can also play on the ground, Briseno is molded in the style of players such as Manchester United's Nemanja Vidic or Barcelona's Carlos Puyol.

Well-spoken off the field, the only downside about Briseno is that he has played only a handful of games for Atlas in Liga MX, although in Leandro Cufre, he has the perfect role model at his club.

Jose Carlos Van Rankin, Pumas, center midfielder, 20

The Pumas midfielder has taken his chance in 2013 and is now an integral part of coach Sergio Almaguer's U-20 side. Van Rankin consolidated his place during the CONCACAF tournament in Puebla in March and became a regular starter for Pumas in the latter half of Liga MX's Clausura season.

A central midfielder who has played before in defense, Van Rankin is the heartbeat of the Mexico side, a combative midfielder with excellent technical ability that can contribute both in breaking up opposition attacks and launching his team forward.

Richard Sanchez, FC Dallas, goalkeeper, 19

One of the heroes of the 2011 U-17 run, California-born Sanchez is in the middle of some to-ing and fro-ing between FC Dallas and Tigres at club level. As long as he keeps that issue at the back of his mind, Sanchez can be a star in this tournament.

A vocal keeper who keeps his defenders on his toes, Sanchez has the physical presence Mexican stoppers have sometimes lacked, is comfortable handling the ball and produces some top quality shot-stopping. Sanchez has previously had a stint with Atletico Madrid's academy.

Marco Bueno, Pachuca, forward, 19

Bueno is charged with getting the goals for Mexico in this event and will be hoping to reawaken interest in his services on the Old Continent.

Previously likened to Fernando Torres both physically and in playing style, Bueno is an all-round scorer, with pace, good movement and an eye for goal.

Bueno debuted in Liga MX at 16 and has been on trial at Liverpool, who continue to monitor his progress.

The Sinaloense has suffered from a lack of playing time with Pachuca this past season and could use a good World Cup to enhance his chances for next season.

Special mentions

Uvaldo Luna, Tigres: Remember Julio "La Momia" Gomez's overhead kick in 2011 and him becoming the star of that tournament? Luna has usurped him in the U-20 squad and his electric pace will likely frighten defenses in Turkey.

Armando Zamorano, Morelia: Already with almost 50 Liga MX appearances, diminutive midfielder Zamorano has the vision and technical ability to unlock defenses during the U-20 World Cup.