Now El Tri must dodge label of worst in Group A
FORTALEZA, Brazil -- The worst humiliation suffered by Mexico was not imposed by Brazil. Nor by Italy. It was inflicted by Japan. And of course by El Tri's frightened way of playing.

The long voyage called Confederations Cup is over. Do you recall the giant blackboard back in January, on which El Tri's objectives for 2013 were presented? At the end, Mexican Football Federation (FMF) president Justino Compean said, "We shall carry them out fully."

There, more conceitedly than credibly, el Tri promised and committed to playing the Confederations Cup final, to qualifying for the 2014 World Cup in Brazil and to winning the Gold Cup. Only that, specifically. Mexico failed on the first one, has its future pawned on the second one and for the third objective, three players called up are now out, one due to personal motives and two because of injuries.

The Mexico versus Brazil game recap said that the moments in which El Tri had control of the game and threatened the Brazilians coincided strictly and exactly with the moments in the first half in which David Luiz was taken off the field due to a nosebleed.

Reading, listening to other opinions, I feared that I saw a different game, despite having been seated at a perfect spot in the stadium.

Brazil coach Luiz Felipe Scolari calmed me down when he analyzed this topic in detail at the press conference. In fact, he dedicated minutes to specifying how the defender's absence had made his defense line worry.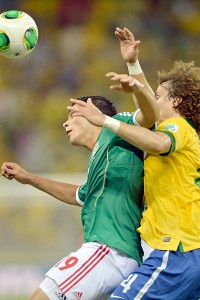 Yuri Cortez/Getty ImagesLuiz (r) played the rest of the game with a broken nose.
"Those were Mexico's best moments, when they took advantage that David Luiz was bleeding and he wasn't on the field or he wasn't concentrated because he wanted to prevent the nosebleed." To explain, Scolari added an account of some plays, and how coverage of wingers and midfielders was done more toward the nucleus of the penalty area, and that's why balls flew to that zone.

I clarify this because it surprised me even from specialists who maintained that a remarkable and evident improvement of El Tri was a reflection of de la Torre's tactical wisdom and of the emergence of some players, when the only respectable one was once again Giovani dos Santos - please note - again on the right, which is not his best zone.

Some even declared that it had been the best Mexico at the Cup and that saved Chepo's head. And the same people had slaughtered him on social media when the lineup included Gerardo Torrado and Francisco "Maza" Rodriguez. Is it that easy to navigate from rebukes to self-denial?

In the end, Mexico finds its apocalypse in the worst Confederations Cup participation, when two fascinating spells by Neymar sentence it.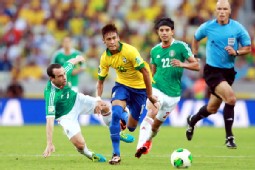 Scott Heavey/Getty Images)Neymar's brilliant goal and assist buried Mexico.
That could be something to be thankful for: At least the mausoleum that houses El Tri's naive and hopeful remains in this Cup was constructed by one of the world's best soccer architects, this Brazilian tapped to be outstanding alongside Lionel Messi at Barcelona.

Besides that, Mexico prolonged its anguish. After being subjugated by Brazil, it clung by the nails and teeth to what seemed a feeble and weak hope: a Japan victory that was diluted, perhaps unfairly, but in dramatic and spectacular fashion, when Italy won 4-3 in a great game.

Next, against Japan, El Tri will have to dodge the label of worst team of Group A and perhaps the worst of the tournament, in direct competition with Tahiti, whose players include nine unemployed men, a coconut vendor, a cellphone salesman, a tour guide and some students, according to the delegation's chief.

We had already asked, what comes next? Drastic decisions. Whichever ones may be necessary.

The CONCACAF Gold Cup approaches, then CONCACAF World Cup qualifying on Sept. 6 and 10. Mexico will play for 12 points and must win at least seven of them. In other words, they need a level of productivity they haven't had in this final Hexagonal round, in which they've won 8 out of 18 possible points.

Have Chepo leave? The brave man who takes his place must assume the reins immediately at the Gold Cup, and try to polish a core group of players from the Liga "M-Equis."

Have Chepo continue? Then demand from him. And have that include the video of Japan against Italy, to serve as a model of courage, of conviction, of bountiful, intelligent, audacious and generous soccer.

Ah, arrogance. January 2013. "To play the Confederations Cup final, book a spot in the World Cup and win the Gold Cup," Hector Gonzalez Iñarritu said.

And right now, I no longer know whether what was surreal was that successful 2011 and the 2012 Olympic gold medal. And not only whether the achievements of those years were surreal but also accidental.

Or if what's surreal is this 2013, which betrays the authenticity of the two previous years.

Ah, arrogance. And I quote Niccolo Machiavelli.

"It is the nature of proud and cowardly men to be insolent in prosperity, and in adversity abject and humble."

Does this remind you of anyone?