Five questions for Mexico against Brazil
FORTALEZA, Brazil -- Mexico's Confederations Cup future (and some say, Jose Manuel "Chepo" de la Torre as national team manager) hangs in the balance on Wednesday afternoon against the hosts. While El Tri prepares to face a strong Brazilian team that is growing in confidence before a vocal home crowd, results above the equator in the CONCACAF World Cup qualifiers put Mexico in a glass half-full/half-empty situation.

• With 'Chepo' or without 'Chepo'?

• Five keys to victory

• Struggling Mexico can still pose problems


Sitting firmly in third place behind the U.S. and Costa Rica, whose respective wins have now pulled them away from the pack, Mexico controls their own destiny, but need positive results against Panama and Honduras at home. However, one slip-up against either side could seriously damage El Tri's chances of making the World Cup via automatic qualification.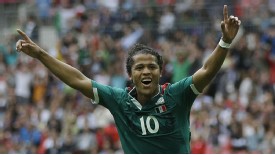 PA PhotosWill there be a spot for Giovani dos Santos against Brazil?
Panama and Honduras linger just behind, putting that much more emphasis on how Mexico performs in the Confederations Cup and intensifies the pressure on Chepo de la Torre, who has only one win in 10 matches this year.

1. Will Chepo opt for youth?

Defensive stalwarts Francisco "Maza" Rodriguez and Gerardo Torrado have been utterly disappointing of late, and despite heady opposition against Italy (Rodriguez's assignment was Mario Balotelli; Torrado's was Andrea Pirlo), both were severely routed in the opening group match.

Chepo has an unlikely pair of players on the bench to replace them. Porto teammates Hector Herrera and Diego Reyes are ideally suited for the challenge. Both were on the pitch last August in the gold-medal match against a Brazil side that featured Neymar and a bevy of other stars who will likely be on hand in Fortaleza.

Up front, if Chepo goes back to a two-striker set, he would be wise to opt for Raul Jimenez, the 21-year-old who nearly made it 2-2 against Italy in a late-game cameo, instead of placing Aldo de Nigris as the starter.

2. Will Mexico stick with the counterattack?

Though at times effective with Giovani dos Santos leading a speedy attack, Mexico renounced possession against Italy and effectively sealed its own destiny as it allowed la Azzurra to consistently get to their back line and shoot.

Brazil, while not as slow as the Italian defense, is somewhat vulnerable as well. With Mexico lacking a consistent attack when it bases its game plan specifically on possession, it is an intriguing question to ask.

Considering their status as the home team, and as they would do historically, Brazil will be inclined to monopolize possession and try to pin Mexico in its own half anyway. A speedy yet organized counterattack could very well make things difficult for the verdeamarelha.

3. 4-4-2 or 4-4-1-1?

The question of how Mexico should line up on the pitch is almost synonymous with who should play. A 4-4-1-1 allows Javier Hernandez freedom up front and usually gives Giovani dos Santos a starting position on the pitch.

Going to a two-striker set eliminates Dos Santos from the starting 11 and creates more opportunities on the wings, as observed in Mexico's 1-0 win over Jamaica, where a cross found Aldo de Nigris in space.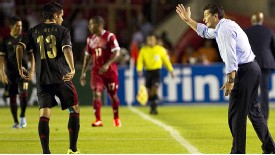 GettyImagesJose Manuel de la Torre is under pressure to succeed.
In the Summer Olympics, Mexico dominated Brazil with just Oribe Peralta up front for El Tri, but without an injured Dos Santos. Allowing the visitors to create opportunities on the wings will likely frustrate Brazilian defenders, who prefer a central attack.

4. Aquino or Barrera?

Speaking of the wings, Mexico's right side has not produced enough for Chepo de la Torre to decide on a steady starter in that position. Javier Aquino and Pablo Barrera have switched back and forth as the starters, somewhat of a nod to their time together in Cruz Azul.

Aquino, evidently, is a consistent and smart attacker who is more likely to generate space on the far side of the pitch, launching crosses into the box. Barrera is a faster, more imaginative dribbler who will not hesitate to cut into the box and create plays himself.

That is when they're both at peak level. One performance from either out of the top drawer will answer a tough, persistent question for El Tri.

5. What happens if they lose?

Despite stating the obvious, Mexico bowing out of the competition with two straight losses will raise the issue of whether El Tri continues with manager Chepo de la Torre. As it stands, Mexico, Panama and Honduras are fighting for one direct qualification spot into the World Cup.

While away matches in Columbus and San Jose against the top two teams in the Hex remain important for Mexico's World Cup aspirations, the road to Brazil 2014 will pass through the Estadio Azteca, where Mexico has yet to win this year.

A disastrous performance against Brazil could increase calls for Chepo's head, especially considering the recent success that El Tri has had against the five-time World Champions at both youth and senior levels.