Dire Days Return For Mexico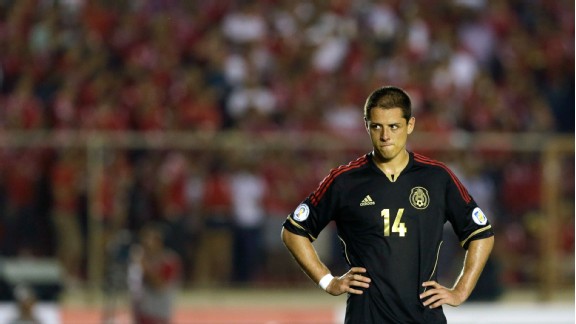 GettyImagesChicharito was once again wasteful in front of goal
With the scoreless result versus Panama in World Cup qualifying, Mexico went back to the bad old days of dire draws.

It wasn't a nightmare sort of match, one in which there's a frightening injury or a horrible mistake. Instead, there was a depressingly familiar sort of dull inevitability to the result, given how common it has been for the El Tri to not score, not lose and yet not win under Jose Manuel "Chepo" de la Torre.

So much more had been eagerly anticipated, given that Mexico seemed to have broken their hex in the Hexagonal only a few days prior with their victory against Jamaica. The points gained, it was reasoned, would take the pressure off the squad. Against Panama, a relaxed Mexico could finally reveal their talent with better teamwork and take that momentum straight into the upcoming Confederations Cup competition.

Things started out well, with El Tri dominating possession and build-up play. However, the key final pass was missing again and again. Tellingly, Mexico's players began to show signs of frustration early on. Unfortunately, this only made the situation worse, as more shots were rushed instead of aimed carefully, and players tried to do too much on the dribble instead of trusting teammates with the pass.

Some of De la Torre's decisions were mystifying. Though Aldo de Nigris has been frustratingly inconsistent in front of goal, he has consistently created chances up front. Against Jamaica, he finished well to help El Tri win the match. Strikers thrive on hot streaks, yet De Nigris was not given the chance to contribute versus Panama until less than 10 minutes were left in the match. Javier "Chicharito" Hernandez was working most of the game as a lone striker. Without another viable scoring threat to draw attention from him, he had little breathing room in which to operate.

The brightest spot for Mexico was in the one position that couldn't help them win the game. Jesus Corona, however, made sure that El Tri didn't lose, guarding the goal majestically to deny Panama time and again. He did especially well against one low shot by Blas Perez. Corona almost single-handedly gained the draw point with his efforts.

Except for Corona, however, who has played well for both club and country, it seems as if Mexico's players perform better for their clubs than they do with El Tri.

More than anything, a coach's job is to bring out the best in players. Eight games have been played in 2013, and few El Tri fans would say they have seen any of the field players at their best. Far from it, in fact.

Instead of going to the Confederations Cup with a cushion of points and a comfortable spot in the standings, El Tri is now faced with a deceptive ranking. The USA and Costa Rica have gained as many points as Mexico, but in fewer games. Panama lurks only a point behind El Tri.

Mexico has to do some soul searching about what is expected from their team and what constitutes a coach doing well with the squad at his disposal. El Tri continues to be unbeaten in 2013, but it seems a hollow achievement, given the unsteady play on show.

De la Torre has escaped axing thus far partly because he is so politically connected. He and his brother, Nestor de la Torre, have a long history with the Mexican national team and relationships with almost everyone with power.

It may not be De la Torre's fault that the Mexican team is stuck in a malaise, but he is responsible for getting them out of it. The light at the end of the tunnel versus Jamaica turned out to be a mirage. Mexico is still deep in the woods.