Panama 0-0 Mexico: Player Ratings
As Mexico limped to its fourth draw in World Cup qualifying, this time turning in a 0-0 draw at Estadio Rommel Fernandez, the sudden calm elicited after a 1-0 win over Jamaica just three days ago has once again given way to a general uneasiness that threatens to topple Jose Manuel de la Torre's tenure.

Unless Mexico can pull off a convincing victory at the Estadio Azteca against Costa Rica, El Tri will likely need a new manager for the Confederations Cup and beyond.

Using what seemed to be a more dynamic lineup than in games past, Mexico was unable to reproduce the offensive push that gave them their much-needed victory in Kingston. With that said, here are the individual player grades for the Mexican national teamers from their match tonight in Panama City:

JOSE DE JESUS CORONA, GK - 9/10: 'Yisus Crown,' as the Cruz Azul netminder has come to be known on social media, was once again fantastic in goal for El Tri. Just like he did in the first match against Jamaica, Corona kept out the most dangerous shot for the opposition and won a point for Mexico all by his lonesome.

CARLOS SALCIDO, DEF – 6/10: After a fantastic showing against Jamaica and calls for the Tigres player to repeat at left back instead of defensive mid, Salcido showed his age just three days later by turning in a weak 90 minutes in Panama.

FRANCISCO RODRIGUEZ, DEF – 6/10: Not so solid in the back after Blas Perez slipped past and shot off a rocket that, if not for Corona, would have made its way into the back of the net. After that, not much for the Club America player to do except patrol the back line.

HECTOR MORENO, DEF – 7/10: Moreno got a couple of chuckles after a howler of a pass gave Panama a throw-in in the first half. Other than that, the Espanyol man anchored Mexico's back line without incident.

SEVERO MEZA, DEF – 6/10: A ghost on the right side. Mexico needs to invest in a different player on that flank, as the Monterrey man has failed to impress time and again. Against Panama, his flank was all but ignored.

GERARDO TORRADO, MID – 5/10: Not only has the Cruz Azul man lost his great ability to hound ball handlers consistently, his offensive projection is all but inexistent. At 34 years of age, Torrado will soon make way for either Hector Herrera or Jesus Molina.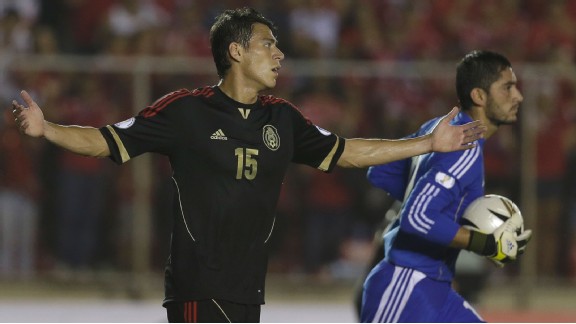 GettyImagesMexico have been frustrated by Panama's defence
JESUS ZAVALA, MID – 5/10: We're not sure if he's picking up some bad habits from Torrado, but this was Zavala's weakest game in a long time, as the Monterrey midfielder limped through a couple of tackles, and watched idly as he was swept aside by Panamanian attackers.

ANDRES GUARDADO, MID – 4/10: After an acceptable first half that reminded us of the fantastic game he had against Jamaica just three days prior, the Valencia man was targeted by Panama's defenders in a bevy of fouls. Instead of rising above, Mexico's star winger fell into the provocations.

GIOVANI DOS SANTOS, MID – 3/10: Quite possibly Gio's worst match with El Tri. It's more than apparent that Chepo de la Torre has lost trust in the La Liga star, though it might be the manager's tactical failings, not the lack of talent that is holding Gio back.

JAVIER AQUINO, MID – 3/10: Pablo Barrera will get his job back against Costa Rica. Chepo wished to give the Villarreal star a chance to win his job back after Barrera was not up to par against Jamaica, but unless Reyna is given a shot, Aquino will give way to his old Cruz Azul teammate.

JAVIER HERNANDEZ, FW – 6/10: Can't blame Chicharito for this 0-0. The Manchester United striker produced Mexico's biggest chance in front of goal, but he was unable to put the ball away. Hurt by a lack of crosses and passes, Hernandez limped off the pitch with a worrying injury.

SUBSTITUTES

ANGEL REYNA, MF – 5/10: Unable to turn the tide after coming into the match for Dos Santos. The Monterrey man has missed out on a bevy of opportunities to stamp his authority as a potential super-sub.

GERARDO FLORES, DF – 4/10: Picked up a garbage-time yellow card purely out of frustration. The Cruz Azul man was not up to scratch after an effective league campaign at the club level.

ALDO DE NIGRIS, FW – 6/10: Had one opportunity, like Chicharito, and could not finish. Like the man he subbed in for, the lack of production was not his fault.