Liga MX 2013: The good, the bad and the ugly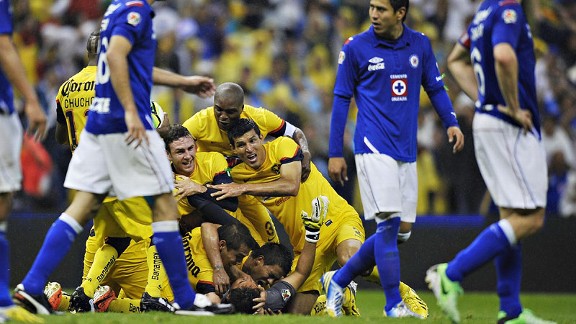 Ronaldo Schemidt/Getty ImagesAmerica celebrates while Cruz Azul players walk off Azteca Stadium dejected.
The 2013 Liga MX Clausura tournament concluded in the best possible way: with an epic final. It was perhaps the most exciting game of the season, without a doubt the most dramatic and possibly the most controversial one.

If Mexican soccer executives and investors had gotten together to write the perfect ending to the Clausura, regardless of the champion, they couldn't have imagined a more remarkable outcome than the one that took place on that rainy May 26th evening at Estadio Azteca in Mexico City.

Club America's win gave them their 11th league crown to tie Guadalajara with the most titles all-time. It also wrapped up a tournament that was positive, generally speaking, with more good aspects than bad, although there is always controversy and difference of opinion in regards to this.

Incidentally, in Week 6 of the tournament, Club America played with 9 men starting in the 38th minute of their game against the Xolos in Tijuana. The Aguilas, who at that point were up 1-0, ended up winning 2-1. That was, in the long run, good battle practice against adversity for Mexico's newly crowned champions.

And now, the good, the bad and the ugly of the 2013 Mexican Clausura tournament.

The Good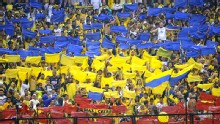 Alfredo Estrella/AFP/Getty ImagesIt was madness at Azteca, as America fans erupted in the final minutes of the final.
INCREDIBLE FINALE. It's true that referee Paul Delgadillo exaggerated when he sent off Jesus Molina in the first 15 minutes of the second leg of the final and that afterwards, in the final minute, he did not see -or didn't dare point out- a foul on a Moises Muñoz push against Julio Cesar Dominguez that allowed Club America's goalkeeper to take the shot that was deflected into the net and saved his team. That said, though, what Azteca experienced on Sunday was passionate madness: 100,000 spectators at the stadium and tens of millions of witnesses via mass media, all stunned by a team that was hurt, exhausted and almost defeated, but decided it would not lost. Stunned by a group of players and coaches convinced they could make history. The glory of a championship never held more meaning.

TWO GIANTS. The most recent occasion in which two of the so-called giants faced each other in the league finale was nine years ago. That game was also settled in a penalty shootout, with a victory for Pumas UNAM over Chivas de Guadalajara. It seems that every time that the two teams with the largest fanbases reach the final, something special happens. In 1990-91 it was Ricardo Ferretti's awesome goal to lift Pumas over Club America; in 1988-89 Carlos Hermosillo beat goalkeeper Pablo Larios, and the Aguilas defeated Cruz Azul; and who can forget Club America's memorable victory over Guadalajara (Chivas) in 1983-84. Cruz Azul and Club America were boring during the first 45 minutes of the 2013 Clausura tournament home-and-away final, but they went on to deliver more than 165 thrilling and dramatic minutes, full of ups and downs, decisions and play executions to discuss and remember for a long time.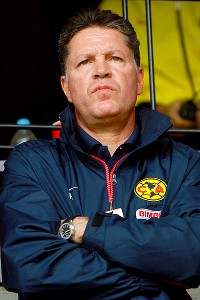 Francisco Estrada/Jam Media/LatinContent/Getty ImagesAmerica's sporting president Ricardo Pelaez pushed all the right buttons in capturing the Liga MX crown.
THE PROCESS. Ricardo Pelaez was content in his work pushing buttons and doing touch-screen demonstrations as a sports analyst at Televisa Deportes, spending many hours in a television studio. One day he was offered the opportunity to become Club America's sporting president. Upon accepting, the former forward of Mexico's National Team, Club America, Necaxa and Guadalajara very convincingly drew a plan of action for the aimless Aguilas. Pelaez took a risk by hiring Miguel Herrera as coach. He was dynamic in setting immediate and medium-range goals. He was prudent in terms of signings and critical regarding players' obligations, until he convinced everyone in Coapa that it was time to become champions. As Pelaez and the eccentric yet effective Herrera celebrate this coronation, they do deserve much credit. Club America was the second best team during the regular season. They defended well, attacked well, had the top scorer and defeated their three biggest tournament rivals without allowing a goal: 3-0 over Cruz Azul, 0-2 over Chivas and 1-0 over Pumas, before beating Pumas and Cruz Azul in the playoffs.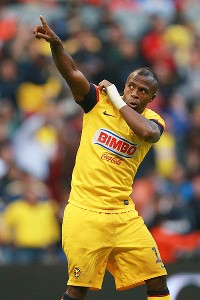 Francisco Estrada/Jam Media/Getty Images As the scoring king in Liga MX, Chucho Benitez celebrated many goals for America.
SUPER 'CHUCHO'. It was a well-known fact that he was a very good forward ever since he played with Santos Laguna, the team with which he'd won a championship. But it was yet to be seen whether Christian Benitez could shine on a team like Club America and become one of the best strikers in recent Mexican soccer history. The Ecuadorian nicknamed 'Chucho' passed the test with flying colors. At the 2013 Clausura he was crowned scoring champion with 12 goals, thus joining legendary Evanivaldo Castro, known as 'Cabinho,' as the only foreign players to lead the goal scoring charts in three consecutive league tournaments (Benitez shared the 2012 Clausura honors with Ivan Alonso and the 2012 Apertura scoring title with Esteban Paredes). Since he had already received a scoring title while playing for Santos Laguna, Benitez joined Paraguayan Jose Saturnino Cardozo and Uruguayan Sebastian 'Loco' Abreu as winners of four goal scoring titles. He then carried Club America throughout the playoffs, with 5 goals and one assist, besides an invaluable effort for 210 minutes in the final, including his perfect penalty shot.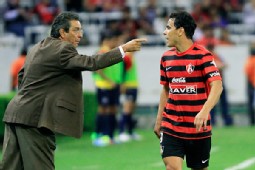 Hector Guerrero/AFP/Getty ImagesTemperamental Atlas coach Tomas Boy instructs Omar Bravo.
ATLAS REVIVED. It was unforeseen, but Atlas brought great excitement to the Clausura tournament. Led by Tomas Boy, who didn't earn any wins after his arrival in Week 7 of the previous tournament, the main assignment for the team from Guadalajara was to avoid relegation. They met that goal on Week 14. One week later, they defeated Chivas in the Guadalajara, or Tapatio, Classic to reach the playoffs for the first time in 12 seasons. Atlas played hard all season long; they played well for most of it and counted on veteran forward Omar Bravo as one of their stalwarts. With his goals, 'Omarcito' provided Atlas with many points and much spirit. Atlas registered the second largest points total behind Tigres, only to be eliminated by Santos Laguna in the playoffs.

AMAZING VISITING TEAM. Tigres UANL fans have proven to be the most faithful in all of Mexican soccer, although at times it would seem that they could be more demanding. Many of them try to forget that their team was eliminated in quarterfinals by none other than the neighboring team, a rundown Monterrey that was nonetheless able to control the team that had led the regular season standings. Tigres finished with 35 points in one of its best campaigns in the short-tournament era. They were unbeaten in the first 13 weeks flirting with the league record. Plus, in away games they earned 21 out of a possible 24 points in a performance that was nothing short of spectacular.

MORE CONTINUITY. Contrary to recent tournaments that turned into veritable coaching carrousels, the 2013 Clausura was characterized by continuity on the bench for the majority of teams. This is something positive although it may not have been the wisest choice in all cases. Only four teams changed coaches during the tournament: Atlante, Queretaro, San Luis and Morelia. The Iron Colts indicated that Ricardo La Volpe's exit was due to health reasons, as he was replaced by Daniel Guzman; Ignacio Ambriz replaced Sergio Bueno as the White Roosters' coach; Gerardo Silva became San Luis' manager in place of Carlos Maria Morales, who in turn had taken over for Eduardo Fentanes; and Carlos Bustos replaced Ruben Omar Romano at Morelia. Except for Atlante's case, the other moves yielded good results, led by the Argentinean Bustos, who coached 10 regular-season games in the tournament without a loss.

GAMECOCKS. On May 4, Queretaro officially left for the Liga de Ascenso (Promotion League), after being unable to overcome Puebla because of an 11-goal difference. In truth, the writing was on the wall for the troubled team before that (they earned only 12 points in the 2012 Clausura and just 7 in the 2012 Apertura). But unlike other teams who have been relegated at some point, Queretaro did so with great dignity. In fact, if they hadn't had the worst cumulative percent, they would have reached the playoffs as eighth in the standings and that is admirable because the team that Ignacio Ambriz coached over the last 12 weeks, with only three losses, was in truth modest.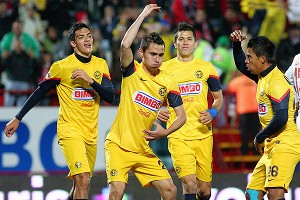 Fausto Vargas/Getty ImagesAmerica's Aguilar celebrates a spectacular goal against Tijuana.
SUPERB GOALS. As in every tournament, the Clausura had some excellent goals: the counterattack by Pachuca's Hector Herrera, culminating with a left-footed chip against Atlante in Week 1, and an almost identical goal by Monterrey's Omar Arellano against Atlas in Week 7, were examples of quality with the 'Made in Mexico' seal. Cruz Azul's Christian Gimenez skirted between two San Luis defenders and blasted a goal past San Luis' goalkeeper Oscar Perez in Week 2, and Morelia's Hector Mancilla did the same, with an impressive half-turn in Tijuana in Week 15. Among the scores that involved great team effort, one of Club America's goals against Atlante in Week 3 stands out; the opportunity was created by Christian Benitez and Rubens Sambueza and the goal was defined by Raul Jimenez. But perhaps the five best goals of the Clausura tournament were the following, in descending order: The angled right-footed shot taken by Club America's Paul Aguilar from outside the box on a fast sprint against Club Tijuana in Week 6; Atlas' Omar Bravo's forceful left-footed volley in Week 7 against Monterrey; Tigres' Danilinho, when he penetrated Club America's penalty area and propelled a left-footed shot over goalkeeper Moises Muñoz in Week 17; Pachuca's Angel Reyna's powerful right-footed shot from far outside the box to beat Cruz Azul's Jesus Corona in Week 7; and tied for first place on the list are two Leon goals: The one scored by Luis Montes with a marvelous left-footed shot against Cruz Azul in Week 5, and the superb right-footed long-distance goal by Edwin Hernandez from three quarters down the field against San Luis in Week 7.

The Bad

CRISIS AT CHIVAS. To end up in 17th place out of 18 teams is obviously not acceptable for an institution with the history and resources of Guadalajara. Its front office, often mocking and arrogant, is paying the price for its confusing strategies. And their players have become mired in mediocrity, dizzied by a misunderstood commitment with greatness. Guadalajara (Chivas) hit rock bottom this semester, averaging less than one point per game, with less than one goal scored per game and a dreadful final stretch with six losses in a row, one that is seemingly unprecedented in historical records.

FALLING ROCK ZONE. Toluca's fans were very happy with the season that the red team offered in the second half of 2012, as overall leader and finalist under Enrique Meza's leadership. But it all began to crumble in the final of the last Apertura tournament, when the Red Devils didn't meet expectations against Tijuana. In this tournament, Toluca (18 points) once again proved to be the team of several prior tournaments, without toughness or aspirations. A similar disappointment was experienced in Leon. The emerald team had been a revelation in their return to the top flight, goal-happy and fun. However, they ended up 15th in the Clausura standings with 16 points (17 less than the previous semester). The red and green teams were the ones that scored the least: 14 goals each. In Mexico, many would say that Toluca and Leon were both just a flash in the pan. Could that be so? Those comments are somewhat justified: both played games in the Copa Libertadores (only two for Leon), and they also fared poorly.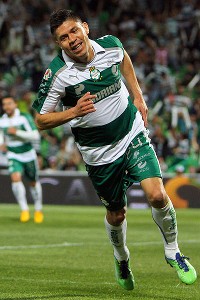 Armando Marin/Jam Media/LatinContent/Getty ImagesStar striker Oribe Peralta hurt Santos' liguilla quest when he strained ligaments in his knee.
ORIBE INJURED. It's always bad to have injured players, but when the one who gets hurt is arguably the country's best center forward, that is very bad news. Oribe Peralta was already being treated with kid gloves, yet he still had another productive tournament with 8 goals. But in Week 15 the Mexican hero of the London Olympics suffered a ligament strain in his right knee. Although he did see some action in a game after that, he was no longer available for the final phase with his team, Santos Laguna.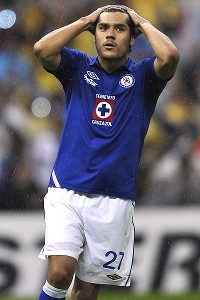 Ronaldo Schemidt/AFP/Getty ImagesCruz Azul's Javier Orozco missed a penalty kick in the final against America.
CELESTIAL CURSE. The crowning of Club America as champions is historic for many reasons, especially since they came from behind and overcame so much adversity. The flip side is a Cruz Azul team that seems cursed. Fifteen-and-a-half years after its last league championship, Cruz Azul could already taste the team's ninth title, while commentators were debating who had been the most valuable player, whether Jesus Corona, Pablo Barrera or Teofilo Gutierrez. With just two minutes remaining to play, a two-goal advantage and the numerical advantage on the field, the debacle could really have not been anticipated. The dimensions of Cruz Azul's newest disaster, its fifth consecutive league final lost (the others were Pachuca in 1999, Santos Laguna in 2008, Toluca in 2008 and Monterrey in 2009), still seem incalculable given the severity of what occurred. In the shadow of one's great feat, another's tragedy. The so-called Machine wanted to win without putting in the necessary effort. Soccer made them pay, and hard.

RED CARD. It's clear that no one was satisfied by the work done by the referees in Mexican soccer during the recently concluded tournament. When the referee assigned to the most important game of the campaign is one of dubious credentials - i.e., Paul Delgadillo - one cannot expect great results. The official showed poor judgement on countless occasions during the final; thankfully for him, it was the players who, rightly so, captured most of the attention.

The Ugly

ABANDONMENT. When a franchise in one of the major sports leagues moves to a new city, it is a serious matter because it implies abandonment for the city left behind, with social and economic effects that are all too real. A sports team provides joy and entertainment to an entire community. Also, it is a source of employment and livelihood for hundreds and even thousands of families, be it direct or indirectly. When a team moves, it is good for the new host city, but ugly for the city that loses its colors. In Mexico's case, the main league is soccer, and right now not one but three teams are expected to move all at once: Jaguares, sold recently, will relocate to Queretaro; San Luis, which has changed hands so much in recent months, has made clear its intentions of moving to Puebla, and recently promoted La Piedad, with all the effort invested in returning to Mexico's Primera Division, has requested a venue change and there is talk of Veracruz as a potential destination.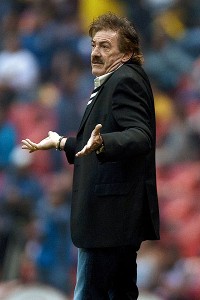 Yuri Cortez/AFP/Getty ImagesAtlante finished last, even after coach Ricardo La Volpe stepped aside in January.
POOR 'POTROS'. Atlante is a historic club in Mexican soccer. Many may not be aware of this, but in another era the team was one of the most important ones: the team of the people, that of the 'dark-skinned' Mexicans, the one that represented the country's working class, and which has remained, with comings and goings, in the top flight. The Potros de Hierro (Iron Colts) recent tournament, with their last-place finish, was an embarassment. It's not a first for them, but it's no less humiliating. Besides, Atlante's current team didn't lack talent. The front office is knowledgeable about the game and their coach at the start, Ricardo La Volpe, is an institution. But La Volpe had to step aside, apparently obeying medical recommendations, and the Cancun vessel shipwrecked. They were particularly weak as a visiting team: 7 losses in 8 games, with 4 goals scored and 18 allowed. Atlante will kick off the next tournament with just one point more than Puebla (recently promoted La Piedad does not have a percentage) on the percentage table.

AGGRESSIVE XOLOS. Without a doubt the Tijuana Xolos have done things well at different levels in Mexico's Primera Division, including winning the 2012 Apertura title. In this Clausura tournament, they couldn't handle the pace of simultaneously playing the Liga MX and Copa Libertadores. Thus, they collapsed, earning merely one victory versus 8 losses between weeks 5 and 16 (6 of a possible 36 points). Their defense of the championship was poor. But there was another facet of the Xolos that was not liked at all: their rough play that at times turned violent. Tijuana players received 10 red cards and 51 yellow cards. In contrast, Tigres, for example, had zero expulsions and 26 yellow cards during the regular season. The models of discipline on the field can be, clearly, opposite.

WEEK 13.The average number of goals scored per game in this tournament pretty much stayed on par with the previous one, with 2.45 goals per game taking into consideration all 17 weeks of the regular season. But in a tournament livened by goal quantity and quality, one deplorable weekend stands out. It was Week 13 of the Clausura tournament. Only 15 goals were scored, of which five came in the first game (Jaguares 3, Guadalajara 2). That weekend saw three 0-0 games. There were only four other goalless draws the rest of the season.

HAVOC. It is no novelty or surprise when Tomas Boy allows his bad temper to get the best of him. In terms of managing teams, the 'Boss' has shown his quality on several occasions and molded Atlas into a very tough side in this Clausura tournament. But on the night when his team was eliminated by Santos Laguna, Boy did not remain quiet and humbly accept defeat. The coach looked for a fight and almost found it, accusing Santos Laguna's Carlos Darwin Quintero of mocking his rival. It was a disgraceful close after such distinguished work.

Julio González is a reporter for ESPNDeportes.com, based in Mexico City. He has covered Mexican soccer for diario Récord and other publications in Mexico and the for El Mundo de San Antonio in the U.S.