Club America steal spoils in frenetic final
MEXICO CITY -- Eleven, not ten, is the perfect number for Club America, who finally tied C.D. Guadalajara for overall league championships after one of the most bizarre and memorable finals in history against Cruz Azul. Coach Miguel Herrera has proven now that he can not only transform a club, leading them back to the playoffs and semi-finals, but also to the championship trophy.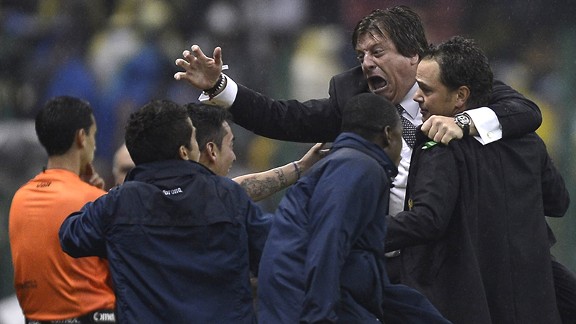 GettyImagesClub America pulled off a stunning comeback to defeat Cruz Azul on penalties
Familiarity creates understanding. As long-time city rivals, Cruz Azul knew what they would be facing in Azteca stadium against Club America in the final leg of the Liga MX championship final. Thousands of eager fans in the enormous stadium, cheering wildly for Las Aguilas. Yes, there would also be hardy pockets of Cruz Azul fans, demonstrating their support for the Blue Machine, but it would certainly be an away game.

However, it wouldn't be anything that Cruz Azul hadn't faced before, and recently, since they defeated Club America on the way to the Copa MX final. They eventually claimed that championship. Perhaps that trophy broke the hex that Cruz Azul had suffered from for so long in finals, because since that win, the players seemed to have an innate confidence that carried them through the Liguilla.

In the finals, though, the highest scoring team in the Liguilla turned wary. With only a one-goal lead in the first match, Cruz Azul threw numbers behind the ball to defend. The tactic surprised many, including Club America. Most had expected the run-and-gun Cruz Azul team from earlier in the playoffs to leave more open space on the field. Few considered a one-goal lead to be a safe margin.

It wasn't, of course. But it was a lead nonetheless, so Las Aguilas had to play catch-up. Cruz Azul went back to defending and waited for the right counterattack chance. It came early on, with Teofilo Gutierrez and Pablo Barrera leading out the charge. That's when Jesus Molina made an error, pulling down Barrera to prevent a goal. The red card that followed gave Cruz Azul a clear advantage, even though it didn't show on the scoreboard.

Five minutes later, it did. On another counter opportunity Gutierrez brought down the long ball pass and buried the shot past Club America goalkeeper Moises Munoz.

A two-goal lead was more formidable. Club America began to panic a bit, rushing passes and missing chances. Christian "Chucho" Benitez slid a pass to Raul Jimenez late in the first half. With only the goalkeeper to beat, the young forward kicked his shot straight at Jesus Corona.

Rainy conditions favor teams that keep their composure, but then it was Cruz Azul who blew a golden chance in the 74th minute. Christian "Chaco" Gimenez, on another counterattack, shot at a sharp angle. The ball hit the post. Guiterrez, trailing the play, somehow failed to put the rebound into the open goal.

Things looked dire for Club America, who lacked imagination and ingenuity. The players couldn't seem to find their rhythm. It wasn't so much their dependence on Benitez that doomed them as their inability to move beyond that Plan A.

Desperate times called for desperate actions, and that's what paid off eventually for Las Aquilas. On a set play, defender Aquivaldo Mosquera nodded the ball home with about a minute left in regulation. With a ghost of a chance left, deep into stoppage time, goalkeeper Moises Munoz went forward on another corner. Miraculously, the ball fell to him and he sent it goalward. Defender Alejandro Castro got a foot on the ball to clear it, but instead deflected into the net to send the game into overtime.

Suddenly, America were a club transformed. As Cruz Azul, befuddled, searched for a necessary goal, acres of space opened up for Club America. Aguilas passes connected sharply and players charged forward to claim the championship that was suddenly so close. A perfect pass to Benitez sprung him alone against Corona, who heroically stopped the shot Benitez fired off.

In the second period of overtime, Las Aguilas continued to push, while Cruz Azul, Corona aside, looked weary. Time and again, a yellow wave of players invaded Corona's box, only to be denied by either the goalkeeper himself, or an exhausted player in blue.

The improbable final would come down to a duel of nerves and goalkeeping skill in penalty kicks. Munoz, who had saved his team by scoring the goal that tied the overall score, would attempt to out-do Corona, who had made the most difficult saves during the match itself.

The first penalty kick set the tone. Munoz saved Javier Orozco's attempt, which was a bit too careful and central. The stadium erupted. Corona wasn't able to keep pace with a save, and was further let down by his team-mates when Castro skied the next chance for Cruz Azul. That's all the advantage that America needed, as all their players made their kick attempts. Miguel Layun buried the final one to provide the winning 4-2 margin in penalties.

The storm continued, even as the winners received their medals. Yet it couldn't dampen the spirits of the winning squad and their ecstatic fans, bouncing enthusiastically in the stands and singing in the rain.