Xolos run out of steam, but can hold heads high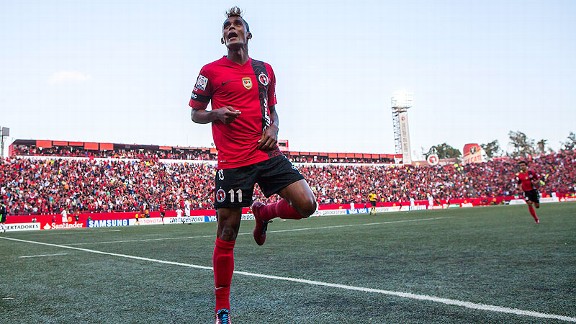 Francisco Vega/LatinContent/Getty ImagesEcuadorian Fidel Martinez celebrates his goal that gave Xolos a 2-0 second half lead over Atletico Mineiro.
If there was one moment to sum up Antonio Mohamed's Club Tijuana on Thursday against Atletico Mineiro, it was the crazy-haired Ecuadoran winger Fidel Martinez tracking back and tackling Ronaldinho just before halftime after the Brazilian magician had just produced his best bit of skill of the night to burst dangerously to the edge of the penalty area.

- Newell's hold Boca in stalemate

It left Ronaldinho flailing his arms in the air and looking inquisitively at the referee, but there was no foul. The 33-year-old was frustrated.

Martinez arrived in Tijuana in the summer of 2012 with the "Ecuadoran Neymar" tag and struggled to adapt to the Mexican game, looking like a one-trick pony that would sulk if a decision didn't go his way. He was more like a Neymar parody.

How he has improved since, almost in sync with the growth of Mohamed's team into an honest, gritty, hard-working and -- let's not forget -- skillful, damaging package.

At 2-0 up after an hour with goals from Duvier Riascos and Martinez, Xolos were good value for their lead and displaying all of those aforementioned qualities. The game had gone perfectly. Favorite Mineiro was looking void of ideas and the game was on the brink of turning into a disaster for the Brazilians.

Even with the eventual comeback, the fact the final 2-2 score was so devastating says a lot about how far Xolos have come over the last two years -- when they were still in Mexico's second division.

"I am sad because of the result. This could have been a 3-0 or 4-1 game," said Mohamed in the post-match press conference. "We needed more goals and we couldn't score them."

Tijuana took the lead in the 32nd minute, but it should've been earlier as chances such as Riascos' blasting over in the 10th minute, Gilberto Silva's last-ditch tackle on Martinez who was about to pull the trigger in the 24th and Edgar Castillo's going close in the 27th serving as the best opportunities.

Perhaps tiredness set in for Tijuana; perhaps it was a lack of concentration, but Mineiro managed to equalize with two scrappy goals. From the Brazilian point of view, it was a bad day at the office, that somehow turned good, but Mohamed isn't throwing in the towel ahead of next Thursday's second leg.

"We are sad today but we are alive," said the former Neza player. "We won't be sad tomorrow. We have some days to recover. We know we were better and we will never give up."

The Argentine talked in his press conference as if he is now definitely going to leave after the second leg, which will leave a big hole at the club.

"They were two marvelous years," stated Mohamed, speaking in the past tense. "It was a pleasure for us to grow together gradually, win and become champions. I leave happy. We made it to places people didn't expect us to reach."

He added: "I think we changed the country's vision of Tijuana. Everyone talks about the Xolos now. That is priceless. We are happy to be part of this team."

It isn't all over, yet. Mohamed still has one game left and a victory next week in Belo Horizonte would reverberate around the footballing world and potentially set up a meeting with Boca Juniors in July in the Libertadores semifinals.

Achieving it would be a fitting note for Mohamed to go out on with Xolos.