Xolos plan focused on youth, international expansion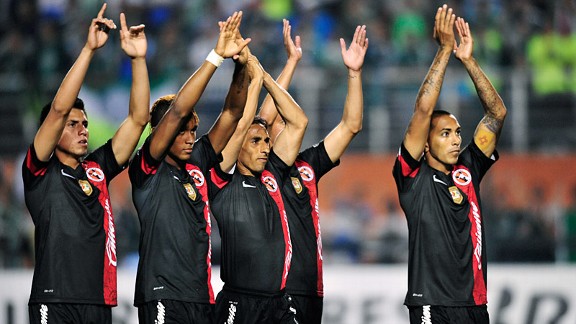 Hélio Suenaga/Getty ImagesXolos players celebrate their Copa Libertadores win at Palmeiras.
TIJUANA -- Club Tijuana assistant GM Roberto Cornejo cuts a relaxed figure two days before his team's Copa Libertadores clash against Atletico Mineiro.

Dressed in jeans and a club polo shirt, Cornejo is in the Estadio Caliente checking out the club's Under-14s play a hastily arranged scrimmage against the state team from Durango, along with Xolos' chief scout.

His presence seemed to emphasize the idea flowing from the club that while the game against Ronaldinho's Atletico Mineiro is a massive event both for Xolos and the city, Club Tijuana's master plan will continue to roll on, regardless of the result this Thursday.

- Ronaldinho-mania hits Tijuana

One of the keys is heavy investment in youth, says Cornejo, with the goal that the club will perhaps one day produce its very own Ronaldinho.

"Even when we were in the Liga de Ascenso, we invested heavily in our youth system, so we already had a structure in our farm system and academies similar to what the first division teams have in Mexico," explained Cornejo to ESPN FC. "So when we made the progression, it wasn't as difficult as for other teams."

The other thing Tijuana has in its favor in terms of youth development is its catchment area, which extends into the United States. Up north, the nearest first division teams are MLS' Los Angeles Galaxy and Chivas USA, while within Mexico, Torreon's Santos Laguna is the nearest Liga MX club and that is a mammoth 20-hour drive away. It gives the club plenty of options in signing young players.

Explained Cornejo: "Our goal in the short to medium term is to have at least 60 percent of our first team be from the region, which we consider Southern California, Baja California, Sonora and maybe even east to Nevada and Arizona. So we're working heavily on that."

Off the pitch, plans to improve the stadium are in place. The north side of the complex has already been extended, the west side -- a Bombonera-esque type of stand -- is well on its way to completion and the south stand is due for its expansion right after. In a year's time, 30,000 will fit into the stadium, while the final capacity could be up to 45,000, with the east side also in line for a redevelopment.

It's sometimes easy to forget -- considering recent success -- that the club only came into existence seven years ago and narrowly avoided relegation to Mexico's third tier in 2007.

Promotion, the club's first playoff and then last season's Liga MX title perhaps were premature, but plans had been in place to grow Tijuana into one of the league's frontrunners. It just happened quicker than most expected.

This season's Copa Libertadores run has also been a welcome reminder for Club Tijuana -- and perhaps certain other teams in the Liga MX -- of the importance of international competition in promoting the Mexican game. From a business and marketing point of view, the Xolos hierarchy's decision to go at it with vigor has paid dividends.

"Apart from the Champions League and Europa League, there's nothing bigger than the Libertadores and it's televised in 135 countries or more, so in terms of breaking down borders, it's given us a lot of exposure. In terms of getting us out there, it's been great," said Cornejo.

Next season, that profile is set to continue its expansion when the young club starts its first CONCACAF Champions League campaign.