Ronaldinho-mania hits Tijuana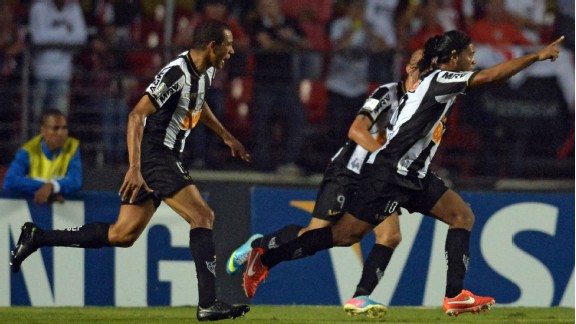 GettyImagesRonaldinho's arrival in Mexico has overshadowed the Liga MX final
TIJUANA --There's a lot going on in Tijuana this week. State elections are heating to a boiling point, the city is hosting Mexico's national Olympics and the Liga MX final between Club America and Cruz Azul would've previously been a massive draw.

But there is one event that is overshadowing all others and one player that has locals swooning at his every move even before he has taken to the pitch: Brazilian Ronaldinho Gaucho.

The former Barcelona and AC Milan star is in town for the Copa Libertadores clash on Thursday between Club Tijuana and Atletico Mineiro, with the Brazilian side favorite to go through, but gritty Tijuana expected to put up stern resistance.

Anticipation of the clash in Tijuana is high. It is perhaps Xolos' biggest test to date against a Mineiro side coming into the game off the back of winning its state championship against local rivals Cruzeiro on Sunday and as the form team in the Copa Libertadores.

But while in some countries opposition teams get hostile receptions intended to intimidate, Ronaldinho's entrance at the airport in Baja California was akin to that of a pop star.

Mineiro players started filtering into the waiting area at Tijuana's International Airport at around 12:15 p.m., with over 300 fans and scores of journalists arriving at about 10:30 a.m.

"It may be the only time I get to see him," said 14-year-old Joaquin Tellez, who said he couldn't afford to go to the game. "It's worth the wait."

When the main attraction finally appeared, waving to the crowd, it was for a brief 30-second traverse to the awaiting team bus, accompanied by heavy security. Chants of "'Dinho, 'Dinho," rang around the room and there was pushing and shoving from security guards as fans and photographers tried to get closer to the Brazilian superstar. There was almost a sense that a returning hero was coming home, not a player from an opposition club.

To be fair, even the player looked taken aback by the warmth of the welcome.

At the team hotel, a short five-minute walk from the Estadio Caliente, scores of youngsters patiently waited for Mineiro players, mainly Ronaldinho, on Tuesday afternoon, many with Barcelona or Brazil shirts. One even brought his soccer ball along to do some tricks, perhaps to impress the 33-year-old. But the more savvy were already at Tijuana's Unidad Deportiva Reforma.

By the time Mineiro took to the field to train in the late afternoon, over 3,000 people had gathered. Many scrambled for vantage points up trees or on the top of roofs of buildings.

While Mineiro players and coach Cuca haven't yet talked to the press (they are scheduled to on Wednesday), there was some concern over Ronaldinho's ankle after he finished training earlier than the other players and headed back to the coach, which was immediately swarmed by people.

Away from the craziness, one oasis of calm was surprisingly the Estadio Caliente. There was an eery quietness in the afternoon, broken only by builders hammering away at the new stand. There were so few people, likely because locals knew the "sold out" sign would already be up in the ticket booths. They were right. Tickets went on general sale on Tuesday morning and were all gone in a couple of hours.

The build-up to the game is overshadowing the Liga MX final, at least in this region of the country. More than anything, however, it's difficult to believe that just two years ago Club Tijuana hadn't even played a game in Mexico's first division. Starved of top-flight soccer for so long, it's fair to say that locals seem determined to take advantage of occasions such as Ronaldinho coming to the city and Xolos continue to quench their thirst.