The politics of Carlos Vela's El Tri return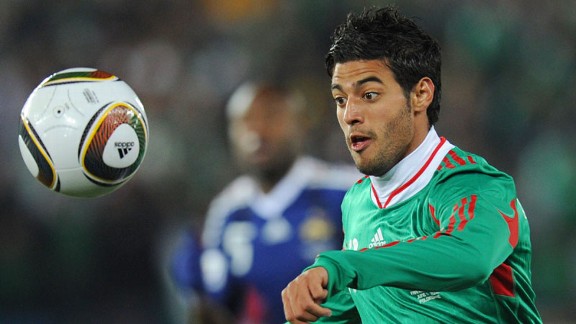 Franck Fife/Getty ImagesIt has been a long time since Carlos Vela last wore 'La Verde' for Mexico coach Chepo de la Torre.
The Carlos Vela rumor is now in overdrive, as various sources are reporting from mostly conveniently anonymous informants that the Real Sociedad striker is on his way back to the Mexican national team. He could play both in upcoming World Cup qualifiers and the Confederations Cup.

Of course, this is what common sense surmised was in the works after El Tri coach Jose Manuel de la Torre, known as "Chepo", was present recently in Spain to both watch and meet with the estranged forward. It was pretty clear then that amends had been made and a deal had been struck. Otherwise, it would have been a wasted trip.

What's really speculation now is exactly what kind of arrangement Vela has with the national team.

First of all, Real Sociedad is still battling for a Champions League spot, so they might not take kindly to the World Cup qualifying matches that conflict with the end of the La Liga schedule.

The Confederations Cup, while prestigious, is also another obligation that may weigh heavily on a player that has been a little prone to injury.

Perhaps then, it's no wonder that rumors abound that Vela has been very specific in getting De la Torre to agree to certain concessions.

Apparently, Vela has insisted on first-class flights to join El Tri. While a chartered jet might be excessive, this request merely seems logical. Top-flight athletes should get comfortable flights, pardon the pun.

Some reports also claim that Vela has insisted on being a starter. On the surface, this seems a step too far, something that supersedes the authority of the coach and undermines the equality of a team. Yet it doesn't make much sense to leave important club team action and travel halfway around the world to sit on the bench.

Supposedly, other unspecified requests were also made by Vela's camp. Massages after practice, perhaps? Vitamin B shots? Will his teammates be required to pass to him a certain number of times per game? Some negotiations are logical, others might not be, and at this point, no one can be sure to what extent De la Torre caved.

Vela, of course, is in a unique position. He has abstained from the national team while they've suffered through a difficult and uninspiring phase. It's not absolutely dire, but it's not pretty. Absence makes the heart grow fonder, and Vela has never looked better than when he hasn't played. He's played well in Spain, true, but he's also had the chance to be built up in the imagination of those who see him as the ideal solution now that the Mexican team is struggling. It's easier to be perfect by omission than in reality.

Once Vela returns and actually plays, reality may set in. If he fails to deliver, the infatuation of fans will soon sour. Until then, Vela could ask for coconut water to be delivered just for him to the bench, and many would be happy to bring it.