Champions League bound Vela open to Mexico return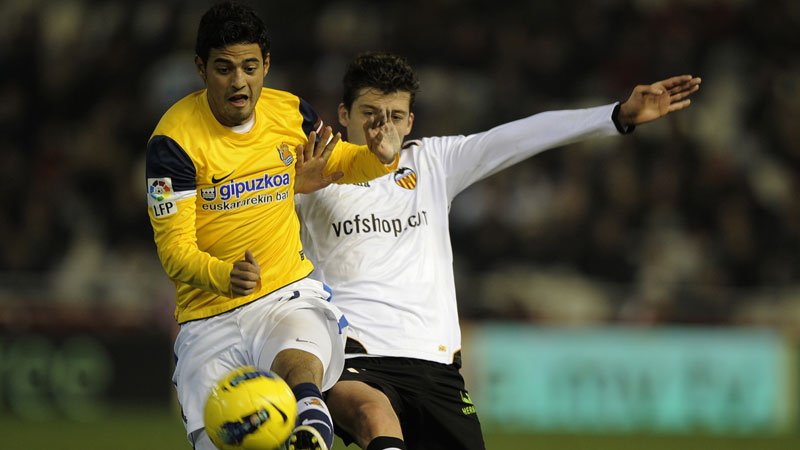 GettyImagesCarlos Vela could make a return to the Mexican national team.
Mexico coach Jose Manuel "Chepo" de la Torre travelled to Europe to specifically see Carlos Vela. Coming hot on the heels of Vela's public declaration to play for the Mexican national team again, it was as close a signal of detente between the two parties as has ever been during the Real Sociedad striker's international absence.

It may have also helped that in an interview, Vela mentioned that he specifically did not have a problem with de la Torre, who could be forgiven for thinking otherwise, given how often Vela turned down offers to play for El Tricolor under his management.

Though Sociedad lost to Getafe in the match De la Torre watched, Vela may have been particularly inspired by the presence of his national team coach. He played well and scored the lone goal for the Spanish club, bringing his goal tally in Europe to fifty.

On the other hand, Vela playing well is nothing new this season. He has been one of the top players in Spain. This alone might seem to justify his decision to focus primarily on his club career, even if it has come, to some extent, at the expense of Mexico.

If Vela really wasn't miffed or pouting about his earlier suspension from the national team, but was indeed looking to get his club career back on track, then withdrawing from international duty for a while does make sense. It does take a toll on a player's stamina and rhythm to travel from Europe to the CONCACAF region through the grind of qualifying. The motivation to test oneself against small island nations like Jamaica and neighbours may indeed lack the same lure of the race for Champions League qualification.

For Vela especially, the struggle for playing time at Arsenal, and the mostly frustrating loan arrangements he was assigned, weighed heavily.

The English club still holds an option to bring the forward back to the Emirates. But the striker has made no secret of his wish to stay in Spain, regardless of Arsenal's prestige and history. However, there is a slight caveat to Vela's desire - he has been specific about the lure of Champions League action. Arsenal might indeed qualify for that competition, though the race is tight - the Gunners are in a fight for a spot against Chelsea and Tottenham.

Vela's Spanish club is also unsure of a Champions League place. Sociedad didn't help themselves by losing to Getafe. Coincidentally, both Arsenal and Sociedad hold the fourth and final Champions League spot in their respective leagues.

Vela may be inclined to a future with whichever club wins out in reaching the Champions League. Though he seems partial to Sociedad, if Arsenal makes it to Europe's premier tournament and his Spanish club does not, Vela could very well consider a return to England.

While it may seem mercenary, ultimately, players have to plan their futures somewhat selfishly, because an athletic career has a limited lifespan.

At this point, de la Torre may understand that Vela's talent is such that he may deserve greater latitude than other national player. If so, the two may reach an agreement that does not place heavy demands on Vela, but allows him to be a part of the Mexican team when it really matters.

What is still an open question, however, is if Vela's special treatment will sow disunion among his fellow El Tri players. It's also possible that fans of Mexico's team, who prefer to see their own enthusiastic loyalty reflected by the players, may have trouble supporting the return of a player who seems less than fully committed to the cause.