Rivalries mark Liga MX playoff matchups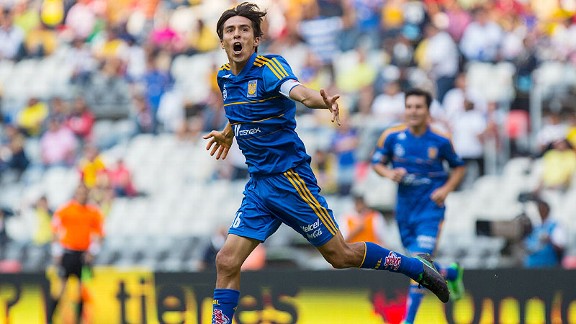 Miguel Tovar/LatinContent/Getty ImagesLucas Lobos celebrates a goal against America on Sunday, as Tigress locked up the #1 seed in the Liguilla playoffs.
Now that the curtain has fallen on a dramatic final weekend of games, the playoffs in Liga MX are set. The eight participating teams will battle via a knockout format to decide the champion of the Clausura 2013.

UANL Tigres finished first in the league, besting their closest competition, Club America, in a mano-a-mano duel between the clubs. Of course, though the tight defense of Tigres kept Club America's Ecuadorean striker, Christian "Chucho" Benitez off the scoreboard in that match, he still won the Golden Boot for the regular season, notching a full dozen goals. It was the third victory for Benitez in that category.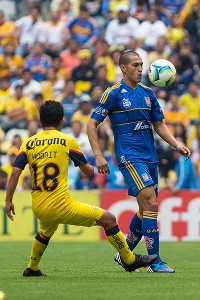 Miguel Tovar/LatinContent/Getty ImagesTigres and USMNT's Jose Torres fights for the ball against Christian Bermudez of America.
Tigres, paced by American Jose Torres in the midfield, now gets the questionable reward of facing derby rival Monterrey as an upcoming playoff opponent. Though the CONCACAF tri-champions limped into the playoffs with the last place - thanks to Queretaro's ineligibility due to relegation- they were one of only two squads all season long that managed to defeat Tigres. If they can repeat the feat, Monterrey has a chance to hold multiple trophies aloft this year.

- Final Liga MX Clausura 2013 Table

Another playoff matchup with extra rivalry involved is that of Club America and Pumas. The two clubs may share a city, but they have both sought to rule. Though the object is simply to advance to the next round, to do so at the expense of the other club would be sweet indeed.

There's less heat involved with Atlas and Santos Laguna, the next playoff pairing, but perhaps a better game will be the outcome. Both clubs lost on the weekend, which may indicate that the players are already focusing on the postseason action.

Perhaps no other club goes into the playoffs with the swagger of Cruz Azul. An emphatic win by four goals over Monterrey announced the team's readiness for the grind of the playoffs.Yet Morelia also arrives in fine form, having won out, 2-1 over Santos Laguna.

Santos Laguna may have already been day-dreaming about the playoffs, since they had safely qualified some time before. But a renewed focus will be needed to overcome the challenge that the steady Atlas club presents.

While Queretaro fell short of scoring the eleven goals needed to avoid relegation, the club departed with dignity, having finished in the top half of the the table in its final season.

Meanwhile, Guadalajara seemed utterly without shame, lacking focus in a 4-0 loss to Tijuana. The Chivas club not only misses out on the playoffs, but now ends the season in second-to-last place. Many fans would welcome an ownership change from Jorge Vergara to almost anyone else.