Lack of playing time at Manchester United has Chicharito in a bind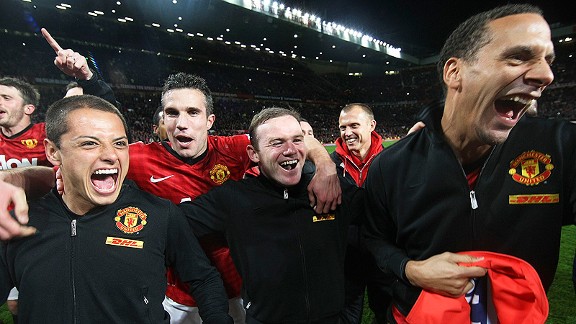 John Peters/Man Utd/Getty ImagesChicharito (left) celebrates Manchester United's 20th Premier league title with Van Persie, Rooney and Ferdinand.
Manchester United clinched their 20th league title with a victory over Aston Villa on Monday, and amidst the celebrations, one question emerged for many Mexican fans - what happens now with Chicharito?

Javier Hernandez was there, of course, celebrating with his teammates, but he did not see any playing time in the match. The striker's league appearances have declined precipitously to roughly half of what they were in his debut season. Though Hernandez has generally been a good soldier about the situation, he complained publicly a week ago about his lack of playing time.

Some players are so weary from regular team duties that they dread the travel and exertion of international games. It's a twist on that old "club versus country" conundrum that the "Little Pea" is now facing - as his skills may grow stale with little use. Competing for a starting role against the likes of Robin Van Persie and Wayne Rooney is no small task. Perhaps Hernandez should leave the glitz and glamor of the English superstar club to play at another organization where he can see more playing time and stay sharp for his country's squad.

Hernandez is the one Tricolor striker who can claim to be productive in 2013, since he scored twice against Honduras for the only goals the national team can claim this year. But lack of regular game play may have contributed to the cramps that forced him to leave that match, whereupon Honduras promptly scored two goals to match Mexico and deny their rivals a victory. Hernandez has been unable to score in Mexico's home games this year, leaving fans frustrated and looking to the absent Carlos Vela as possibly the team's savior.

Vela, of course, did what Hernandez may now be contemplating. He left Arsenal, one of England's top clubs, for Real Sociedad, where he is not only a regular starter, but a star leading the club to a possible Champions League position. Once he found his form in Spain, Arsenal reportedly sought his return, but Vela fought to make the move permanent instead.

It's a tough situation for Mexican fans. While their team needs goals badly, Vela, the striker who is in the best scoring form with his club, isn't playing for his national team, and Chicharito is talking about losing his form because he isn't playing with his club.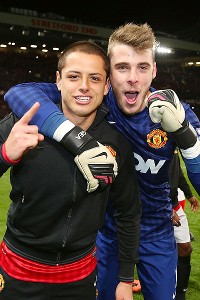 Matthew Peters/Man Utd/Getty ImagesHernandez alongside goalie De Gea in Man. Utd.'s title celebration at Old Trafford.
No less than Mexican national team great Luis Hernandez (no relation) has recommended that Chicharito depart Old Trafford. "If he doesn't have options to play more often with Manchester, he should find another club in Europe that will increase his playing percentage to what it needs to be for him to arrive at the World Cup in Brazil in top form," the ex-striker told Marca earlier this month.

It could well be that Sir Alex Ferguson finds Chicharito surplus to needs, however. Rumors abound that Hernandez may be sold or loaned during the summer transfer window.

Yet Ferguson seemed to indicate that he valued the striker in remarks yesterday to the Daily Telegraph, saying of Hernandez, "His enthusiasm is always there and there is no reason to think that this isn't the place for him."

Since Manchester United clinched the title with games to spare, the remaining matches of the season may show whether or not Ferguson really plans to give Chicharito the opportunity to be an integral part of the team again.

If the chances don't come, then Hernandez has to ask himself if it's enough to play against the world's best in practice and then to watch them in game action from the bench. For his own career as a top striker and for his national team's possible glory, he should hunger for more, and be willing to do what is needed to get it.