Single vote leaves Compean on outside looking in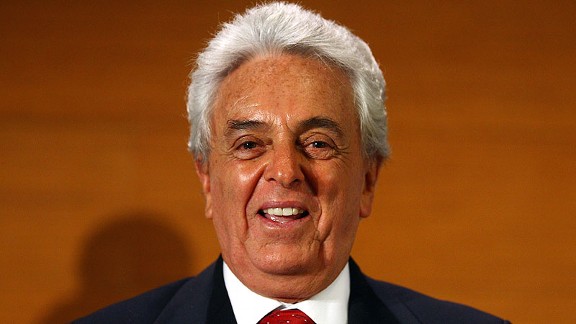 Alexander Hassenstein/FIFA via Getty ImagesMexico's Justino Compean fell one vote shy of getting elected to FIFA's coveted Executive Commitee.
One vote. In the struggle between Mexico's Justino Compean and the United States' Sunil Gulati, admittance to the power core of the world's beautiful game -- also known as the FIFA Executive Committee -- came down to one vote.

17-18 was the final vote count from the 35 voting members, most of which represent tiny countries in the Caribbean. However, in CONCACAF, one nation equals one vote. Reports from various sources indicated that the Central American countries voted en masse for Compean and that the general voting trend was along language lines. Canada, for example, voted for Gulati. Cuba and the Dominican Republic, for Compean.

Barbados, however, reportedly went for Compean. If even one other island country, like Jamaica, for example, had voted differently, Compean would have won.

- Gulati elected to FIFA executive panel

Compean's campaign to the CONCACAF nations was pretty simple: The economic power of the sport in Mexico has enriched the federation considerably. It's true that games and competitions featuring the Mexican national team earn big paydays for both El Tri and CONCACAF.

However, the money El Tri has made the federation has been assisted by Gulati and the USSF. Simply put, the United States boasts infrastructure in the form of stadiums and facilities that no other CONCACAF nation can match. El Tri actually plays most of the time in the territory of their great rival, the U.S. That's because the large stadiums around the country allow more Mexican fans who can afford tickets to come watch their team.

Gulati and Compean have actually worked closely together to establish this symbiotic relationship that benefits the USSF, Mexico's FMF and CONCACAF.

That longtime partnership didn't stop either man from pursuing the coveted post. More than most, Compean knows full well what control and influence a member of FIFA's Executive Committee commands. After all, the last Mexican in the post of FIFA vice-president, Guillermo Cañedo, helped bring Mexico two World Cup hosting gigs. Since his death in 1997, Mexico has lacked a presence in that influential circle of the FIFA elite.

To a certain extent, Compeon's defeat dents the pride of Mexican soccer. How can the nation, which has long dominated the regional competition at both the club and national level, whose national matches generate millions, and whose fans are among the world's best in passion and loyalty to the game, be left out of a position that represents real influence?

The FIFA ExCo, as it is informally known, meets as little as twice a year and is led by FIFA President Sepp Blatter. Among other responsibilities, it determines the dates, locations and formats of tournaments. These decisions have billion-dollar effects on the countries involved.

Compeon's tragic mistake may have been his inability to assure the smallest nations that Mexico would become a powerful ally, instead of focused on its own gain. An occasionally abrasive personal style may have also worked against him. The bilingual Gulati is noted for being famously agreeable, polite -- to the point where many eager to see FIFA reform despair of Gulati ever taking a stand to confront other powerful FIFA administrators to help bring change and transparency to the organization. Compean, in contrast, recently had a photo go viral of him giving fans from Honduras the middle finger -- an incident he blamed on a long-ago hand injury.

In some ways, Gulati was also vulnerable by his association with Chuck Blazar, the American who previously served on the ExCo, and who was found by a recent CONCACAF corruption probe to have defrauded the federation by using millions of dollars for his own personal expenses. Many Caribbean nations also bore Blazar resentment for his role in instigating the original corruption investigation two years ago that brought down then-CONCACAF president Jack Warner. The association Gulati had with Blazer, since they worked together on a number of committees and projects, would not have aided his campaign.

The stigma of Gulati's past failure to capture the 2022 World Cup bid for the U.S. and thus, the CONCACAF region, losing out to tiny Qatar instead, didn't help his cause either. Many were more shocked and surprised to see the U.S. lose that bid than would have been to see Gulati lose versus Compeon. In that losing effort, it didn't even come down to one vote.