Tigres lose first while Cruz Azul go after 'double'
As soon as the unbeaten record of Tigres looked like it could hold up over an entire season of Liga MX, the club became an even bigger target for opponents. On April 14, Pumas took aim and found the bullseye, winning 2-1.

The star striker of Tigres, Argentine Emmanuel Villa, was philosophical about the loss, all but calling the quest for perfection a distraction.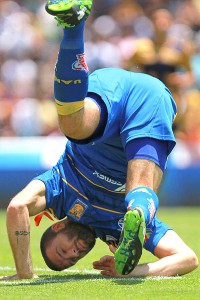 Hector Vivas/Getty ImagesEmanuel Villa said Tigres' unbeaten streak was a distraction.
"You've always got to learn important lessons from bad things," Villa explained to reporters after the defeat. "Today was our turn to lose, and while I won't say it's good to lose, it's great that if we have to lose, that it happen now instead of in the playoffs, because now we can correct the errors we made."

So now instead of reaching for the splendor of perfection, Tigres will have to make do with merely leading the Liga MX on points. Even there, the club sits on the throne of the top spot of 29 points by a single tally. Atlas is the first of a trailing pack of clubs.

Every organization in Mexico knows that despite the honor of leading the table, the championship is usually decided by the club that has the irresistible force of momentum on their side. The worry for Tigres is that they may have peaked too soon. How well they bounce back from their first loss will be crucial.

Cruz Azul, however, looks to be rounding into form at the ideal time. The recent Copa MX champions showed what a boost of confidence they earned from their tournament victory, defeating the defending Liga MX champions, Club Tijuana, resoundingly in a 5-0 clash. With such a goal-greedy display, Cruz Azul may have announced its status as one of the most dangerous playoff squads, as well as its intention to go after the 'double' of Copa MX and Liga MX trophies.

Club America, meanwhile, treaded water in a rather tepid 1-1 draw with Leon. San Luis and Atlas also divided points, though they managed four goals in the process.

At this stage in playoff qualifying, points are more precious than draws to the squads fighting to make the cut-off and few leads are safe. Guadalajara learned that the hard way when their one-goal lead versus Atlante was matched and then eclipsed late in the second half. Things are not completely bleak this season for the famed Red-and-White, but making the playoffs is getting closer to becoming a lost cause.

El Tri faces Peru and U-17 qualifies for WC

Even as league action continued, many fans in Mexico were riveted by the drama of the young national team as the regional qualifying for the Under-17 World Cup took place. Unlike a fair number of other countries, Mexico takes the youth editions of international competition very seriously. This intensity was rewarded in 2005, when the young El Tri won their first world title with a team led by Carlos Vela and Giovani Dos Santos. In 2011, Mexico proved that the first win wasn't a fluke, claiming the title once more. The current edition of the baby Tricolores squad qualified out of CONCACAF quite handily over Guatemala on Sunday, and will defend their championship this fall in the United Arab Emirates.

The squad for the senior El Tri's upcoming friendly on April 17 versus Peru doesn't resemble the true line-up that will continue with World Cup qualifying, but the match is still important for two main reasons. One, because the pressure on Jose Manuel 'Chepo' de la Torre is rising, the performance of the squad will be crucial. If the team looks as toothless in front of the goal as it has in some recent games, the hook could come soon for the coach. Second, the return of forward Pablo Barrera will be eagerly, and yet anxiously, anticipated by many. Barrera is an exciting, versatile player who has a knack for both creating and scoring goals. Yet injury woes have marked him, with a 2008 anterior cruciate ligament damage to his left knee keeping him in recovery for most of that year. In 2012, it was his right knee that suffered a similar ACL tear. Though not expected to contribute much to this qualifying cycle at all due to continuing his recovery, Barrera is back in the lineup and could well be on a mission to prove that he is fully healed, fired up, and ready to go for the national team.